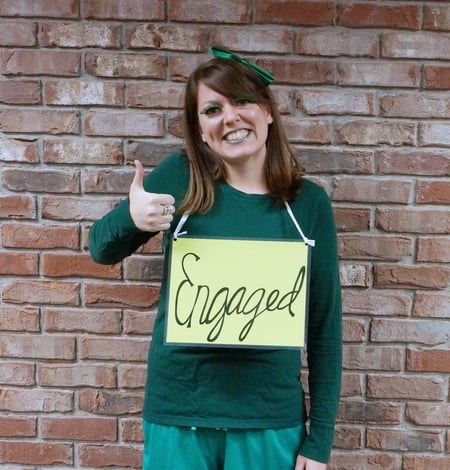 What constitutes an engaged employee? Well, our research shows engaged employees are advocates for their organization, they put forth discretionary effort to go above and beyond for their organization, and they intend to stay. We like to call this model:
But what does an engaged and happy employee sound like?
After facilitating thousands of employee engagement surveys, our team is equipped to tell you. The Employee Engagement Trends Report found that the top employee engagement drivers measured on workplace surveys could be bucketed into three main themes. When employees expressed a positive outlook on the future, said they had confidence in leadership, and believed that leaders were committed to valuing employees, they were more likely to be engaged.
Do your employees voice the same ideas?
Read these quotes from real-life employees ranging in department and position level, and compare them to what your teams are saying.
Positive Outlook on Future
Employees need to feel confident in both the organization's future and their personal futures within the organization. It creates a sense of security. It creates trust. It creates solidarity in moving toward common goals. Read these employee quotes about positive outlook on the future!
"I joined the team last year and it's the best move I've made in my professional career. This organization is headed in the direction. It's refreshing to work with a team where everyone is on the same page and in pursuit of a common goal."
"We've gone through some challenges recently as we grow, but I'm always encouraged by the way that we handle those opportunities for growth. I'm confident that our hard work will pay off."
"As a newcomer to the firm, I have found the transparent communication of our collective aspirations to be remarkable. The firm's leadership communicates a consistent message that supports the aim of the entire team. As we mark our 75th anniversary, we are well positioned to look toward the future and continue to raise the bar for the years to come."
"I left my last job because I'd hit my ceiling. I was no longer learning or being challenged, and I would have never been promoted unless my boss left. But now, I've finally found a place where I see a future. This job is interesting and challenging and there's so much room to grow!"
"This is a very engaging place to work. We're constantly busy and always looking for new talent to join the team. Our senior leadership invests time and money into our extensive hiring process, which gives me confidence that the company will stay on the track to success."
Confidence in Leadership
Employees must feel confident in leadership's ability to drive the organization forward. This goes back to creating a sense of security and trust. If employees aren't confident that their leaders are capable, they'll become disengaged. Check out these quotes from engaged employees on confidence in leadership:
"I am very pleased with the organization and the direction that we're are heading. It's obvious that the owner is committed to making this a first class operation and our success will be a reflection of his dedication. When I see leadership demonstrate this kind of behavior, I feel very proud and humbled to be a part of this organization."

"Absolutely love the transparency we have at this company. Leaders are excited about our opportunities and upfront about the challenges we face. They're level of honesty gives me faith that, even when times are tough, they'll continue to lead with integrity."
"I've been working here for 16 years and have never once doubted the leadership team or the direction of this company."
"Our owners are passionate about the company, its direction, and the people that work for them. They're dedication creates an engaging and fulfilling work environment for leadership and employees."
"Although I'm fairly new, I can tell this is a best place to work. I respect and look up to the leaders of this organization. They demonstrate that doing the right thing is what will make the company successful and employees happy."
Commitment to Valuing Employees
Employees can't be treated as a means to an end. Engaged workplaces exhibit a commitment to employees, in how they are supported, recognized, and developed. See these employee quotes from employees who feel valued:
"Leadership recognizes its employees in many ways (i.e. potluck celebrations, cash bonuses, extra time off) and it does not go overlooked. It's obvious they want show us they care about us as people and appreciate the work we do.

"At this company, we're treated as family, not a bunch of employees. We're friends at work and outside of work. Leaders treat us as equals and stay true to their word. I will be forever grateful for the experience I've had here."
"We work hard and play hard. Our industry is high-stress…but we celebrate the small stuff, which noticeably raises morale and keeps us happy. I really appreciate the time and effort it takes to make sure employees are happy and love their jobs. That kind of dedication to employees is why I will stay here or a long, long time."
"The owners know how important it is that this organization serve our clients to the best of our ability—but that doesn't mean they'll undercut the service they provide to their own people. Our owners recognize that our biggest assets walk out of the door every day and happily come back, motivated to do their jobs. They know that this organization would not be the same without its people, so they work hard to create a culture where individuals feel valued for the work they do."
"We recognize and celebrate success better than any other company I have ever worked for. Leaders train, develop, and promote employees from within and maintain the best talent with competitive pay. I feel so fortunate to work at a company where employees are treated so well."
---
Want to move the needle on your employee survey comments? Check out our ebook, The New Era of Employee Engagement.