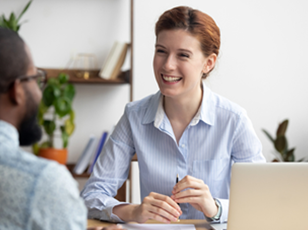 Goals help employees and organizations achieve success. But when goal conversations only happen once or twice a year, it creates a disconnect between the manager, the employee, and the organization.
Employee goals become misaligned and their purpose is lost, making success more difficult to achieve.
Ongoing goal conversations are important to an employee's, team's, and organization's success. Managers are key to ensuring employee goals are aligned, prioritized, and that progress is being met.
When managers are intentional with goal discussions, employees stay motivated and focused, feel comfortable discussing obstacles and challenges, and feel recognized for their effort.
Here are four scenarios with questions that will help guide you in your goal conversations.
Scenario #1: When Goals Are Set

The best time to begin goal conversations with employees is during goal creation. When employees feel like they have a voice in their goal setting, it creates more ownership and motivation.
This first conversation will build alignment between managers and employees around goals, purpose, and how it relates to the organization's success.
Questions to guide managers through this conversation:
Does this goal allow us to measure and track progress in a meaningful way?

What changes should be considered before making this official?

What are the first steps to mak

e

progress on this goal?

What obstacles or risks stand in the way of hitting this goal?

How does this benefit the team and organization?

Who needs to be involved?
Scenario #2: When a Goal Gets Off Track

Obstacles and issues come up at work that can cause goals to veer off track. This is when managers need to become a coach by identifying obstacles and make sure employees have the right support and resources to get back on track.
Questions to guide
managers
through this conversation:
Why do you think this goal is behind

target

?

What can you start, stop, or keep doing to reach this goal?

How can I support you?

What resources do you need?
Scenario #3: When Priorities Change

Sometimes new or existing goals change in priority as changes occur within an organization. Make sure managers are communicating with employees to know why changes are happening. Then discuss the impact of those changes on their goals, and prioritize from there.
Questions to guide managers through this conversation:
Why is this goal increasing or decreasing in importance?

Who needs to be informed that

certain tasks

are being put on hold?

When can we expect

this

goal or task

to be a priority again?
Scenario #4: When Goals Are Achieved

A manager's job isn't over when employees achieve a goal. Managers should take the time to recognize and celebrate employees for a job well done and the effort they put in along the way. Managers should also use goal achievement as a learning opportunity to find out what went well and what could have been done differently.
Questions to guide
managers
through this conversation:
What are you most proud of?

What unexpected roadblocks did you come across?

What did you learn and how will you apply it to future goals?
---

Helping employees create goals and ensuring they are part of ongoing goal conversations can help lead to better employee performance. But not all goals are created equal. Download our research report on the five best practices to set goals that get results.