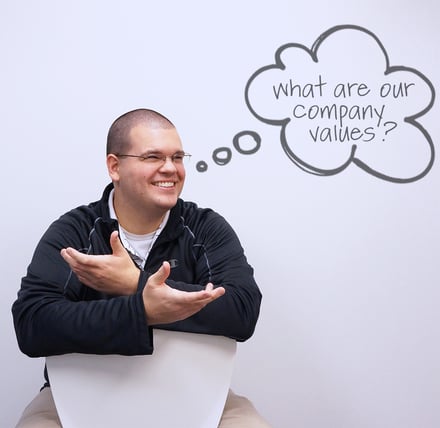 Whether successful or not, every company seems to have a list of core values that attempts to uniquely describe the awesomeness of their culture. Values are important to any company's culture, as they can "set a company apart from the competition by clarifying its identity" (Patrick M. Lencioni, HBR.org).
However, writing your core values can be a tricky task – Who should we get input from? How many should we have? How do we know if they accurately represent us? Should the list style be bullets or dashes or numbered? (OK, that last question may not be a major concern yet, but it is definitely helpful to approach your values in a strategic way.)
The good news is, you don't have to tackle answering these questions alone – you can, and should, get your employees involved in the process. One great avenue is via your annual employee engagement survey. Using employee survey questions, you can uncover the real elements of your culture and begin the process of truly making your values count.
If you don't have a list of core values yet, gather some input with these employee survey questions:
1. What draws you to this organization?

2. What makes our workplace culture unique?

3. What do we do better than anybody else?

4. What should we do better than anybody else?
Your new-founded company values will not suddenly jump off the page when you read your employees' responses, but it will give you a starting point.
If your company already has a list of values, then it's important to validate those values annually by gathering feedback on a few key components: exposure, understanding, and action.


Exposure:
5. Are new hires exposed to them early on in their tenure?

6. Do current employees even know about the values? Or where to find them?

7. Can job seekers or customers easily find the list on your company website or marketing materials?


Understanding:
8. Are your values adequately defined?

9. Do employees agree with the company values or find them important?

10. Is there anything missing from your core values?

Action:
11. Do employees live these values out on a day-to-day basis?

12. Do leader and manager actions align with the company values?

13. Do customers and clients ultimately benefit from these values?
Simply writing your company values and hoping for the best is no recipe for success. Approach the writing of your company values as if you were bringing a new product to market. Tap into the collective intelligence of your employees in order to gain buy-in and smartly define your core values and company culture.


---

Defining and validating your company's core values is the first step toward truly embracing employee engagement. To learn how to maximize your culture and drive employee engagement, download our free ebook, How to Increase Employee Engagement.