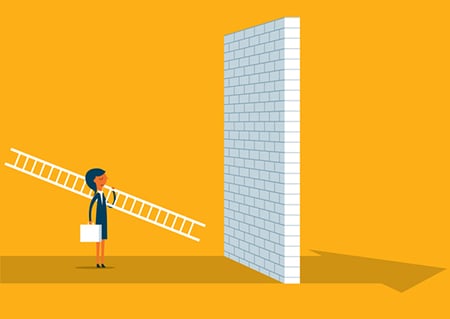 Employee wellness doesn't happen by magic. And it certainly doesn't happen overnight. You can offer the best wellness benefits in the world, but if employees must overcome barriers to employee wellness, your program will be useless.
An effective employee wellness program has three components for driving behavior change and improving the health of its employees.
Information

Motivation
Behavioral skills
As an HR leader or manager, you can help your employees overcome barriers to employee wellness using the P.E.P. philosophy.
The P.E.P. Philosophy
P.E.P. is an acronym that stands for Provide, Educate, and Promote. Organizations who wish to improve the health habits of its employees need to:
Provide the benefits and structure that allow employees to live healthy
Educate employees and encourage open workplace dialogue
Promote a culture that supports wellness by modeling and encouraging healthy behavior
Our research found five common barriers to engaging employees in wellness:
Sitting all day
Mental health
Physical health
Work-life balance and time
Willpower
Here are 50 creative ways you can implement the P.E.P. philosophy to overcome these barriers and help your employees lead happier and healthier lives.
Sitting All Day
Many career paths require employees to sit at a desk, staring at a computer screen for the majority of their workday. Even for employees who work on a production line – sitting or standing in one spot for a good portion of your day can do some damage to your physical and mental health. As an organization you can make a difference in the culture surrounding being strapped to your desk all day.
1.

Provide

adjustable desks and ergonomic chairs.
2. Setup or designate a yoga and stretching room.
3. Utilize technology that promotes physical activity, such as mobile apps and fitness-tracking devices.
4.

Educate

your employees with company-wide desk and station stretches.
5. Hold lunch-n-learns, webinars, or wellness hours to teach employees how to use physical activity trackers or the benefits of getting up and moving around.
6.

Promote

a culture of movement by scheduling regular walking meetings or breaks.
7. Implement a movement challenge by counting steps or exercise minutes with department contests and incentives.
8. Set an example by actively using a standing desk every day or encouraging your team to walk by offering to be a walking buddy.
Mental Health
The topic of mental health is one that has been on the rise in recent years as it pertains to the workplace. Are you creating a safe space for your employees? Consider these ideas for cultivating an environment where employees feel supported, stress is manageable, and positivity is blossoming.


9.

Provide an on-site counselor or life coach to meet with employees.
10. Offer self-care days and separate sick days from vacation and flextime.
11. Setup or designate quiet and relaxation rooms.
12. Facilitate and encourage regular employee recognition.
13. Implement a wellness hour once a week and tack on an extra half-hour during lunch for personal wellness.
14.

Educate your employees on identifying stress triggers and coping with stress management techniques.
15. Encourage regular self-care and provide ample social support.
16. Reinforce company values regarding coworker treatment and employee wellness.
17.

Promote an inclusive and caring culture where teams can be vulnerable with and excited for each other.
18. Model stress management during meetings or busy seasons – don't be afraid to take time off for yourself or ask for help when needed.
19. Make mental health resources confidential to use and host social activities and events where you can share awesome, non-work news.
Physical Health
At the core of employee wellness is physical health. While the definition of wellness certainly has expanded over the years, physical health is an area that is straightforward when providing health benefits for your employees.
20.

Provide a Health Savings Account, Flexible Savings Account, and/or Insurance Coverage Wellness Stipend as a part of your health benefits package.
21. Implement on-site or accessible doctors, physical therapists, chiropractors, massage therapists, health consultants, or personal trainers.
22. Create an on-site gym or supply a free or discounted gym membership and have plenty of healthy snacks on hand.
23.

Educate your teams with local gym schedules, free classes on healthy foods, and walking routes around your office.
24. Encourage employees to attend community health fairs or seminars with health professionals.
25. Host a webinar or share videos and whitepapers about exercise, dieting, health myths, easy healthy recipes, and the importance of goal setting and tracking progress.
27.

Promote physical health and fitness by taking the stairs or going for walks over lunch.
28. Collaborate and publish an office cookbook to share healthy recipes.
29. Encourage employees to take time for self-care and exercise before, during, and after work.
Work-Life Balance and Time
With crazy workloads and packed family schedules it can sometimes feel like the days are just flying by. Giving your employees their time back can be one of the greatest perks you provide.
30.

Provide separate sick days from your vacation or paid time-off policy.
31. Allow parents to leave early to pick up kids and encourage telecommuting when employees have conflicting obligations.
32. Implement maternity and paternity leave.
33. Be sure to have enough staffing at all times or create a strategy to help when employee count is low.
34. Offer tuition reimbursement for continuing education and make sure direct leaders are giving timely and effective feedback.
35.

Educate your employees on the importance of personal finance and strategies for time management with seminars, webinars, videos, and white papers.
36. Create a mentorship program for career growth and cross-training so that no roles or tasks are dependent on any sole employee.
37. Enroll leaders and managers in seminars about behaviors that support work-life balance.
38.

Promote effective work-life balance by modeling efficient, productive meetings -- being respectful of holidays when assigning work and deadlines.
39. Be transparent and communicate frequently about flextime options, work tasks, or off days and encourage employees to stay home when sick.
40. Host events and activities with employees' families and friends to help build and encourage teamwork.
Willpower
With every diet, habit, or fitness goal comes the need for motivation. Willpower is the fuel that keeps our health and wellness on track. Help your employees find their willpower by supporting their personal goals for wellness at every level.
41.

Provide an abundance of healthy snacks and meals or discounts to local healthy eateries.
42. Make health services and facilities or health coaches easily accessible.
43. Develop fun opportunities for physical activity or encourage the buddy system by building an opt-in fitness partner program.
44.

Educate your employees about forming healthy habits through seminars, webinars, videos, and whitepapers.
45. Post suggestions for easy alternatives to unhealthy snacks near vending machines and cafeterias.
46. Think about creative ways you could incorporate activity into the workday that fits the culture of your organization.
47.

Promote coworker support and recognition for reaching health milestones.
48. Manager support can go a long way in this component by living your company values around wellness and being models of health.
49. Encourage all employees to use health services and facilities and health incentives.
50. Use social media-like modules to track progress for individual and organizational level health goals.
---
To provide, educate, and promote the healthy skills and habits that employees need to take control of their well-being download our ebook, Overcoming Barriers to Employee Wellness and Engagement.