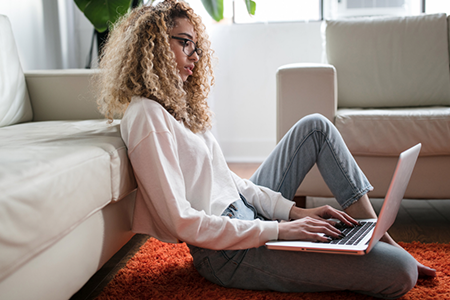 The National Bureau of Economic Research officially declared that the United States entered into a recession amid the COVID-19 crisis—ending one of the longest periods of economic expansion in our history.
Subsequent lockdowns forced businesses and communities to face difficult decisions to lay off or furlough employees. During the crisis, unemployment rose to over 16% from 3.6% in January 2020.
Downsizing can have a detrimental impact on company culture and employee morale among surviving employees.
Follow these steps to boost employee morale after layoffs in your organization:
Communicate clearly and positively
Understand impacted groups
Address change effectively
Collect and respond to feedback
Keep a pulse on employee engagement
1. Communicate clearly, positively, and frequently.
Notifying managers and exiting employees of an impending layoff is only one part of your larger communication plan. You'll also want to communicate this direction with your surviving employees and discuss the root of the decision.
When addressing your employees, be authentic. Don't evade the subject or make up a story that softens the blow. Be direct, honest, and compassionate. This is your organization's opportunity to reassure its employees and show they are valued.
Try these communication action steps to keep employees engaged:
State the facts.
Get straight to the point and explain the reason for the layoff. Over communicating is better than under communicating. Explain the financial or strategic impact, address fears and anxieties, and be transparent about the things you can and cannot answer at this time.
Schedule one-on-one conversations.
Leverage 1-on-1 meetings to create a space for people leaders to clear up any confusion that may be looming. Reassure employees that they can always meet with their managers or HR to continue the conversation if they are needing additional support.
Show employees they're valued.
It can be a scary time for your retained employees. Layoffs can influence individuals and teams to believe they are the next in line to be put on the chopping block. Encourage all employees to use recognition to communicate that value in real time, among peers, and in a public setting.
Bring teams together.
It takes a village to accomplish your company's business goals. When those villagers are feeling undervalued, negativity can spread like wildfire. Take time to reset your team's priorities and encourage leaders to empower teams to get creative in accomplishing those goals.
Paint a clear, future picture to realign the organization.
Explain how each employee not only fits into the bigger picture but how they fit into your organization's future. Showing them an inevitable future will make them feel like important contributors for your company's success. It's also important to communicate how these changes will improve the organization as a whole to avoid any survivor guilt for those who remain at the organization.
2. Understand impacted groups.
Reductions in force during uncertain times, like layoffs or furloughs, can do a number on your employee groups. If you've had to lay off your employees, you may end up spending more time adjusting organizational goals, team priorities, and individual workloads than helping your business grow and succeed. To avoid further disengagement and turnover, make sure you have an effective plan in place. Without it, the layoff could breed mistrust among your employees.
Create brand advocates.
During times of high unemployment, fewer job opportunities, and even fewer prospects for worker mobility, become available in the labor market. Employees who are able to keep working might have reassessed what good jobs and employers mean to them as colleagues were losing their jobs.
The cost of a tarnished employer brand can have long-lasting effects on your business. When positions don't intend to be filled, employees may start to feel the pressure when they are already stressed out.
Find opportunities to empower managers (and individual contributors) to become brand advocates within your organization. They can help you motivate employees during tough times, communicate at the local level, and be your eyes and ears on the front lines.
Improve team dynamics.
Layoffs can produce similar outcomes for teams as with the company at large. When teams are let go without any context, other teams may start to wonder if they should seek new opportunities elsewhere. Rebuilding team dynamics can help you better align employees with your broader, organizational goals. Coach managers to keep their team informed, and set clear expectations to keep things moving forward.
Focus on individual survivor guilt.
If your organization fails to communicate effectively about the layoff, employees will start to wonder why their colleagues were let go. Productivity may decline from the additional work being added to their plates, and many will wonder if or when they'll be next. This uncertainty can eat away at team and individual morale, and eventually cause them to leave the organization entirely.
To maintain employee morale after layoffs, it's important to focus on each employee individually. When an employee is let go, it can be one of the most stressful days in their lives. HR leaders and managers are responsible for helping provide a safe and engaged working experience for all team members. This means addressing any concerns with the layoff with empathy.
3. Address changes effectively.
The 'survivors' — those retained during a layoff — are going to start to wonder what happened to their colleagues as well as their own job security:
Will they be suddenly let go with no help?
Are they going to be okay?
Will they be able to support their kids?
To maintain engagement levels, make sure you avoid opportunities for employees to "fill in the gaps." This story creation often drives the narrative negatively and can cause people to spiral into disengagement, especially in regards to management and leadership.
Engaging your employees in change isn't a one-and-done event. It's an ongoing, living, breathing effort. Leaders can help by getting in front of the narrative, communicating openly as much information they can share as possible.
"Every business is now providing a new breed of collaboration, communication, feedback, and learning like it never has before."

- Josh Bersin, Global Analyst
4. Collect and respond to feedback.
Gather feedback from employee groups.
Employee feedback is key in giving your employees a voice. This is crucial when they might be feeling unvalued altogether. Asking for feedback can help you:
Better understand and address surviving employees' perceptions
Identify opportunities and risks
Help you improve your communication and layoff process in the future
Continue frequent one-on-one meetings.
Employee conversations are crucial throughout the layoff process. With one-on-ones, every manager and employee can share feedback in a consistent and safe environment. They can also help you foster better relationships between your surviving employees and leadership. Your managers can also uncover more specific feedback from their direct reports that they might feel more comfortable sharing in an intimate setting.
5. Keep a pulse on employee engagement.
Sometimes organizational leaders are anxious to ask for opinions during huge moments of organizational change. This might be especially true during layoffs or furloughs. However, for the future of your organization, it is important to continuously monitor and react to employee perceptions. Instead of thinking about employee survey results as either good or bad, think about them in terms of a continuous research project on your people programs.
Changes due to layoffs may have severely impacted employees' engagement and productivity levels. There may be more needs from your teams or delays in production or projects that might jeopardize your strategic goals. One of the benefits of having a consistent employee listening program is that you have baseline data to compare different years and business conditions.
Employee layoffs might be a valley in terms of your employee engagement levels, but maybe it will recover quickly or perhaps there will be little or no change in engagement. There are many actionable questions that can be answered through maintaining a systematic employee listening program.
Are your high performers keeping up on their performance compared with the change?
Did employees' perceptions of their intent to stay at the organization change?
Are we still able to achieve our strategic goals and maintain a positive company culture?
The best way to understand how these changes are impacting local-level teams is to ask them. Keep up your employee listening posts and adjust your change management plans accordingly.
---
To learn more about our research on the Impact of COVID-19 on Employee Engagement, download a free copy of the report below.