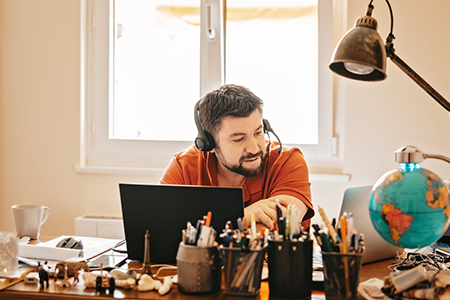 A lot has happened since the coronavirus pandemic forced organizations to react, respond, and refocus in order to keep their operation in business. Dealing with and engaging employees in change can be extremely stressful for everyone. But what happens after we've acknowledged this crisis?
Your employees are still important, but this pandemic has had and will continue to have a strong impact on your workforce. How do you stay focused and human?
In this blog, we'll provide you with ways to keep employees engaged and successful, including:
5 stages of crisis management you might be facing
Leadership tips for navigating change
Stages of Crisis Management
We've outlined 5 stages that your organization might be experiencing—and every organization is different. The goal is to understand where you are so you can identify issues or roadblocks you're likely facing and what you should consider to continue moving your business forward.
1. Firefighting
Where You Are: Chaos
In this stage, many organizations are taking inventory of where their employees are, if they are able to continue work, and what everyone needs to survive. Some may face reductions in their workforce, and most will have to adapt to remote work environments and put processes and business functions online.
What to Think About Next: Understanding Needs
More than ever, you need to have a good understanding of your employees' needs. Listen to their feedback and collect information about how they are coping so you can recognize and respond to their needs in a timely manner.
Questions for Reflection
1. Who and where are my essential workers?
2. What are our main priorities as an organization in the short-term?
3. Do we have a team in place to handle this crisis?
4. What training is available? What is included in that training?
5. How can I support managers and their teams? What information do they need? What resources can we provide?
2. Responding
Where You Are: Misconceptions
When uncertainty and ambiguity runs high, misconceptions and unmet needs can become big issues. In this stage, business will need to get really clear about organizational impact, expectations, and next steps.
What to Think About Next: Creating Clarity
As your organization starts to understand the impact of this crisis it's important to provide clarity for your employees. Define your expectations to help them prioritize what's important. Communicate about any information or resources they've requested and any next steps to help focus on getting back to work.
Questions for Reflection
1. What do our employees need?
a. Do they know where to access information?
b. Do they understand the information provided?
c. Do they trust us to help them get through this?
2. How can we improve communication?
a. Where do employees go for information naturally?
b. How much information should we provide?
c. How often should we provide updates?
3. How do we hope to look as an organization in 1 week? In 2 weeks? After this is over?
4. What are our 1-month goals? 6-month goals? 1-year goals?
3. Supporting
Where You Are: Disruption
Displacement from a normal routine and workflow can cause a lot of physical and emotional disruption for employees and teams. In this stage, your organization may face the realities of having to adapt to new surroundings and wrestle with the unknown.
What to Think About Next: Regaining Momentum
While it's not always possible to provide your employees with everything they need, being empathetic and supportive can help you acknowledge your organization's status and keep things moving. This is not a time to stop the feedback loop. Follow up regularly and continue to understand and define what this "new normal" means for your business.
Questions for Reflection
1. How can you create more intentional listening posts?
2. What goals remain important? How can you keep goals on track? What needs adjusting?
3. How can remote one-on-ones be most effective?
4. What level of flexibility can you provide when it comes to getting work done?
5. How will you continue to recognize good performance?
4. Recovering
Where You Are: New Normal
After the dust has begun to settle and you have a better sense of your employees' needs it's time to find your focus. Getting back to business may be a relief for some or stir up anxiety for others. Employees have been through a lot of change and will need ongoing support and coaching in order to succeed.
What to Think About Next: Getting Back to Business
To move forward, you'll need to continue to listen, anticipate, and adapt. By leading your team to a future of high performance and engagement, you'll be well on your way to achieving success.
Questions for Reflection
1. How do we prioritize performance?
2. How do you keep high performers engaged after tough times?
3. How will you engage surviving employees?
4. How will you recover lost business?
5. How will you recruit new employees?
5. Succeeding
Where You Are: Reflection
After everything your organization has been through it's important to pause and reflect on things that went poorly and things that went well. Take a moment to consider how your employees and teams have been impacted and what you can learn from this experience for the future.
What to Think About Next: Moving Forward
In the short-term organizations may face the challenges of physically returning to work and have to acknowledge a fully remote culture. Some may also feel the stress of maintaining work and life and experience burnout. In the long-term your organization may need to innovate and think creatively to stay agile, competitive, and successful.
Questions for Reflection
1. What did you learn from this?
2. How has it made you stronger?
3. What gaps still exist?
4. What policies worked that you might continue? What will carry forward?
5. What do you need to do to set your managers and teams up for long-term success after experiencing this?
6 Expert Tips for Leading Through Change
The fear of the unknown can be overwhelming, even for leaders. Use these tips for helping your team navigate the chaos and come out on the other side successfully.
1. Create and communicate a vision for success.
It may not be possible to get everyone on the same page when employees are physically and mentally in different places. And with so much change and uncertainty, it may only be possible to focus on the next couple weeks ahead. Make sure communication is:
Consistent across every level of your organization to keep everyone connected and grounded
Clear about existing goals and helps confirm priorities
Integrated into all aspects of operations from team meetings to 1-on-1s
Transparent about what the future holds for employees and the impact on their jobs
2. Adjust and set expectations.
Employees likely are still adjusting and need a little more flexibility in completing their work—but this doesn't mean they aren't working. Share information early on with your team to set expectations for performance. Reinforce those shared messages and core values through regular email or chat. You can also offer communication training to your managers to help them support employee emotions. These tactics can help you develop a common ground where everyone can check back in and level-set.
3. Keep mission and purpose at the forefront.
It's super important that employees stay connected to your organizational mission. Though it may look a bit different than it did two months ago, continuing to find ways to connect individual work to the greater good is extremely important for engagement and performance. Find ways to reinforce your mission, vision, and values as often as possible—in company-wide communications, staff meetings, one-on-one meetings, and elsewhere.
4. Elevate your employee listening strategy.
Collecting employee opinions shows that you care about how they are feeling and doing. No matter where you are in the process, it's time to enable your employees to drive change.
Implement ongoing pulse surveys. Consider sending a survey to measure perceptions of remote work, emergency/crisis management response, and re-entry into the workplace. Use this data to see how people are adjusting, what they still need or have questions on, and where you can create even more clarity.
Leverage survey results to help you determine areas of focus. Include opportunities for employee feedback as a regular part of your plan. Uncovering issues and concerns can help inform your strategy, but beyond that, it shows that you are willing to listen and take action.
Put your engagement survey back in motion. This may not feel like the highest priority, but collecting employee perceptions can help you understand how they are feeling now that things have normalized. Asking for feedback now helps you address what expectations they have and how the events of this crisis have impacted engagement.
5. Prioritize performance.
During both boom and bust times, organizations need to be focused on performance and development to overcome obstacles and achieve long-term success. You may need to change how you use the tools in the tool belt, but you still need to use them.
Examine, adjust, and align on goals. Establish a clear plan for helping employees prioritize critical and high-impact tasks. Understand what employees are going through and be flexible with how and when work gets done. Make sure to realign across the organization if goals have changed and keep or set new goals to help employees align with their personal and professional priorities.
Maintain manager visibility. Make sure managers connect for a short daily check-in and prioritize face-to-face interactions when possible. Building strong manager-employee relationships in times of crisis are ones that will impact engagement down the road.
Use recognition to boost morale. Continue sharing success stories and recognize employees for important contributions. Make recognition public and shareable, through social media, company intranet, other electronic channels so it can be shared and commented on.
Don't forget about employee development. This is important to your employees so you don't want to lose sight of it. Whether we'll be working in a dispersed state for a prolonged period of time or going back to our "normal" work environments soon, you'll want your teams to be skilled, motivated, and empowered to perform their roles in the future.
6. Assess talent risk and rising stars.
The state of your talent pool has likely shifted since the beginning of this crisis. You may need to implement a reduction in force. Even in the best-case scenarios, it's likely that the circumstances of this event have revealed or hastened true performance issues. The last thing you want to do is make "gut" decisions—you need data to help you make informed decisions.
Use talent reviews to understand where there are critical needs and risks and where you might need to think about shifting or hiring. Ask your managers to document and share performance, growth trajectory, and retention risk for each employee every 6-12 weeks.
While talent reviews can help you make tough calls in this time, they can also help you elevate and recognize your top performers—and keep your mid-range performers on a path to success.
---
As you continue to navigate this global pandemic, it's important to stay connected to your employees and teams. Explore our leadership and manager guides for Engaging Employees Through COVID-19.