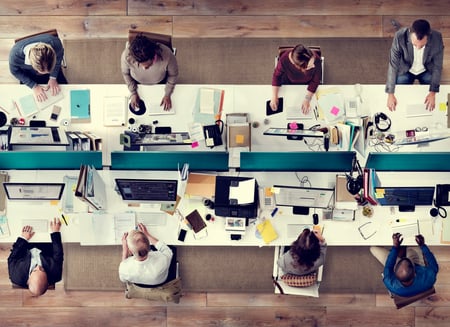 Employee engagement is vital to an organization's success. High engagement leads to increased profitability, reduced turnover, and increased productivity.
In 2020, organizations saw elevated engagement levels, with 77% of employees reporting high engagement. But after the initial onset of the pandemic, engagement levels declined and turnover rates soared.
It's important for leaders to address their engagement issues, as disengaged employees can cost organizations up to $550 billion a year. Fortunately, leaders can use their company culture as a lever for employee engagement.
Read more to learn:
What a culture of engagement is
Why a culture of engagement is important
4 culture and engagement statistics
10 strategies to create a culture of engagement
The top benefits of culture and engagement software


What is a culture of engagement?
Employee engagement is the strength of the mental and emotional connection employees feel toward their work, their teams, and their organization. And a culture of engagement is focused on creating this connection. Engaged employees give their full effort day in and day out—and this can make all the difference in your success.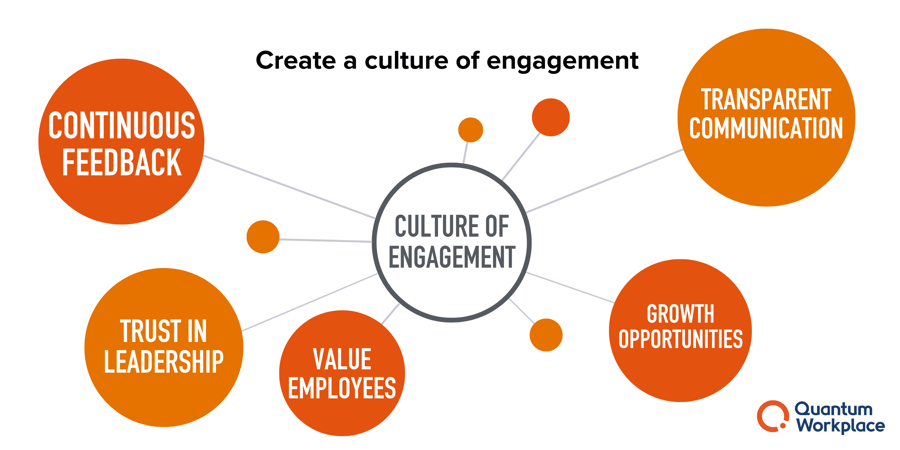 Why is a culture of engagement important?
When employees feel a strong connection to their work, businesses are better equipped to succeed. Engaged employees have a lower risk for turnover, elevated productivity levels, increased growth, and better satisfaction at work. And because highly engaged employees produce better outcomes, a culture of engagement creates long-term business success.


4 culture and engagement statistics
According to our organizational culture research, there's a big link between culture and engagement. Your culture can be used as a tool to engage, retain, and positively impact employees every day at work.
Here's 4 statistics that illustrate how engaged versus disengaged feel about their company culture: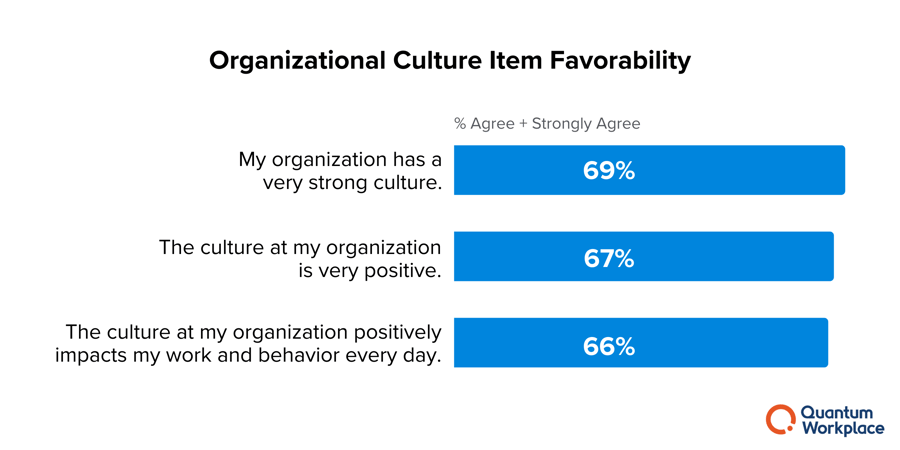 1. 69% of employees say their organization has a strong culture.
Most employees say their organization has a strong culture—but that's highly dependent on engagement levels. 87% of engaged employees say their culture is strong, versus only 39% of disengaged employees. This illustrates that a strong culture can strengthen engagement levels.


2. Employees who say their culture is positive are 3.8x more likely to be engaged.
Culture is a driving factor behind employee engagement. If your culture isn't boosting engagement, employees may lack connection to their work and motivation to produce the best outcomes. Use culture as a tool to strengthen engagement—not damage it.


3. 66% of employees say their culture positively impacts their work and behavior every day.
Your culture should support employees on their path to success. But when roughly 1 in 3 employees aren't impacted positively by their culture, something's going wrong. To ensure your culture is doing its job, aim your culture strategy at engagement.


4. Disengaged employees are 2.6x more likely to leave their company for a better culture.
Our research shows that engagement is the sticky factor that makes employees want to stay. A top way to boost engagement? Your company culture. Create a culture that promotes employee engagement to make your workforce want to stay for the long haul.


10 Strategies to create a culture of engagement
There are many ways to shape an organizational culture that engages employees. According to our survey research, here are our top recommendations to drive engagement in your culture: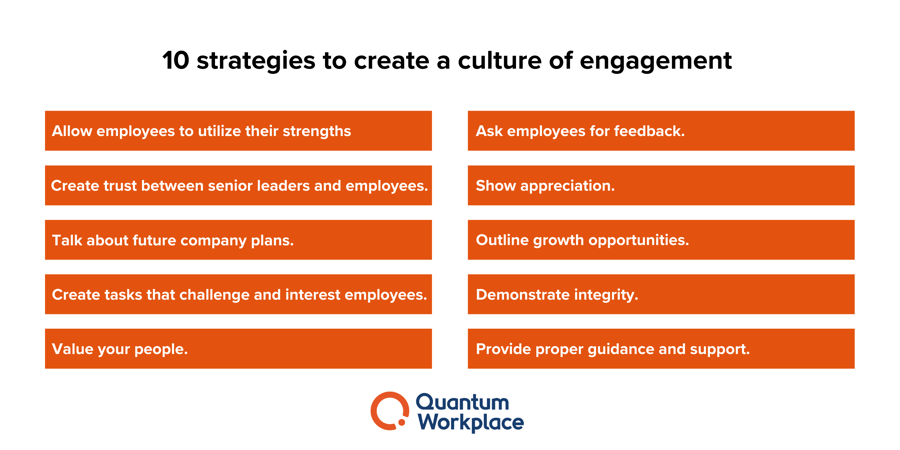 1. Allow employees to utilize their strengths.
When employees can utilize their strengths everyday, they're more fulfilled by their work. Plus, they can drive the best results for business success. Keep a pulse on employee performance and ask employees how the organization can better leverage their talents.


2. Create trust between senior leaders and employees.
Employees and senior leaders need to have a foundation of trust. This foundation comes from leadership communication, alignment, and feedback. When employees feel that they can trust senior leadership, they'll feel more connected to the organization.


3. Talk about future company plans.
Elevating company plans across the organization helps employees understand where their organization is going, and how it's going to get there. This increased communication helps employees understand how they fit into the big picture, and why their efforts matter.


4. Create tasks that challenge and interest employees.
Each employee's role should challenge and interest them—that way they can grow and stay focused. If employees are bored in their role, they'll feel less connected to their work. Regularly ask employees what would help them get more satisfaction from their work.


5. Value your people.
Leaders can show employees their value by providing appreciation, adequate compensation and benefits, growth opportunities, and a strong work-life balance. It's important that your employees know you value them as people—not just workers.


6. Ask employees for feedback.
Your employees probably have a lot to say about culture. After all, they experience it every day. Keep a pulse on the employee voice and continuously ask for feedback about your culture. You'll get the insight you need to adapt and engage employees at work.


7. Show appreciation.
It's important to outline the ways that employees' efforts make an impact. When you show regular appreciation for your employees, they'll feel more valued in their role. Plus, when you communicate how employees are contributing to the bigger picture, employees will feel more aligned and connected with the organization as a whole.


8. Outline growth opportunities.
Employees need to see a future at their organization. If they don't, they'll have no motivation to reach their full potential. Outline development opportunities, give constructive feedback, and promote internally if possible. As employees grow in their role, they'll feel more connected to their work and drive better results.


9. Demonstrate integrity.
Another way to increase trust? Talk the talk and walk the walk. When you say you're going to do something, do it. This creates the strong relationships needed for employee engagement. It also sets a positive example, encouraging employees to keep their promises too.


10. Provide proper guidance and support.
When employees feel lost or lack direction in their role, they need proper management to rely on. Ensure direct managers are conducting frequent one-on-ones so that employees have an outlet to voice their concerns. This will help employees focus on what's important and continue moving in the right direction.


Benefits of culture and engagement software
Employee engagement software can help streamline your culture strategy and strengthen employee engagement. With the right tools, you can create an engaging and inclusive culture that attracts and retains top talent. Here are the top benefits of a robust culture platform: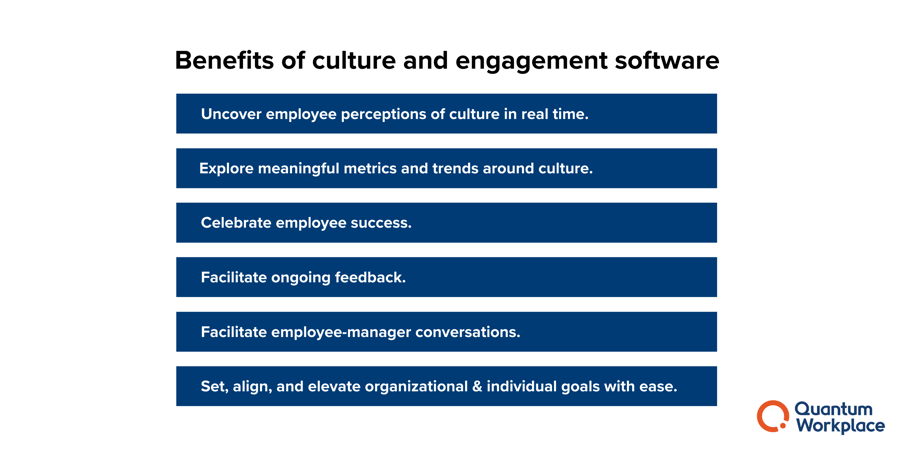 1. Uncover employee perceptions of culture in real time.
Engagement, pulse, and lifecycle surveys help leaders dig into employee perceptions of culture. These surveys are easy to launch, helping you collect real-time feedback at all points of an employee's tenure. The insight you gain can help you shape a culture that engages employees.


2. Explore meaningful metrics and trends around culture.
People analytics tools surface insights like flight risk, turnover trends, and performance data. And these metrics can tell you a lot about your culture. The information you can uncover will help you make strategic decisions about your culture and move forward with confidence.


3. Celebrate employee success.
Recognition is a top driver of engagement. Why not use tools that facilitate it? With a robust recognition feature, employees and leaders can highlight great work across the organization. This will motivate and align employees throughout the company.


4. Facilitate ongoing feedback.
A two-way feedback tool helps both employees and managers request and provide feedback. A culture of feedback boosts trust, increases performance, and helps teams stay focused. Employees across your organization can ask for feedback in minutes, helping them grow in their role.


5. Facilitate employee-manager conversations.
A robust 1-on-1 tool increases clarity and communication between employees and managers to boost trust and create alignment. With frequent 1-on-1s, employees are better equipped to succeed.


6. Set, align, and elevate organizational & individual goals with ease.
An effective goal setting tool will guide teams in the right direction. This tool connects individual goals to organizational goals, and elevates them to the entire organization. This way, everyone understands how each employee contributes to business success.
---
Employee engagement is a key component of any successful company culture. Learn more about how to improve your culture with our 2022 Organizational Culture Research Report.