Each year, dozens of new productivity apps become available, each with its own advantages and specializations. With the rise and continued growth of remote working, productivity apps are an increasingly important part of team management. With the right tools, remote working actually enhances employee engagement.
Unsurprisingly, it can be a major task to find the most suitable solution for your business type and way of working. To help you find the right solution, these are 9 of the best productivity apps available in 2019.
1. Hubstaff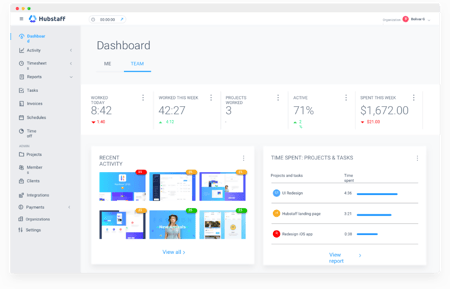 Hubstaff provides a unified dashboard for managing employee productivity, scheduling, timesheets and payroll.
The platform is suitable not just for office employees and remote workers but also for tracking and supporting your employees on the move.

The GPS app allows you to track employees' location using geofences, enabling automatic time and attendance reporting through their phones.
This gives your workers assurance that their time is being accurately tracked and can reduce the headache of managing your team's time across projects in multiple locations, or when meeting clients or partners.
Hubstaff also simplifies scheduling by providing an online schedule combining daily tasks and to-do lists with attendance reporting and team management tools. This includes being able to organize availability and time off within the same schedule, making it much easier to efficiently distribute tasks to your available team members.
2. Toggl
Toggl is a simple way to manage your time by creating timed tasks. It integrates with many other management, scheduling and calendar apps to enable your team to start tracking their time on each task at the tap of a button.
In addition to automatically tracking billable time and rates, Toggle also automatically detects idle time, ensuring payment is fair and transparent.
Toggl is especially useful for fans of the Pomodoro time management technique of working in short timed intervals.
3. ToDoist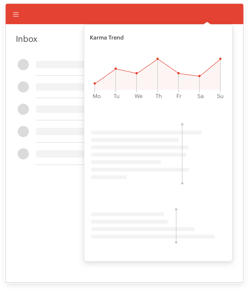 Todoist enables you to easily create and delegate tasks and sub-tasks, organized and color-coded by priority and due date.
The app uses simple gamification such as score streaks and levels that serve to track and reward productivity and visualize your team's progress towards project goals.
A consistent reward structure for productivity is an important part of helping workers improve, particularly in customer-facing roles.
4. MindMeister
MindMeister is used to create and edit online mind maps. Mind maps enable your team to visualize all of the tasks needed to complete a project and how their work fits into the bigger picture.
This is particularly useful when trying to co-ordinate a large team.
Team members can collaborate on the mind map adding extra details and tasks where needed, while the map's structure still shows clearly which tasks need to happen first to move the project forward.
MindMeister also included an integrated chat enabling workers to discuss changes to the map, with the ability to comment and vote on individual entries, meaning you can easily discuss and improve the map's content without making constant changes to the map itself.
5. 24me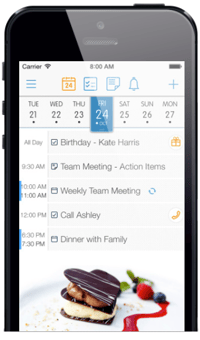 24me is a virtual assistant app featuring a calendar and to-do lists. The app is able to automatically create daily to-do lists based on your calendar entries and can import and sync with your tasks from other calendar apps including Google, Outlook and Apple Calendar.
It can also provide automatic alerts and notifications from your bank, service provider, social media and other third-party services, making it easier to stay on top of your bills and expenses.
To get the most out of any productivity app it is vital to use a platform which integrates with your existing systems and apps such as your CRM and lead generation tools. Otherwise, the added confusion of switching between apps could reduce productivity.
24me is a simple and lightweight app for improving your productivity, and only available for smartphones, making it ideal for professionals and teams who are always on the move from location to location or client to client.
6. Ayoa
Ayoa is a work management tool that enables you to organize your team's tasks and notes visually, and is particularly useful for collaborating and brainstorming on creative projects.
The app lets you seamlessly transition between viewing your tasks as a mind map and as a task-based workflow, so each of your team members can personalize their view according to the way they work.
Ayoa offers a growing number of ways to visualize your plans and ideas.
In addition to several styles of mind map, the app will soon also offer radial mind maps, project timelines and a presentation mode, among other features planned for the next year.
7. TextMagic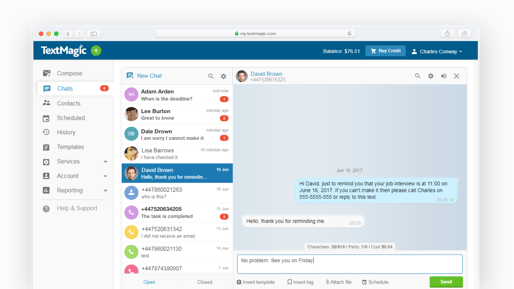 TextMagic makes it easy to keep your team on track with their daily tasks using automatic text alerts and reminders for their schedule and project updates.
SMS alerts and reminders allow your team to check their schedules and receive important updates even without an online connection.
Effective internal communications are critical to ensuring the long-term engagement and productivity of your employees.
TextMagic also lets you manage all your business's text communications from a single app, making it much simpler for each of your team members to pick up where colleagues left off, resulting in more efficient handling of customer interactions.
8. Monday.com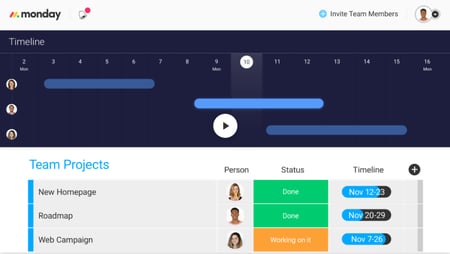 Monday.com is a simple and versatile tool for managing your workflow and task distribution.
You can create and customize workflow templates to prioritize the most important information and tasks according to the needs of your project or team.
It also provides a useful overview of your team's tasks each week, and has integrations for many productivity and organization apps such as Slack, Dropbox and Google Calendar.
Numerous views for reviewing project notes and tasks are available, from workflows to calendars, charts and timelines, making it easy to track progress at a glance.
Monday.com is also able to visualize many types of data to make it more readable to your team, from simple color-coded status indicators to progress bars indicating completion or time left until deadlines.
The high degree of customizability across the board means Monday.com can be adapted to the needs of almost any team and project.
9. Quantum Workplace
Quantum Workplace is an all-in-one tool designed to help you boost employee engagement and performance, and to support and improve the management style of your team leaders.
By providing real-time data on employee performance offering intelligent feedback and improvement suggestions, Quantum Workplace enables managers to better support their teams and develop each individual's talents as well as coaching the managers themselves.
Quantum Workplace also provides several team management tools. You can create alerts and reminders for your managers to track the team's goals and allows for automatic team updates to keep everyone engaged with the latest progress.
Its survey tool is ideal for identifying opportunities to improve employee engagement, with built-in text analytics helping to easily quantify complex survey responses.
Additionally, the app also includes feedback and recognition tools, enabling managers to maintain a dialogue with each team member about their performance, and share recognition and praise across your company. All employees can post and celebrate each other's successes, helping to encourage a positive and supportive culture.
Picking the right productivity app means understanding how your teams work best and their most time-consuming regular tasks. Focus on apps designed around those needs, which also offer you the necessary tools to support your employees and help them improve.
---
Want to get up to speed on the latest employee engagement trends? Download our report.