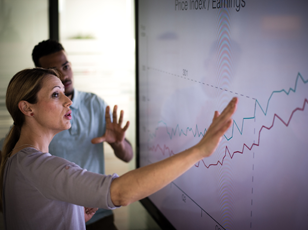 Professional growth is critical to driving engagement and retaining employees. In his Forbes article, Six Reasons Your Best Employees Quit You, Louis Efron lists "no future" as number five.
"Creating career paths that are well communicated and understood by employees is not something most companies do well. Even in the best-case scenario where managers are holding regular performance reviews with their employee, employees often don't understand how to move either horizontally or vertically in an organization."
Our research had similar findings. Professional growth and career development opportunities came in as one of the top six drivers of employee engagement and is also stated as the second most unfavorable by exited employees.
As humans, we are driven to grow, to learn, to become more than we are, and that is especially true of top talent. But how do employees view growth opportunities? What are their preferences? Our study, sought to answer these questions.
Consider the following insights when designing your employee development plans.
1. Professional development is a shared responsibility.
When asked whether professional development was the employee's or manager's responsibility, 81% of respondents said the responsibility was shared. Human resource professionals can help facilitate this shared responsibility by providing managers with conversation starters and questions to ask about career growth aspirations and interests.
2. Job-specific training is preferred.
54% rated job-specific training as their top choice for content, followed by technology training at 20%, people skills training at 16%, and academic learning at 10%. Interestingly, highly engaged and engaged employees were slightly more interested in people skills training than disengaged employees.
3. Tuition reimbursement and internal company training rise to the top.
The survey examined 11 types of professional development opportunities, including allotment for resources, coaching from a team member, coaching from managers, internal company training, mentoring programs, multi-day conferences, one-day conferences, online courses, shadowing opportunities, tuition reimbursement for college credit, and webinars.
The top five preferred formats were:
Tuition reimbursement for college credit
Internal company training
Mentoring programs
Multi-day conferences
Coaching from a manager or mentor
4. Disengaged employees aren't receiving enough growth opportunities.
Of the most disengaged employees, 72% said they weren't receiving enough development opportunities, compared to only 43% of engaged employees. While the majority of engaged employees (53%) say they receive the right amount of career development, improvement could definitely be made across the board.
5. Take action in your organization.
As a major driver of employee engagement, career growth should be included as an element in your annual employee engagement survey. If your organization receives low ratings in this area, the next step to improvement is employee engagement action planning. Require managers to have further discussion on career development with their teams.
The goal is to discover why current efforts aren't working and what employees would prefer. Take their feedback, and use it for good. It may cost some time and maybe even some money, but the payoff of engaged, more productive employees is more valuable.
---
Explore our infographic below on The School of Work to better understand how to support your employees' development, and download our research on Employee Development to build your strategy.