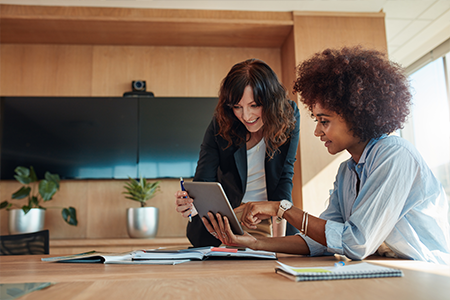 Both leaders and employees alike hate the annual performance review. It's awkward, outdated, and demotivates your workforce. In times where there is a fierce competition for talent, it's important to adopt strategies that close skill gaps amongst your current employees. But your annual performance reviews are likely failing to support employee growth.
By replacing your once-a-year performance review with a modern performance management strategy, your talent will be better equipped to drive business outcomes.
Why the Annual Performance Review is Outdated
Annual performance reviews are undeniably ineffective. In fact, a People IQ survey found that 87 percent of both managers and employees believed annual performance reviews weren't effective or useful. And with 95 percent of managers reporting dissatisfaction with traditional performance reviews, it's no surprise that the process is flawed.
The traditional review focuses on the past rather than the future, which can actively demotivate employees. While it's important to hold your talent accountable for their outcomes—good or bad—it's often difficult for employees to remember the full details of the past 12 months.
Employees prefer consistent, timely feedback to address roadblocks, receive recognition, and build a foundation of trust with their leaders. That's why a less formal, more consistent approach to performance management is beneficial to employee, team, and business success.
6 alternatives to the annual performance review:
1. One-on-ones
Consistent one-on-ones build a foundation of trust and respect between managers and employees. These informal meetings serve as an opportunity to recognize employees for their hard work, assess roadblocks, and coach performance. Regular one-on-ones help managers evaluate results as they come, not months later. That way, you can correct ineffective processes before they become a habit. Plus, frequent one-on-ones let employees know that you care about their experience and performance. This helps boost engagement and motivates employees toward better outcomes.
2. Quarterly check-ins
Quarterly checks are a great supplement to your one-on-one opportunities. These meetings can be formal or informal to discuss performance from the previous quarter and look forward to next quarter. Check-ins help you further promote a relationship of trust with more interaction and prompt feedback. Plus, your preparation load as a manager will be reduced as you're discussing shorter periods of time.
3. Continuous, two-way feedback
Continuous, two-way feedback is an imperative in organizational growth. This enables both employees and managers to ask for feedback. Not only does this make employees feel like their opinions matter, but it gives managers the insight they need to improve the employee experience and grow as a leader. In addition, your employees will be more likely to accept feedback without hesitance when it goes both ways.
4. Project-based feedback
Project-based feedback allows for a more timely and relevant assessment of employees' work and opportunities for growth. While annual performance reviews focus on all outcomes of the past year, project-based feedback focuses on the last project an employee completed. With this approach, all details are fresh in an employees' mind to discuss possible shortcomings or triumphs. With this insight, managers are better equipped to provide proper recognition and coaching. Moreover, your project-based feedback will better prepare employees for the next project they take on.
5. Goal-based check-ins
Goal-based check-ins help measure employee performance based on goals. These meetings help you track goal progress to uncover roadblocks and keep employees accountable. With consistent conversations, your employees will be more prepared to take the driver's seat and accomplish goals that produce meaningful outcomes.
6. Career development conversations
Career development conversations help employees and managers align on the future. These conversations are an opportunity for managers to recognize employee talent, discuss next steps, and outline developmental opportunities. This helps to close skill gaps and communicates an employee's value to the company, bringing their full potential to the surface.
Performance review tips for businesses
Separate reviews from compensation
When you tie your performance conversations to compensation, employees are likely to focus solely on pay. And when you are unable to give an employee a raise or promotion, employees walk away from the conversation discouraged. With continuous conversations around performance, pay naturally comes off the table and employees can focus on their strengths and weaknesses. This will help employees improve their performance and garner motivation moving forward.
Encourage employees to give feedback
When feedback only goes one way—from manager to employee—you lose the opportunity to create a relationship of trust. Plus, leaders miss out on the insight employees have toward organizational improvement. Two-way feedback is a win-win situation, where employees get their voice heard and leaders gain awareness around needed change to improve the employee experience.
Prioritize regular conversations
With regular performance conversations, employees and managers are aligned on where performance is lacking or excelling. On-going conversations help leaders build a connection with their teams to provide feedback that resonates with each individual. This makes employees feel cared for to boost engagement, and promotes performance with effective coaching.
Focus on accomplishments and behaviors
Your performance conversations should always be about an employees' accomplishments or lack thereof, not their qualities and personality traits. Your feedback should be personalized, but not personal. Focus on output and specific behaviors, and start to evaluate deeper attitudes and processes only when outcomes are lacking.
Send follow-up plans in writing
To make the most out of your performance conversations, leaders should document key points in writing and send them to their employees. This helps employees and managers absorb the information to align on next steps. Plus, your employees can stay accountable with a document to refer to when they feel lost or need guidance.
Using performance review software
One-on-Ones
Effective one-on-one software helps streamline your performance conversations. By providing a template, you can prepare for, conduct, and document your conversations with ease. The right technology will make regular, effective one-on-ones a reality to push employee, team, and business success.
Talent Reviews
Talent reviews help leaders understand the overall state of their talent. Leverage these tools to uncover your top performers or possible talent risk. This will help you make the strategic decisions that drive employee success.
Feedback
Effective feedback tools drive company-wide growth. A streamlined platform makes it easy for managers to give and receive feedback to boost performance and build trust.
Recognition
Recognition tools help elevate employee wins to the entire organization. Not only does this make employees feel valued in their role, but it increases organizational alignment. Proper recognition will drive employee engagement and motivate future performance.
Goals
An effective goal platform helps employees and teams set, track, and accomplish goals. The right technology will display these goals to the entire organization to boost accountability and alignment.
People analytics
People analytics tools help you understand where your talent's performance stands. See performance activity for employees all in one place to effectively coach them toward success.


---
As a leader, you know that performance conversations can be uncomfortable. Learn how to have impactful conversations that you don't dread with our Pocket Guide for Uncomfortable Performance Conversations.