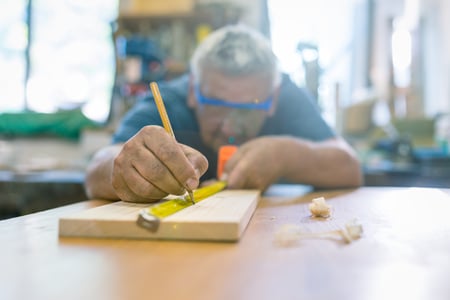 Manufacturing organizations are struggling to engage and retain workers. The industry's employee engagement rate trails the national average by 8 percentage points and quit rates are higher than they've been since 2010.
Labor shortages and a limited capacity to handle change are threatening the future success of many established manufacturing companies across the nation.
And while manufacturing executives have spent $18 billion on employee engagement, their investments have failed to move the needle in a way that creates value for the business. Treating employee engagement as a one-off initiative and using ineffective tools creates barriers to success.




Manufacturing companies face many unique challenges when it comes to talent. Leaders need thoughtful strategies and flexible tools to help them execute on critical talent initiatives. They need to be better equipped to manage change and navigate the challenges of a digital future.
With the right understanding and approach to employee engagement—and the right tools to measure and drive it—HR leaders at manufacturing organizations have a big opportunity to:
Differentiate themselves in the market
Attract and retain the best talent
Leverage and grow their talent to drive business success


What is employee engagement in manufacturing?

Employee engagement is the strength of the mental and emotional connection your workers feel toward the work they do, their team, and their organization. It measures how workers feel about your organization.
Based on their perceptions of their workplace, employees are categorized into four main groups:
Highly engaged
Moderately engaged
Barely engaged
Disengaged
The more engaged an employee is, the more likely they are to stick around and put in extra effort to help your organization succeed.

Why is improving employee engagement important in manufacturing?

Employee engagement provides many benefits to manufacturing organizations who are up against a number of challenges such as:
Labor shortages
Poor reputation
Lack of trust
Skills gaps
High turnover
The best manufacturing organizations know that their people are their greatest lever for business success. In fact, The Manufacturing Leadership Council has identified employee engagement and retention as critical issues in building next-generation manufacturing leadership.


The Manufacturing Leadership Council has identified employee engagement and retention as critical issues in building next-generation manufacturing leadership.

When employees are engaged, discretionary effort goes up. Employees want to go above and beyond the basic requirements of their job. When leaders channel that energy and effort in the right direction, employee engagement can impact a number of business outcomes such as:
Employee engagement trends in manufacturing

1. Only 25% of manufacturing employees are engaged—trailing the national average by 8 percentage points.
Only 1 in 4 manufacturing employees are engaged, according to Gallup research.
This seems terrible—and it is—but there's hope. In those manufacturing companies that have earned the reputation as a "Best Place to Work," 68% of employees are highly engaged. This shows that prioritizing and investing in employee engagement makes a big difference.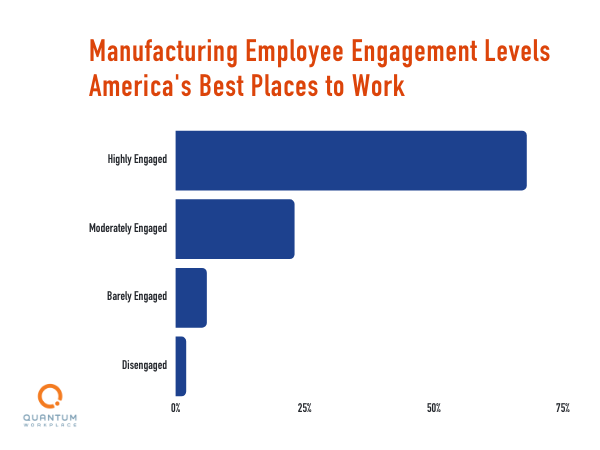 2. The top drivers of employee engagement in manufacturing include senior leadership, employee voice, and employee recognition.
The following employee engagement survey items are most closely correlated with employee engagement in manufacturing organizations across the United States:
"The senior leaders of the organization value people as their most important resource."
"My opinions seem to count at work."
"If I contribute to the organization's success, I know I will be recognized."
3. 28% of manufacturing workers are considered a retention risk.
Nearly 1 in 3 manufacturing employees answered unfavorably to the survey item: "It would take a lot to get me to leave this organization." This was due to employee perceptions of:
Unclear communication around organizational changes
Little opportunity for career growth and development
Lack of recognition for individual contributions
4. Voluntary turnover reached nearly 30% in 2021—the highest its been since 2010.
The Great Resignation is causing big headaches for manufacturing organizations across the globe. Manufacturing companies have undergone significant change since the beginning of the pandemic, impacting worker engagement and retention. Employee turnover is straining manufacturing companies and their ability to produce the goods and services needed to satisfy their customers.
Employee engagement ideas and activities for manufacturing organizations
While the lack of engagement in manufacturing companies is a pressing issue, there are many ways companies and leaders can have an immediate and positive impact.
1. Treat your employees with fairness and respect.
Manufacturing companies often struggle with division and tension between corporate employees and frontline workers. This tension is often a result of perceived unfairness. Make sure your frontline workers receive the same benefits, perks, and treatment as corporate employees—and that it's very clear what's available to them and how to access it.
2. Appreciate and celebrate your employees.
Your employees deserve to be recognized for their hard work. Recognition is one of the biggest drivers of employee engagement across all industries—but especially in manufacturing. Celebrate big and small wins to build morale and increase feelings of value. Take it a step further by not only appreciating "work wins" but also important personal milestones.
3. Make your HR team approachable.
Your HR team should not be hiding in the corporate office. Make it a point to get out onto the floor, in all of your locations, as much as possible. Ensure employees know that HR has an open door, wants to hear employee concerns and ideas, and is willing to act on critical feedback.
4. Create a safe and supportive environment.
The safety of your workers should be your number one priority. If employees don't have the right tools or know-how to report safety incidents, you can't create a safe work environment. And if employees don't feel safe, they're not going to be happy, focused, or engaged.
5. Consider flexible scheduling.
Although flexible scheduling isn't always an option, leaders should do what they can to make life easier for workers. If you can offer flexibility such as task-oriented schedules or staggered shifts, you just might win over the hearts and minds of your workers—increasing their motivation and productivity in the hours that they are at work.
6. Prioritize your onboarding experience.
You have a unique opportunity to set the stage when an employee on-boards into your organization. Make this experience pleasant and memorable. Train new employees early on more than just their role. Where is the company headed? What does it need? How does each employee fit into the bigger picture? What resources, benefits, and perks are available?
7. Develop open lines of communication.
Two-way communication is critical to employee engagement and performance. When leaders and managers communicate the what and the why around both big and small decisions, it builds trust and helps employees understand the bigger picture. And when employees feel they have an open door to voice concerns and ideas, they're more likely to feel valued and engaged.
8. Pay employees fairly.
One of the biggest complaints from manufacturing workers is unfair pay. While money isn't everything, it is important. If you aren't paying your employees fair wages—or if they have no clarity around why they are paid the way they are—they're not likely to stick around long.
9. Get creative with career paths.
Skills gaps are real in today's manufacturing organizations, and it's only going to get worse as Boomers start to retire—taking lots of knowledge and skills with them. You need to provide regular opportunities for workers to learn new skills that will prepare them for the future.
There may not be a traditional career ladder to climb for every worker—but there are plenty of ways you can help workers learn new skills and ways of operating.
10. Connect individual contributions to the big picture.
Every task and every worker matters. It's your job to make that connection for your employees so they can feel part of something bigger than themselves. Focus on making sure that each employee knows how they fit, and find opportunities for them to see beyond their daily impact.
11. Empower managers to connect with employees regularly.
If your managers aren't building personal connections with employees, disengagement is likely to creep in. Managers should have face-time with each direct report at least once a week. Time together should be focused on coaching, mentoring, and hearing what's on employees' minds.
12. Encourage innovation.
Routine can be draining. Though process is a necessity in a manufacturing environment, that doesn't mean there aren't any opportunities for employees to experiment, learn, and grow. Figure out how you might cross-train or connect different roles or groups and give employees projects and space where they can develop new ideas.
13. Implement performance management processes that drive accountability.
The annual performance review is not a great way to drive worker accountability. You need systems and processes that drive ongoing performance conversations throughout the year. This helps managers accurately measure performance, set clear expectations, and drive worker motivation and progress on goals.
14. Give employees a voice—and listen to what they have to say.
If you want to move the needle on engagement, you're going to need employee listening tools that help you ask for, analyze, and act on employee feedback. There's no getting around it. Employees have invaluable feedback on how to improve your business—but you have to ask.
One very important tip: don't ask for feedback on anything you're not willing or able to act on.
15. Focus on worker empowerment.
Much of the work your frontline employees handle is routine, prescribed, and monotonous. When this is the case day after day, it can be disengaging. Find opportunities to let your workers take the reins. Even small tasks can make a big difference in shaking things up.
How to improve employee engagement in manufacturing
Employee engagement can't be treated as a one-off initiative. To improve employee engagement, manufacturing companies must: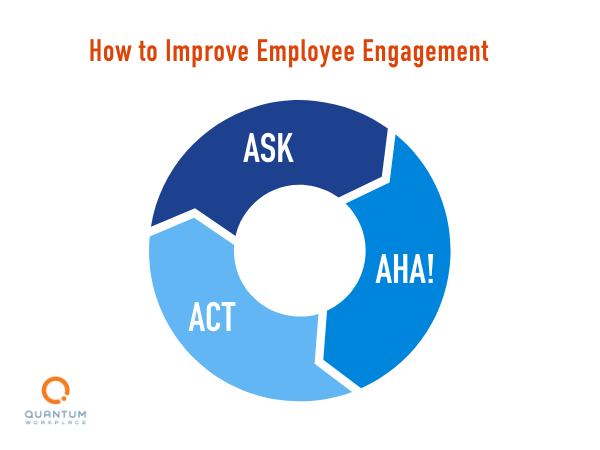 1. Ask: Build a Thoughtful Employee Listening Strategy
Show employees you value them by asking for their input and ideas. Be mindful about what you ask, as it sends a message about what you care about.
For example, if you ask about employee recognition, you're sending a message that you care about employee recognition—and that you're willing to do something to improve it.
Your employee listening strategy should include three types of surveys, ideally:
Annual engagement survey: to measure engagement across your entire workforce.
Pulse surveys: to collect real-time feedback at team and company-wide levels.
Lifecycle surveys: to provide insight into key moments across employees' tenure.
Employee listening can and should also be done through regular 1-on-1s between workers and their immediate supervisors. 1-on-1s help managers listen in on what matters to individual employees, whereas surveys help leaders understand worker perceptions at large.
2. Aha: Review Data + Surface Insights
In the "Aha!" stage, leaders should review data and surface insights. It's important that all stakeholders collectively understand the data in the same way they build understanding around important customer or financial data.
What is the data telling you? Get on the same page and then figure out the best way to tell that story. People analytics tools come in handy here, helping manufacturing organizations slice, dice, and distill down to the most important findings.
3. Act: Communicate Learnings + Take Action
Once you've reviewed your insights and know the story you want to tell, it's time to communicate what you've learned. This will help set the stage for the solution, perceptions of that solution, and how you'll measure success around the issue.
In the story you tell, focus on the few things that are most interesting and most actionable. It's impossible to act on everything at once—you'll have to start somewhere.
Don't be overwhelmed about what you can't do. Instead, focus on what you can do, and communicate about what you are doing, often.
Employee engagement software for manufacturing companies

In order to facilitate effective employee engagement strategies, manufacturing organizations need smart and accessible employee engagement software. With the right technology, you can:
Capture employee voice, anywhere and anytime.
Make employee engagement and performance accessible to all employees at the palm of their hands. Get a true measure of engagement and rely on your people data for critical insights.
Operationalize your people data for effective talent management.
See and replicate what's driving success across teams and locations. With real-time visibility across your workforce, people data you can trust, and tools to scale effective talent strategies, your HR team will be well on its way to digital transformation.
Build a culture people want to work for.
Connect leaders and workers by leveraging flexible employee success tools that help build trust, improve communication, and deliver an experience that makes employees feel valued.

Here's what manufacturing companies should look for when it comes to employee engagement technology:
Accessible and Reliable Employee Engagement Surveys
You need employee engagement survey tools that help you capture reliable engagement data across your workforce.
Reliably understand and drive engagement with tools that help you move the needle due to higher response rates and more comprehensive, "slice and dice" people data
Make employee listening quick and easy with easy-to-use tools that corporate and frontline workers can access from any device, any time.
Encourage employee participation with best-practice templates and automated reminders that relieve administrative burden.
Flexible and Engaging Performance Management Tools
It's important that everyone in the organization has visibility into employee performance:
Leadership needs to see trends and performance across locations and teams
Managers need fuel for ongoing coaching and performance management
Employees need clarity into their impact, trajectory, and growth opportunities
With the right performance management system, manufacturing companies can:
Invest time in resources that work with reliable, accessible, continuous performance data and expertise that help pinpoint obstacles and drive performance.
Take action with improved employee listening that helps employees feel heard, valued, and connected while developing a performance plan that creates value for the business.
Empower leaders to use credible people data to see what is driving success across teams and locations so they can scale effective talent strategies.
Smart and Actionable People Intelligence
While many areas of manufacturing organizations are running full speed ahead toward digital transformation, HR hasn't been as quick to the draw—and they need to speed up. With the right people analytics tools, HR can better understand, avoid, and manage talent risk. They can:
Explore meaningful insights from their engagement and performance data at the individual, team, and company level.
Discover dynamic trends by bringing together data across your platform to create custom reports and visualizations.
Uncover deeper insights with data feeds that tell powerful stories of the connection between employee success and business success.


---
Measuring employee engagement is complex, but not impossible. Learn what successful manufacturing HR leaders are doing to drive business success in 3 Ways HR is Driving Business Success in Industrial Organizations.