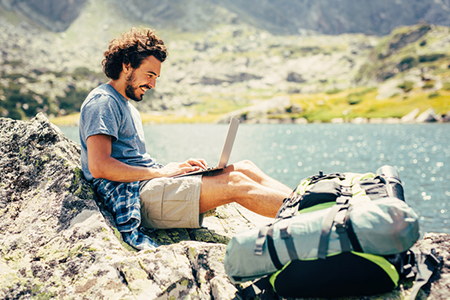 Do your employees like coming to work? If the answer is no, you could be losing valuable productivity and missing opportunities to retain your best people.
Patrick Lencioni's book, The Truth About Employee Engagement, explains that employee happiness is determined by three underlying factors.
To be successful, employees should:
Feel like they matter
Do work that has an impact
Grow and progress
Employee perks can help you meet those three fundamental needs and create a work environment that people want to be part of.
Perks are non-wage offerings that extend beyond salary and benefits (such as retirement accounts, health care, dental or vision packages). Also called fringe benefits, they are an important component of your company culture.
Employee perks don't have a direct impact on engagement. However, when planned strategically, they can support your engagement initiatives by reinforcing your company values and culture and building an employer brand that attracts and retains talent.
Below we will cover 45 employee perk ideas that can help you boost employee satisfaction and make your office a great place to work.
Health and Wellness
Work-related stress costs U.S. companies $30 billion a year in lost productivity due to sick days and absenteeism. Promote your employees' wellbeing through health and wellness programs and perks at work.
1. Healthy vending machine or cafeteria options
2. Gym membership reimbursement
3. Required breaks (bonus for nap rooms, tea stations, etc.)
4. Wellness activities like yoga, meditation, walking clubs
5. Standing desks (or convertible options)
6. Ergonomic desk accessories (like chairs and keyboards)
7. Free health trackers (e.g., FitBit)
8. Free healthy snacks
9. Onsite flu shot clinic
10. Company fun runs (5K/10K/marathon)
11. Partner with nutrition specialists to sponsor nutrition programs and workshops
12. Incentives for participation in wellness programs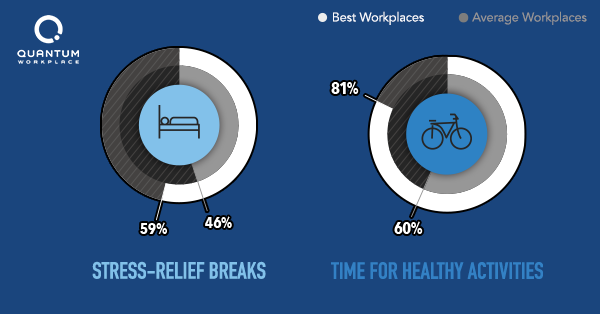 Family
Family-centered perks are a great way to attract and retain younger employees. According to the SHRM 2019 Employee Benefits Survey, one out of five organizations reported offering family leave, paid or unpaid, beyond what is required by both the federal Family and Medical Leave Act and state mandates.
In other words, as family perks become increasingly important to young employees, companies have a great opportunity to set themselves apart from the competition.
13. Paid paternity leave
14. Paid maternity leave beyond 8 weeks
15. Dedicated mother's rooms for nursing moms
16. Pet insurance
17. Flexible hours
18. Remote or work from home options
19. Onsite daycare
20. New parent welcome back package
21. Company picnic for employees and their families
22. College scholarship or savings program
23. Free park or museum passes for employees and their families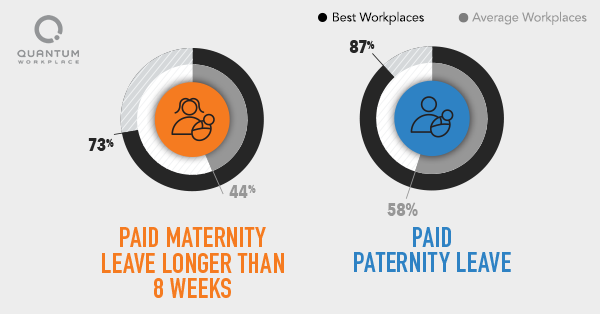 Community
More than half of 1,514 millennials employed in the U.S. said a company's charitable work influenced them to accept a job offer. This rising generation of employees value companies that give back and help their employees to make an impact too.
Show you care through community-minded perks such as:
24. Time off for volunteering
25. Company days of service
26. Charity donation matching
27. Company-sponsored charity events
Just remember that if you are building an employer brand around community impact and social responsibility, your perks should be just one component of your overall mission and strategy. If the rest of your company practices and initiatives don't align with your stated values and perks, the message will fall flat and you'll lose credibility.
Office Environment
Your office environment can make or break the work experience for employees. If your office atmosphere and culture feel unwelcoming, noisy, stiff, or un-inclusive, employees are less likely to feel happy to be there—no matter how much they may like the work itself.
Adding environmental perks can help shape the kind of culture and office space you want to have.
28. Casual dress code
29. Rotating office art
30. Game rooms
31. Company retreats
32. Bring your pet to work days
33. Snow days
34. Unlimited PTO
35. Employee of the month parking spot
36. Happy hours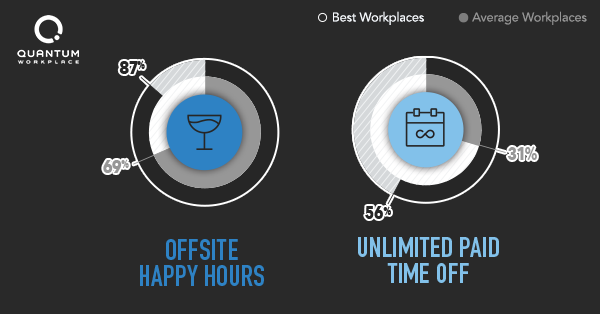 Employee Development
According to Gallup, 87% of millennials (who make up the largest generational group of employees today) cited professional development and career growth as important factors when considering a job offer. Plus 68% of millennials who feel they have had opportunities at work to learn and grow in the past year plan to be with their organization for at least another year.
Employee development perks can support your development program and help attract talent in a competitive market.
37. Mentor program
38. Paid sabbaticals
39. Tuition reimbursement
40. Office library
41. Lunch and learns
42. Stipends for certifications and employee development
43. Paid memberships to professional organizations
44. Professional recognition events
45. Sponsored travel to industry conferences
Align Your Perks to Your Mission



At the end of the day, the perks you choose to offer your employees should align with your organization's values and mission. Be strategic in what you offer so you can cultivate a culture that supports employees' needs and creates an environment that helps them be their happiest and most productive.
Not sure what your employees would respond to most? Ask them!
Take advantage of employee surveys and polls to understand what things your employees value most and what perks would be most meaningful to them. When you are strategic in your approach and responsive to employee feedback, your employer brand will be stronger and employees will feel heard and valued at work.
---
To improve your culture and your employer brand, download new partner research with Human Capital Institute. This report walks HR leaders through the six practices of culture-centric organizations to keep your business successful.