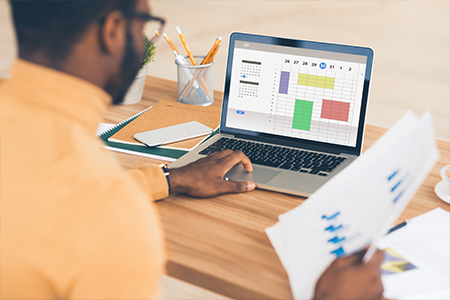 Time is a precious resource for managers and is a definite obstacle to making employee performance a priority.
Between their own work, daily meetings, special projects, and reporting to leadership, many managers wonder how much time and effort they should allot for performance management.
A recent HBR study shows managers spend:
54% of their time on administrative work
30% on solving problems and collaborating
10% on strategy and innovation
7% on developing people and engaging with stakeholders
Doesn't that sound a bit backwards? How can managers drive high performance if they're only allocating 7% of their time to people development?
Managers need to strike a balance in their roles, and all that performance paperwork isn't helping their cause. In one study, when asked about satisfaction with their time allocation, only 9% of managers were very satisfied. And only 52% felt that the way they spend their time matches their organization's strategic priorities.
The most satisfied and effective group of managers in this study identified four key activities that take up 2/3 of their time:
Making key business or operational decisions
Managing and motivating people
Setting direction and strategy
Managing external stakeholders
When managers can devote the majority of their time to coaching, mentoring, and developing their employees, everyone wins. With all these responsibilities, it's not difficult to understand that managers are busy people. But in order to make performance management a seamless fit for them, you need to introduce it in ways that don't feel like energy-draining exercises.
Here are some tips to help your managers make time and space for performance management:
1. Have a simple and agile system.
If your system is complicated, managers will spend endless hours trying to navigate the system. Keep it simple, efficient, and agile. Identify the details of each stage in your performance management process.
Break the system down into bite-sized steps and make sure your people managers understand the process and their role in each step.
2. Encourage them to get out of the office.
Gearing up for performance conversations can be a little awkward when your direct report sits right next to you. Not to mention the office is typically full of distractions. Encourage managers to take some time out of the office to work heads down on important people matters.
A change of scenery can help remove any emotional triggers related to the employee or potentially tough-to-talk-about agenda items. Giving your managers time to focus specifically on these conversations might improve their overall willingness to do them well and better prepare.
3. Create micro moments for performance.
Performance management does not have to be—and should not be—a long and drawn-out process. Coach your managers toward behaviors that easily fit into their daily workflow, such as:
A 30-minute weekly check-in with each direct report
A 5-minute feedback session to wrap up the latest project
A quick shout-out at a team meeting to recognize great work
A gift card to an employee's favorite place to say thank you for stellar effort
Adding brief opportunities throughout the workday for managers to check-in with their employees will keep their performance efforts top of mind.
4. Leverage the right cadence for your performance management conversations.
While finding time for performance management is difficult amidst your ever-growing to-do list, doing so is crucial to your employees' success. But how much time should a manager spend on these growth opportunities?
Employees prefer weekly sit-down performance conversations with their manager. And these weekly conversations pay off, as 71% of employees who have them are highly engaged.
Use your discussions to provide feedback, uncover roadblocks, outline expectations, and give recognition for hard work. Don't forget to prioritize the frequency of your conversations to stay updated on employee performance. When managers are constantly aware of their talent's performance levels, they can better guide professional growth and development.
---
Prioritizing performance management among managers is tough. Download our ebook, Making Time for Performance Management, to get 8 solutions to help them overcome those obstacles.