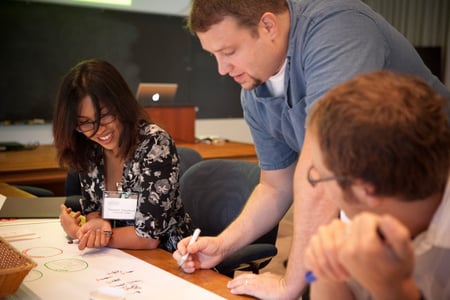 Organizations working to improve employee engagement levels have a bigger issue to tackle first: leadership buy-in. Our employee engagement trends report showed us just how important leadership was to employee engagement.
Many of the top drivers of engagement had to do with leadership, including:
The leaders of this organization are committed to making it a great place to work.
I trust the leaders of this organization to set the right course.
The leaders of the organization value people as their most important resource.
I trust the senior leadership team to lead the company to future success.
Employees' engagement is directly influenced by their confidence in leadership. But could leaders' buy-in (or lack of buy-in) to an employee engagement strategy be just as influential?
The short answer: Yes.
So how do you get senior leadership buy-in for your engagement programs?
In this article, we'll explain why leadership buy-in is so important and outline how to get senior leadership buy-in so your employee engagement initiatives are successful from the start.
The importance of getting leadership buy-in
3 steps for getting leadership buy-in
The importance of getting senior leadership buy-in
Our research found that leadership attitudes toward engagement are directly linked to engagement levels. Meaning, companies with the lowest levels of engagement are led by people who don't take engagement very seriously in the first place. While almost 90 percent of highly engaged organizations say employee engagement is important to leadership, less than 20 percent of somewhat disengaged and disengaged companies can say the same thing.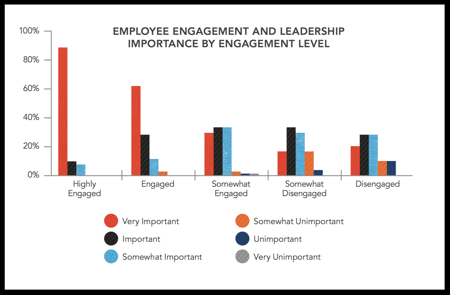 It's not all that surprising when you break it down:
When leaders buy into their organization's employee engagement strategy, employee engagement increases.
When employees are confident that their leaders value their people, set the right course, and are committed to making it a great place to work, engagement increases.
Here's what is surprising—lack of senior leadership buy-in is HR's biggest roadblock to a successful employee engagement initiative, ranking above cost and resources.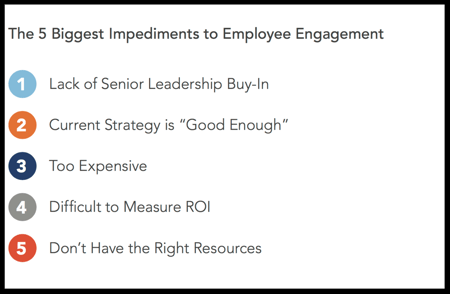 3 steps for getting leadership buy-in
Even with the two powerful data points above (showing how leadership's commitment to the workplace and their support of an engagement initiative directly impact their organization's level of engagement), leaders are still the biggest impediment to employee engagement.
That's why it's crucial you get them on board from Day 1. Here are 3 steps to get their support:
1. Explain the benefits of employee engagement.
Employee engagement programs are an investment, so leaders want to be sure there is a real impact behind the efforts. When proposing an engagement program, explain the benefits of employee engagement not only for employees, but for your business—and the significant costs of disengagement.
For example, disengaged employees cost U.S. organizations around $450-550 billion each year.
But highly engaged companies are 21% more profitable than disengaged companies and enjoy higher customer satisfaction, increased profitability, healthier workers, better retention, and even fewer workplace accidents.
When leaders understand the impact to the bottom line, and how engagement can affect every area of business, you'll be more likely to win their support.
2. Identify problems in your organization an engagement program can solve.
Employee engagement touches every aspect of your business. So a simple way to secure leadership buy-in is to identify problems in the business and explain how your engagement program will address them.
For example, perhaps your company is experiencing a high rate of absenteeism or employees are taking lots of sick days each year. Engaging your employees can help. Highly engaged workplaces have 41% lower absenteeism and healthier employees—which is good for employees and good for business.
Help leaders see these real-world impacts and how your engagement program can help solve some of the biggest pain points in their business.
3. Connect your engagement program to business objectives.
Your engagement program shouldn't exist in a vacuum. As you develop your engagement strategy, work with executives and managers to identify key business objectives that you can tie in to your engagement plan. Analyze employee data to understand how your organization is performing and where it might be falling short on its goals.
For example, if your company experiences high turnover, that can impact the business' ability to grow and remain competitive. A strong engagement strategy can target employee retention through recognition programs, manager coaching, and career development initiatives—all of which can increase employee satisfaction, loyalty and retention.
In other words, when leaders can see how your engagement strategy relates to their overall business objectives, they will get on board.

We've written about the importance of employee buy-in (and given you tips on how to gain it) when it comes to conducting engagement surveys. But before you can even begin to collect employee feedback, make positive changes, and increase employee engagement, you need to gain leadership buy-in to your entire strategy.
---
To learn why engagement is so important to all levels and business units, download our ebook, The New Era of Engagement and start moving the needle.