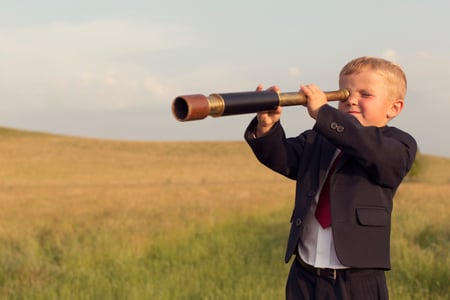 The hunt for promising leaders never ends. To get the most out of your employees, you need leaders that inspire, motivate, and drive strong performance.
But that talent doesn't need to come from outside hires. Those influential leaders may be in your organization already, just waiting to be discovered. You just need to find them.
360-degree feedback is the perfect way to do so. It draws feedback from the manager, coworkers, and the employees themselves to give an overarching view of both performance and promise. If you ask the right questions, you can find future leaders, including those who don't realize their own potential.
If your goal is to identify potential leadership talent within your organization, an effective 360 review should include thoughtful and specific questions within categories that you expect leaders to excel.
Below are a few examples of scaled and open-ended questions to ask individuals (and their peers) during a 360 review, separated into leadership categories.
360 REVIEW QUESTIONS ABOUT INTERPERSONAL COMMUNICATION
Communication is key for every aspect of business. A strong communicator establishes trust, conveys ideas, and engages employees.
Self: I am comfortable anticipating sensitive issues and communicating with all parties involved.
Peer: [Employee] clearly communicates thoughts.
Open-Ended: Tell me about a time [employee] brought together individuals to work on a project. Was is successful? Why or why not?
360 REVIEW QUESTIONS ABOUT
FUTURE VISION
Every great leader needs a vision — and the ability to communicate the end goal.
Self: I consider how various scenarios will impact the future of the business.
Peer: [Employee] anticipates future consequences and adjusts strategies accordingly.
Open-Ended: What is one specific way [employee] has anticipated how future trends will impact your company?
360 REVIEW QUESTIONS ABOUT
MANAGING CHANGE
Being able to properly manage change — and keep employees in-the-know and rowing in the same direction — is an essential skill of good leadership.
Self: I am able to ease concerns during times of uncertainty.
Peer: [Employee] positively challenges the status quo.
Open-Ended: Tell me about a time [employee] received an unexpected request at work. How did he/she respond?
360 REVIEW QUESTIONS ABOUT
EXPERTISE AND BUSINESS ACUMEN
Leaders have a natural curiosity that drives their learning and level of expertise.
Self: I am eager and driven to further my knowledge and expertise.
Peer: [Employee] has a clear understanding of the industry.
Open-Ended: Tell me about a time [employee] actively engaged in a new business learning opportunity.
360 REVIEW QUESTIONS ABOUT
VALUING TALENT
The best leaders make employees feel valued and appreciated for their great work and effort.
Self: I give recognition when I notice a coworker doing great work.
Peer: [Employee] values people as the most important resource.
Open-Ended: Tell me about a time [employee] demonstrated care for a colleague.
---
These questions are a sample of all the revealing things you can ask to help uncover future leaders. For hundreds more, grab your free copy of our ebook, 360 Feedback Questions.