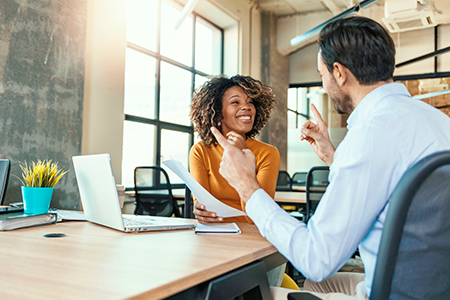 You've heard the adage: People leave managers, not companies. While many factors play a role in preventing employee turnover and improving employee engagement, management is arguably the most critical piece.
To better understand how this plays out in your organization, your employee engagement survey needs to include questions that capture valuable data on employees' perceptions of managers.
We've compiled 32 employee survey questions about management to cover in your employee engagement survey. You certainly don't need to include them all, but asking questions along these lines will help you uncover insights and opinions about your managers and improve your workplace.
Top 4 employee survey questions about management from our I/O psychology experts
Feedback, recognition, career development, and performance expectations are essential pieces of the employee engagement puzzle. These 4 questions will help you drill down to those essential employee needs so you can uncover potential gaps in your management approach and focus your engagement efforts effectively.
Do you regularly receive

constructive performance feedback

from your manager?
Do you understand how your performance is measured?
Do you think your manager cares about you as a person?
Does your manager care about

your development

?
Employees need to hear from their managers about what they do well and how they can improve. Constructive feedback not only helps employees succeed in their roles but also demonstrates that you care about them and their work.
When employees feel valued by their leaders and understand what is expected of them, they will feel empowered to do their jobs well and are more likely to be engaged in their work.
Survey questions about manager communication
Clear and consistent communication is the foundation of a strong manager-employee relationship. Poor communication from the top can lead to frustration, confusion, and de-motivation. Of course, it's not always easy to pinpoint where communication may be failing. These questions can help you identify areas where communication may be missing or insufficient.
Does management clearly communicate performance expectations?
Does your manager

effectively communicate the information you need to understand

?
Does management explain the reasons behind decisions made?
Do managers

handle disagreements

professionally?
Does your manager explain how the organization's future plans affect you?
Does your manager clearly communicate changes to company policies or benefits?
How frequently do you receive recognition from your manager?
The last time you completed a project, did you receive any recognition?
Survey questions about manager trust and respect
Trust is the foundation of any good relationship, including between employees and their managers. If your employees don't feel safe and respected at work, they will be less likely to ask questions, bring problems to the attention of leadership, and feel motivated or empowered to do their best work. That's why it's so important that managers foster an environment of trust and mutual respect within their teams.
Here are a few questions to gauge how comfortable your employees are with their manager:
Does your manager create a trusting and open environment?
Does your manager treat everyone on the team fairly?
Is your manager responsive to your ideas, requests, and suggestions?
When you approach your manager with a problem, do you trust they will listen?
Does your manager make you feel like a valued part of the team?
Survey questions about manager effectiveness
How effective are your managers at leading? Do they have the skills, training, and resources they need to succeed? The answers aren't always obvious—especially if your managers check off all the usual boxes of "good management practices."
That's why it's helpful to ask employees directly:
Are you confident in the overall effectiveness of your immediate manager?
Does your manager have the expertise and ability to help you and your team succeed?
Does your manager maintain high standards for their conduct?
Has your manager worked to improve on issues in the last year?
Does your manager make consistently effective decisions?
These are good questions to ask if a manager is doing all the right things on paper (holding regular 1:1s, giving public praise, solving problems, etc.) but the team is still disengaged. The answers can help point to potential gaps in the manager's skillset or identify tools or resources they may need to be effective.
Survey questions about career development
Career development is a key driver of employee engagement. Employees who see a future at their company and a path to grow are more likely to be engaged and motivated to succeed.
Managers play an essential role in developing employees and providing opportunities to grow. Use these questions to see how well your managers are coaching and developing their team and identify opportunities to close any gaps in communication or training.
Do you and your manager

discuss your career within this organization

?
Do you see yourself growing and developing your career at this company?
Do you know what steps you need to take in order to move up in the organization in the next year?
Do you believe you'll be able to reach your full potential here?
Do you receive sufficient learning opportunities in your job?
Survey questions about work-life balance
Work-life balance isn't just a nice-to-have, it's essential to the well-being of your employees and—by extension—your bottom line. Poor work-life balance leads to higher stress and employee burnout and disengagement. In fact, one study by the American Psychology Association found that burned out employees are 2.6 times more likely to be actively seeking another job.
The top causes of employee burnout include:
Unmanageable workload
Unreasonable time pressure
Lack of communication and support from their manager
Use these questions to help you identify how well your leaders are managing work-life balance among their teams.
Does your manager recognize the importance of your personal and family life?
Does your manager care about your well being?
Do you believe that generally, your workload is reasonable for your role?
Does your manager set fair deadlines?
Do you feel supported by your manager?
---
Choosing your survey questions is one small step in conducting an employee engagement survey. Download our Pulse Survey Templates to help you build successful surveys.