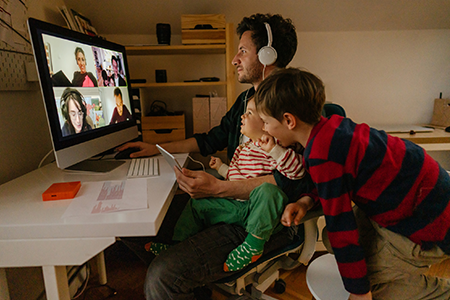 Working from home has become the new normal for many employees and companies. And while there are many advantages to remote work (like greater flexibility and less commutes), it also brings challenges.
One of the biggest challenges is fostering connection among remote team members. This is because working from home reduces the frequency of natural social interactions and "water cooler" moments that help bind teams together.
Luckily, building social connections remotely is still possible. Keep your remote team engaged and your employees connected with these strategies.
Importance of keeping remote workers connected
Working from home can feel isolating and demoralizing for employees who are used to connecting with their coworkers in person. Without the right structures and activities in place, remote employees may feel not only physically distant but emotionally distant from their team.
This isolation isn't just bad for your employees. It's bad for business. Employees who feel isolated and disconnected at work have lower performance, lower productivity, and are more likely to quit. That's why it's important to create opportunities for connection remotely—to the organization, to the team, and to the work.
Here's how:
How to connect remote workers
Connections are made at the organizational, team, and individual levels. Help your remote workers connect to your organization, each other, and their work with these tips.
Connect remote workers to their organization.
Good organizations focus on connecting their remote employees to the company and each other. One of the risks of remote work is that distributed teams can quickly feel disconnected from the company culture and have a harder time creating a sense of belonging that binds employees to their organization and office community.
Although it's easy to point to managers as the first line of defense for building connected teams and creating positive remote work experiences, don't neglect the impact your organization can have through higher-level policies and communication.
Embrace flexibility.
The culture of remote work is based on greater flexibility and autonomy. This can be a big transition for both employees and organizations, but companies that embrace flexibility rather than resist it will have a more successful remote work experience.
Help your managers and people leaders adapt their performance management approaches to this new remote reality. This can include training managers on how to coach and develop employees remotely, how to hold effective remote meetings, and how to drive performance without micromanaging.
Consider updating your performance management processes with flexible, remote-friendly solutions that not only make it easier to manage performance but to drive it.
When your managers are trained and equipped to manage remotely, they will be more effective at connecting remote workers to the organization and creating a culture of belonging and excellence.
Craft adaptive and supportive policies.
C-suite and HR leaders have a lot of impact on company culture through organizational policies and standards. Help your remote workforce succeed by crafting policies that reflect and support their new remote work dynamics.
Traditional organizational policies are often inflexible or unimaginative. But with remote work, employees have new or different needs, priorities, and expectations from their employers.
One of the best ways to build connection to the organization is through remote-friendly policies such as:
Flexible scheduling
Equipment stipends for home office set-ups
Goal-based performance measures vs. prescriptive time-based performance
Bottom line: Be flexible, adaptive, and responsive to the needs of your remote employees and they will be more likely to feel appreciated, respected, and ultimately connected to your organization.
Connect remote workers to their team.
Help your team connect to each other through face-to-face interactions, remote team-building activities, and conversational meetings and communication that build trust and relationships.
Turn your video on.
Video conferences can seem awkward and unnatural at first, but seeing people's faces when they talk can make a big difference in how connected everyone feels. Video puts a face to the voice on the other end of the line, humanizing the connection and allowing for more dynamic interactions.
When you schedule meetings, include a video invite (Zoom, Google Hangouts, and Microsoft Teams make this easy) whenever possible.
Pro Tip: Need help making your video conferences more fun? Zoom allows you to customize your video backdrop. Hold a team Zoom background competition to see who has the best/funniest/scariest background. It's a great way to break the ice and build team camaraderie from afar.
Break the ice with team activities.
Team building activities are a great way for teams to bond and connect. While virtual teams might have to get a little more creative, there are still plenty of ways to connect and break the ice.
For example, consider trying some of these remote team building activities with your remote crew:
Virtual scavenger hunt
Netflix party
Virtual book club
Team fitness challenge
The right activities will increase employee engagement and help your team members connect meaningfully. Pay attention to the needs and personalities on your team to pick team-building activities that will resonate with your employees and build on the team culture you already have.
Connection is crucial for creating happy and engaged teams. One study found that employees who had an opportunity to chat and socialize with coworkers for just 15 minutes showed a 20% increase in performance.
Have fun with Slack channels.
Many offices rely on Slack for work communication. You can use Slack for team channels, department channels, management and leadership channels, and even channels about specific projects.
But it's also a great place to host casual chats with your team and coworkers. For example, your channels might look like this:
#water-cooler
#workplacedoggos
#teamfitness
#funnystories
#gardeningtips
#good-reads
#jamoftheday
#foodies
#recognition
Use channels to create a virtual place to provide work updates, hang out, share interests, collaborate, and laugh together.
Host virtual happy hours.
Similar to water-cooler chats, schedule virtual happy hours with your team after work. Virtual happy hours from home are a great way for employees to connect casually outside of their work.
Try using an app like House Party, which allows groups of up to 8 people to video chat. This keeps the meeting more intimate, making it easier to connect with each other.
Plus, it's more casual compared to Zoom and other conferencing platforms that allow larger groups, which can feel more business-like.
Connect remote workers to their work.
Remote employees need to feel connected and engaged with the work itself. This means they need to know how to do their job successfully and have a long-term sense of purpose and direction.
Implement a robust remote onboarding process.
Set your remote employees up for success from day one with a remote onboarding process. Onboarding is key to connecting new employees to their work, their team, and the organization as a whole.
A good remote onboarding process will help employees:
Meet their coworkers
Get oriented to the team and organizational structure
Understand company culture and policies
Learn what is expected of them and how to get the job done
Access important resources including logins, documentation, team communications etc.
When employees know what they need to do and how to do it, they will feel confident and empowered to perform and help them feel connected to their work.
Invest in ongoing professional development.
Remote employees tend to feel more engaged but still turnover in greater numbers than their in-house counterparts. This gap in engagement and retention can be narrowed by connecting remote workers more effectively to their long-term professional development.
In other words, no matter how great your culture is or how well employees perform, if they don't feel a sense of purpose, they may end up disconnected and disillusioned.
Investing in ongoing professional development and coaching your employees for continued growth can help them connect more meaningfully to their work by aligning their goals with the company vision and seeing a future with your organization.
Creating a positive organizational and team culture where people feel connected isn't always easy—especially when teams are distributed or remote—but it's worth it.
---

For more ideas on how to engage your employees near and far, download our 200 Employee Engagement Ideas.