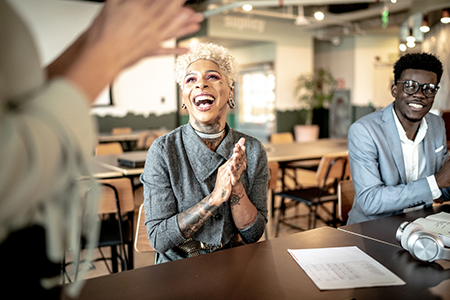 Employee recognition is a critical aspect of an engaged workforce. According to our research, feeling appreciated is consistently a top driver of employee engagement.
In fact, when employees believe that they will be recognized if they contribute to the organization's success, they are 2.7x more likely to be highly engaged compared with employees who don't agree.
When employees feel appreciated for the work they do, they're more likely to be engaged. But unfortunately, employee recognition is one of the areas employers continue to disappoint their staff.
Why? Because your employee appreciation ideas suck.
Our assumption: Most companies are still resorting to generic, impersonal employee appreciation methods, like "Employee of the Month" plaques and bulletin board announcements in the break room—and frankly, they suck. Let's appreciate employees in ways that matter to them—ways that seem, and actually are, genuine.
Here are 13 employee appreciation ideas to motivate and engage your employees.
Simple Employee Recognition Ideas
1. Surprise them.
Did someone from sales land a big client? Did your dev team launch a new product without a hiccup? Celebrate their accomplishment in a way they'd never expect, with a good old-fashioned surprise party!
Go all out by decorating the office, killing the lights, and jumping out of a giant cake when they arrive. Or, keep it low-key and give them a round of applause as they walk through the office. No matter how you do it, everyone loves a good surprise party! That's one employee appreciation idea that'll leave them blushing.
2. Show them the money.
Okay, so a spot bonus isn't the most original employee appreciation idea. But it doesn't disappoint. Your company pays employees what you think they're worth, so slipping them a little extra green shows that you recognize and value their discretionary effort and achievement.
3. Shout it from the rooftops.
One way to make your employee appreciation genuine is to tell anyone and everyone of your employee's success — share an employee's accomplishments with their teammates, senior leaders, and even the janitorial staff. Publicizing your appreciation will tug at employee heart strings in a whole new way. Need some ideas? Make an announcement in all-company or team meetings, send your praises around via email, or showcase employee awesomeness on your company's online employee recognition software.
4. Get them out of the office.
This might be my favorite employee appreciation idea of all. When you're recognizing employees for extraordinary effort or success, they likely went above and beyond to get there (logging extra hours, sacrificing personal time, losing sleep, etc.).
Show your employee appreciation by giving your high-achiever the gift of time. After a big goal is met or project completed, let your employee take the rest of the day off to be with family, run personal errands, or veg out and eat Cheetos like a college student home for the summer.
5. Say thank you.
An oldie, but goodie. A genuine "thank you" is one employee appreciation idea that will never go out of style. Write a hand-written note—leave it at their desk or send it in the mail for remote employees.
6. Dedicate time in your next one on one meeting to discuss.
Recognition is personal and should reflect the preferences of each employees. Spend time in one-on-one meetings asking your employees how they prefer to be recognized (publicly, privately, etc.) and use this time to express your appreciation regularly.
Creative Employee Recognition Ideas
7. Let them learn.
Give your employees the opportunity to further their education — on the company's dime. Send them to a conference, enroll them in an online course, offer tuition reimbursement, or give them an opportunity to cross-train with other coworkers to develop new skills.
8. Give extra vacation time.
Want to show your employee appreciation by giving your staff time off? Let them choose when they reap the reward of their achievement and give employees an extra day paid vacation.
9. Send them on a shopping spree.
Not every team leader has the luxury of giving out a spot bonus whenever their employees do something awesome, but there are other ideas for showing your appreciation. How about a gift card to their favorite coffee shop? Consider their preferences and deliver a gift card they (and their entire family) can use.
10. Ask for help.
Nothing says you appreciate your employees like admitting you need their help. One of our less conventional employee appreciation ideas, asking for advice or help might not feel as tangible as an award that recognizes employee achievement. But that doesn't mean it can't make employees feel appreciated. When you reach out to employees, you send a strong message that you value their opinion or expertise.
11. Write a LinkedIn recommendation.
Career development and growth is a key driver of employee engagement. Demonstrate employee appreciation beyond your workplace. Write a recommendation or endorse the skills that reflect your employee's hard work, so that they can be successful in their current role and in the future.
Team Recognition Ideas
12. Indulge them with food.
Bring in donuts, cater lunch, or pick up the tab at happy hour. Make sure everyone knows it's the company's way of appreciating an employee's or team's accomplishment.
13. Plan a team retreat.
Appreciate your entire organization with an annual team retreat. Whether you take a trip to the Caribbean, spend a weekend at a luxury hotel downtown, or skip the bill and go camping in the woods, a regular full-team retreat will make each and every employee feel like a valued member of your organization. Plus, it can double as a team building event. Win-win.
---
There you have it. A few employee appreciation ideas that don't completely suck. For more ideas on staff appreciation and employee recognition download our ebook Recognition in the Workplace.