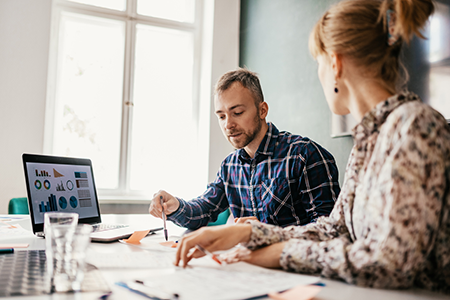 66% of executives believe their workplace culture is more important than their business strategy or operations. And 50% of employees experience culture most strongly in their manager's approach to performance.
With these statistics in mind, it's clear that company culture is important—and employee performance is a big part of that. That's why leaders should foster a culture of high-performance to support employee, team, and business success.
High performance culture definition
A high performance culture empowers employees to be as effective as possible in their role. These cultures are built on norms and behaviors that help employees set, work toward, and achieve challenging goals. A culture of high performance should engage employees every day, promoting the behaviors needed for employees, teams, and the business to succeed.
The characteristics of a high performance culture
While every organization's culture is different, high performance cultures often share common characteristics. Here are 9 components that you'll need to foster a performance boosting culture:
1. Continuous feedback
Employees crave real-time, constructive feedback. Regular feedback fuels employee growth and creates a foundation of trust between employees and managers. When feedback goes both ways, managers become better coaches and employees become better team members.


2. Employee recognition
Employees want to feel valued for their contributions. When you recognize employees for their work, they'll have more motivation to continue their efforts. Plus, the workplace will be more positive, promoting employee wellbeing and happiness.


3. Goal alignment
Employees should collaboratively set, track, and accomplish goals with their managers and teams. These goals should roll up into larger team and company goals and shared publicly so that everyone understands the unique contributions of each team and individual. When employees feel like they're a part of a bigger mission, they'll have a stronger drive to succeed.


4. Regular performance conversations
Employees and managers should stay connected with regular performance conversations. An annual performance conversation is not enough to keep employees engaged and drive a high performance culture. These conversations should occur at least monthly to address roadblocks, create alignment, and celebrate accomplishments.


5. Strong leadership
Leaders set the standard for how employees across the organization behave. They outline and define success—and should model the behaviors needed for an engaging, high performance culture. Ensure your leaders are consistently meeting their goals and inspiring employees to do the same. When leaders aren't high-performing, expectations shrink across the organization—and this does nothing for business success.


6. Employee engagement
Employee engagement is defined as the strength of the mental and emotional connection that employees have to their work. When employee engagement is high, employee retention, productivity, and customer satisfaction increases. When employee engagement is low, employees lack the connection needed to actually care about the outcomes they produce. To create a culture of high performance, you need high engagement first.


7. Ongoing development
To reach their full potential and become highly effective in their role, employees need room and resources grow. Leaders should provide ongoing feedback and regularly outline growth opportunities to all types of performers, both low and high. Not only will this boost employee productivity, but it will help your workers feel valued as people.


8. Agility
Organizations should adopt a change mindset if they want to empower long term performance. As the workplace continues to evolve and change, leaders should effectively adapt and support employee success. Don't let change blindside you—plan for it to achieve optimal results.


9. Strong values and rituals
People across your organization should be aligned on core values and rituals. That way they can use those values to drive their actions everyday at work. This creates mission-oriented behavior that establishes a clear path to success.


What are the benefits of a high performance culture
A high performance culture can make all the difference in your organization. Here are the top benefits: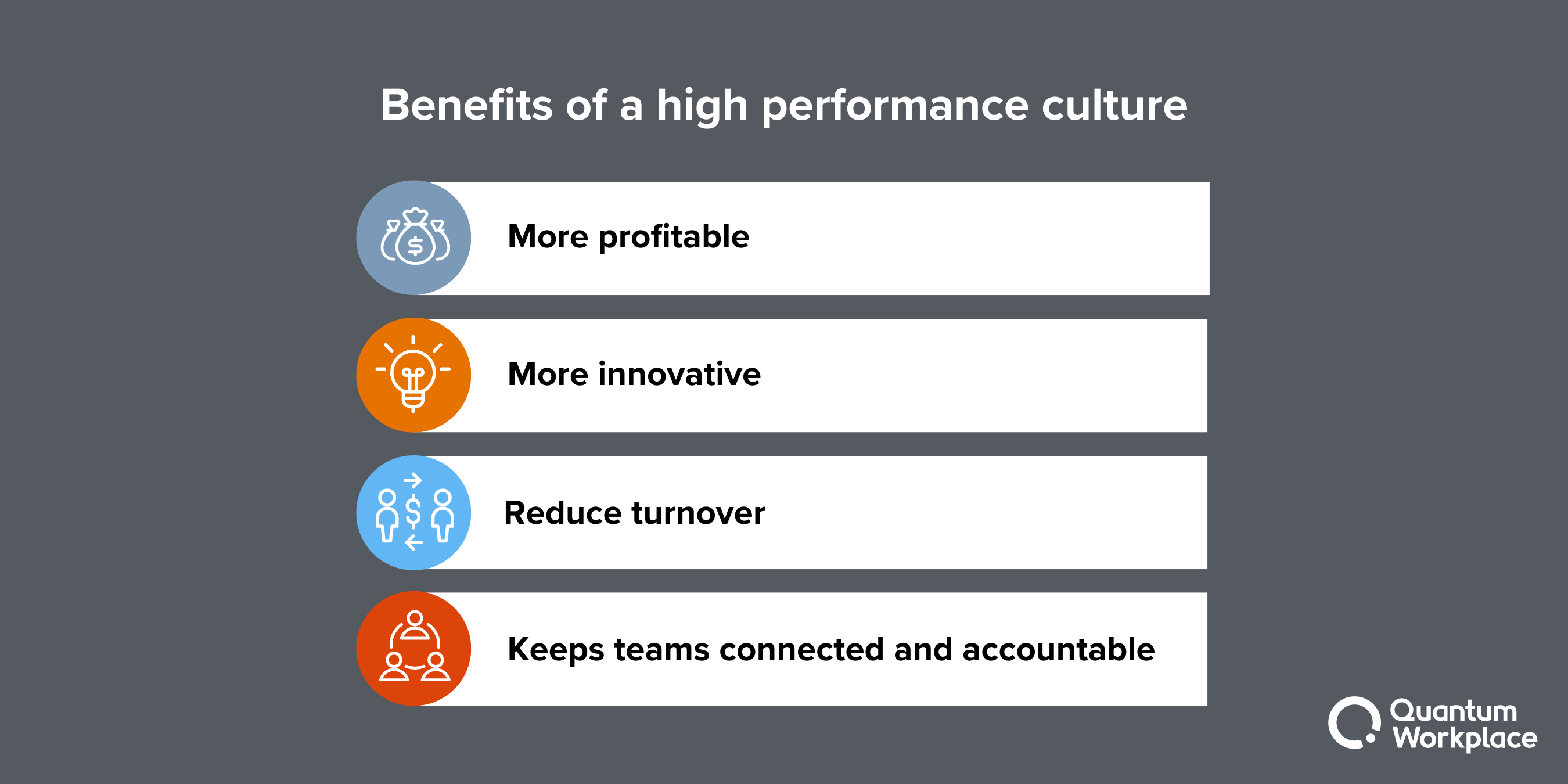 More profitable
It's no surprise that performance-boosting cultures are more profitable. When employees are empowered to succeed everyday, businesses succeed too. Better performing employees generate more revenue for the business.


More innovative
Innovation and growth are a big part of performance. As employees grow in their role, they're better empowered to innovate and drive business growth. High performance cultures encourage employees to develop and nurture new ideas and processes.


Reduce turnover
As employee engagement and performance grows, retention rates follow suit. When employees are connected to their work—and see the value they add to the organization every day—they're less likely to leave for greener pastures.


Keeps teams connected and accountable
Another big part of employee performance? Organizational alignment and accountability. When employees know how others contribute to business success and understand that high performance is the norm, they'll be more motivated to perform well themselves.


Using software to foster a culture of high performance
The right technology can support a high-performance culture, providing the tools needed to streamline your culture strategy. Here's how the right platform can help:
Goals

An integrated goal platform will outline and elevate employee and team goals to the organization. This helps increase company-wide alignment and accountability. When people understand how each employee adds value, they can paint the picture behind business success. Look for a platform that helps connect organizational, team, and employee goals—and that helps teams share and track progress on their goals in real-time.

Feedback

An effective two-way feedback tool facilitates 180, 360, anonymous, and attributed feedback. People can ask for or receive feedback from people across the organization. Regular feedback boosts trust, performance, and employee growth.

Recognition

Employees need to feel valued for their contributions. And a streamlined recognition tool can help. The right recognition platform will elevate employee success across the entire organization, helping employees understand why their efforts matter.

1-on-1s

1-on-1 tools facilitate employee-manager conversations to boost employee growth, accountability, and trust. It's important for employees and managers to stay aligned with ongoing performance conversations—this tool will make these interactions a reality.

Talent reviews

A robust talent review tool will help leaders understand the overall state of company performance. This will help leaders understand whether their culture is helping or hurting employee performance. Talent review tools help leaders make strategic decisions about their people to foster a culture of employee success.

Employee surveys

Employee surveys help leaders gather employee perceptions about important workplace topics, like culture. This tool will help leaders gather employee feedback in real-time and at all points of an employee's tenure to effectively measure culture. The insight you gain will enable you to move forward with confidence and shape a culture that works.

People analytics

People analytics tools help you surface insights about your workforce to shape evidence-based decisions. Gone are the days of using gut feelings to shape your culture—leverage real people data and create a culture that employees can thrive in.
---
Learn more about creating a culture strategy that drives business success. Download our eBook: The Culture-Centric Organization.