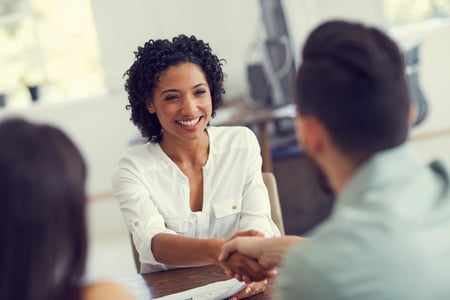 New hires and exiting employees may be on opposite ends of the tenure spectrum, but providing recognition is critically important for each group.
You want to get new employees started off on the right foot, excited and fully engaged from day one, just as you desire that exiting employees would move on gracefully and without burned bridges.
We have a few tips to offering authentic recognition to each group.
New Hires
1. Send out a welcome post/email to the office. Welcome the newbie to the team with a simple hello that explains who they are, what role they're filling, where they came from, and maybe a few fun notes about their personality or hobbies. This will clue in your current employees to their new coworker and help relationships build more quickly. This tactic is best employed at smaller organizations.
2. Recognize small contributions early in their tenure. An employee's first few weeks are mostly about onboarding and getting their feet under them – they typically don't do much that really affects the organization. Highlight any achievements or "firsts" they experience. Celebrating even the smallest win helps the employee feel welcomed and shows they're on their contributions, however small, are valued.
3. Encourage the fresh perspectives they bring. Whether the employee is fresh out of college or coming from another organization or industry, their prior experiences provide them with ideas outside the norm in your workplace. Welcome them to share processes or strategies that worked at their previous stops. This makes the new hire feel heard and could introduce previously unknown ways to make your organization more efficient.
Exiting Employees
Turnover is almost always awkward, but recognition helps you make the best out of the situation. You want employees to leave in good standing – it makes your organization look better to remaining employees and increases the odds of the exiting employee returning down the road. These tips are for employees that are leaving on good terms, not those who are involuntarily removed.
1. Celebrate their successes. Share a post that details the biggest accomplishments from their tenure.
2. Take them to lunch/throw a going-away party. Give the exiting employee one final send-off where everyone can say their good-byes and remember the good times.
3. Be a reference. Remind the employee that you are available as a resource or reference for future jobs. They can come to you for guidance or wisdom if they wish. This shows empathy and understanding as they begin a new journey.
4. Send them a good luck card at the new office. The "Thank you for your years of service" card is stale and unoriginal. Instead, let them know you're still thinking about them as the next portion of their career begins. This provides a welcome surprise and can help calm their nerves during their first few days.
---
Want to see some real-life examples of recognition? Check out our ebook, The 50 Best & Worst Recognition Comments, to see what types of recognition employees appreciate and which they can't stand.