Your employee onboarding software plays a critical role in retaining employees for the long haul. In fact, new employees who go through a well-designed, structured onboarding process are 58 percent more likely to be with the organization three years later.
During a successful onboarding program, organizations will leverage software to help them understand how new employees perceive the organization. Those first few months can also be used to establish your employee feedback philosophy and practices with new hires. Plus, opening the lines of multi-directional feedback is important to ensuring successful onboarding and engagement of your new team members.



To help you integrate employee feedback into your onboarding process, we've described how six of our employee engagement features can be tailored to create your ideal employee onboarding software. Check them out to see how you can use this toolset to engage employees in your onboarding process: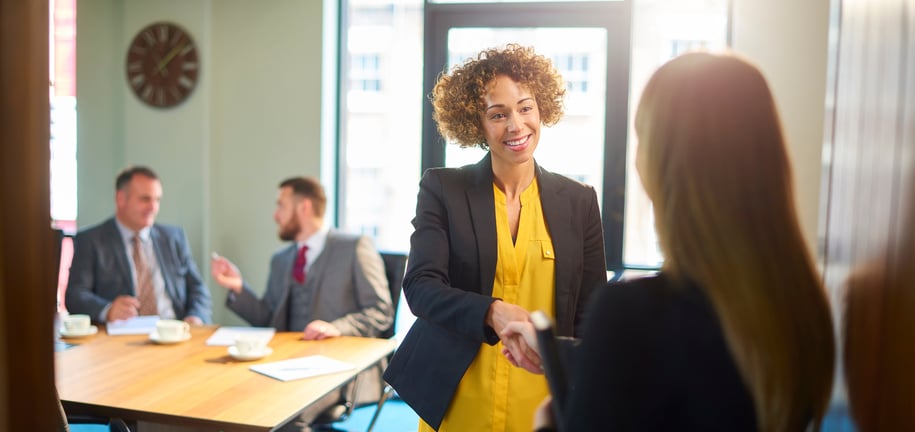 1. Recognition
Employees recognize each other on a Facebook-style newsfeed, accompanied with gifs and videos. Each recognition post is tied to a company value, customized to the organization. Employees can like and comment on posts to keep the conversation and celebration going.
New hires can dive into this feature of employee onboarding software from day one. Recognize new employees for joining the team and use the post as a way to welcome them. Encourage new hires to stay up-to-date on the latest recognitions to get to know fellow employees and join the conversation. Seeing employee recognition tied to corporate values can give new hires visibility to what company values look like in action. And don't forget to recognize new hires for their first wins. This feature also has analytics to give leaders a view of recognition throughout the organization.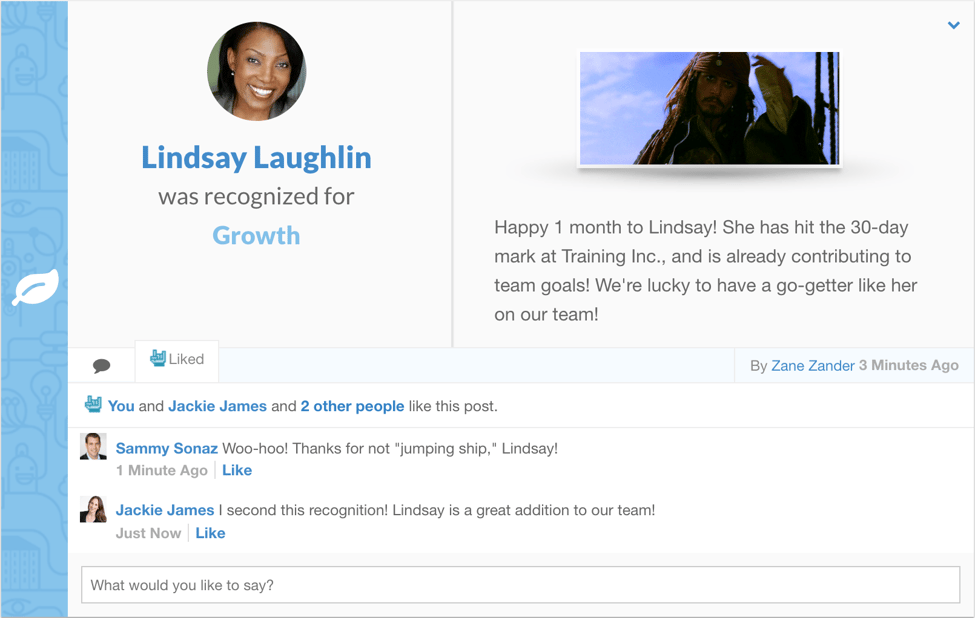 2.

New Hire Survey
The flexible survey feature makes it easy to customize surveys to your onboarding process: create the cadence you want to auto-send surveys based on hire date, ask new hires about their recruitment and interview process, and find out if the pre-hire experience correctly sets expectations.
You can even expand the impact of your new hire survey beyond evaluating HR practices — uncover how welcome the new hire feels, if they understands goals and how they impact them, and if they have the support they need from their new team and manager. Our employee onboarding software gives you the information you need to evaluate your onboarding practices and make improvements for future hires.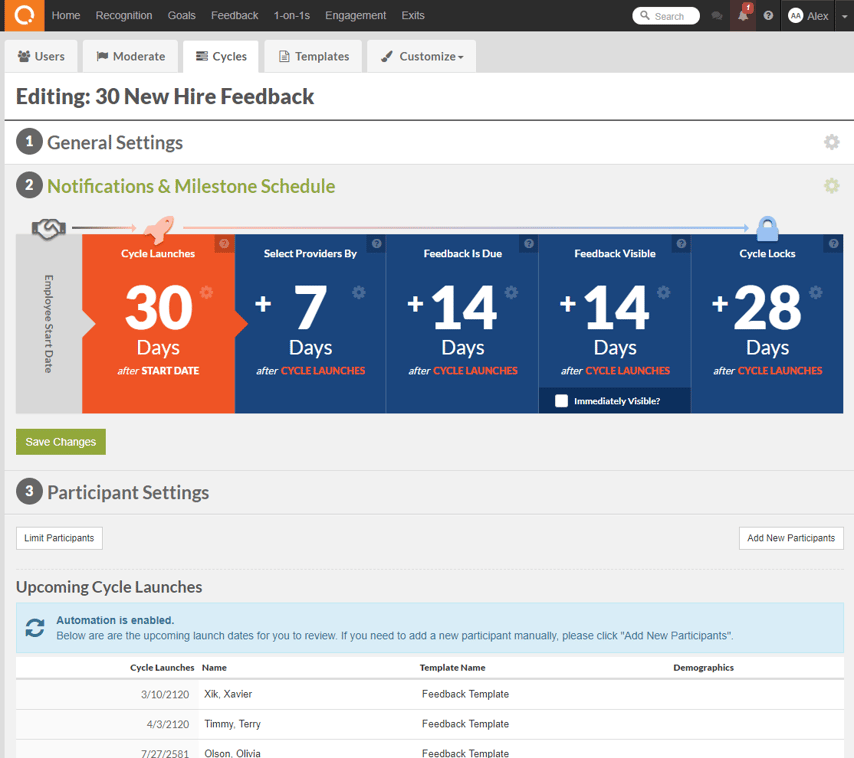 3. One on Ones
An employee and manager take 5-10 minutes to build an agenda for their one-on-one meeting by answering a few quick questions. After the in-person meeting, they each add their notes from the one-on-one. Organizations can create custom meeting templates for different scenarios, such as the first 15 days, 30 days, 60 days, and 90 days for new hires. You can also use the employee onboarding software to take a performance review approach by creating templates with open-ended and rated review questions where both manager and employee answer.
This is a great tool to tailor initial performance conversations to your new hire onboarding experience. To integrate it with feedback collected in the new hire survey, managers can even use the one-on-one to discuss the new hire's engagement and other responses from the survey.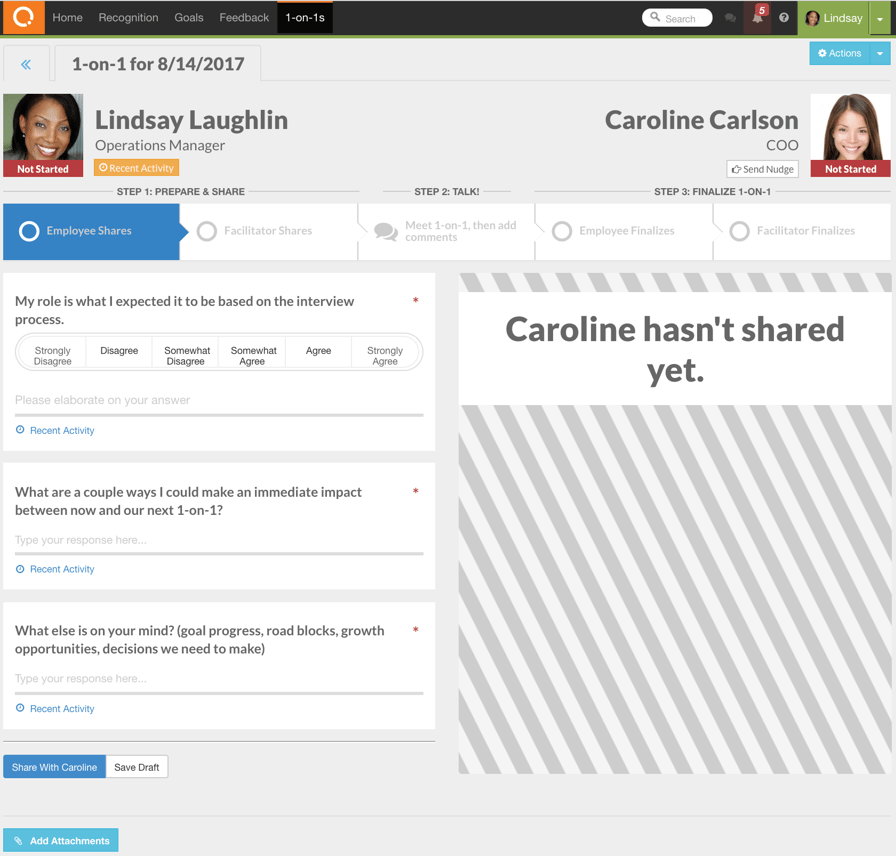 4.

360 Feedback
Employees give online feedback about another employee's performance. That's it in a nutshell. But Quantum Workplace has some additional capabilities that make its take on 360 feedback unique — allowing you to create a custom employee onboarding software that fits your culture.
Feedback can be attributed or anonymous. Employees can comment and ask follow-up questions on the feedback right in the tool. Feedback can be employee-initiated, HR-initiated, or automated by milestones like hire date. It still has all the traditional features of 360 feedback, such as open-ended and scaled questions and reports comparing various types of employees (i.e. manager vs. peers vs. self). Embedded into your onboarding process, this tool provides new hires with early feedback, managers with early coaching signals, and peers with an opportunity to help their new team member. Aggregate reporting on new hire feedback within an employee onboarding software can also help the organization evaluate the strengths and weaknesses of its onboarding process.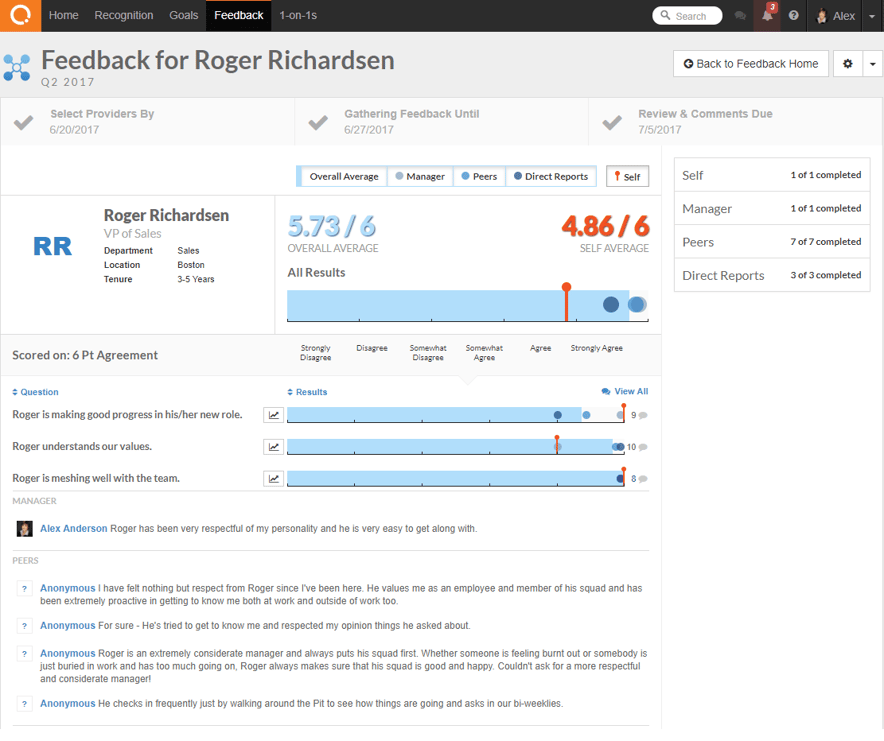 5. Goals
Employees set, track, and update goals online. While goals can be set to private, the software is built to give employees visibility of goal progress across the organization, which they can see in a newsfeed-style digest. The software is flexible enough to support OKRs and SMART goals, as well as a variety of metrics.
With 60% of companies failing to set milestones or goals for new hires, leveraging this feature as a part of your employee onboarding software is a quick win. Use it to introduce new hires to your organization's goal philosophy and practices, as well as your team and organization's most important goals. Encourage new hires to set goals around their onboarding, their first project, and their main responsibilities.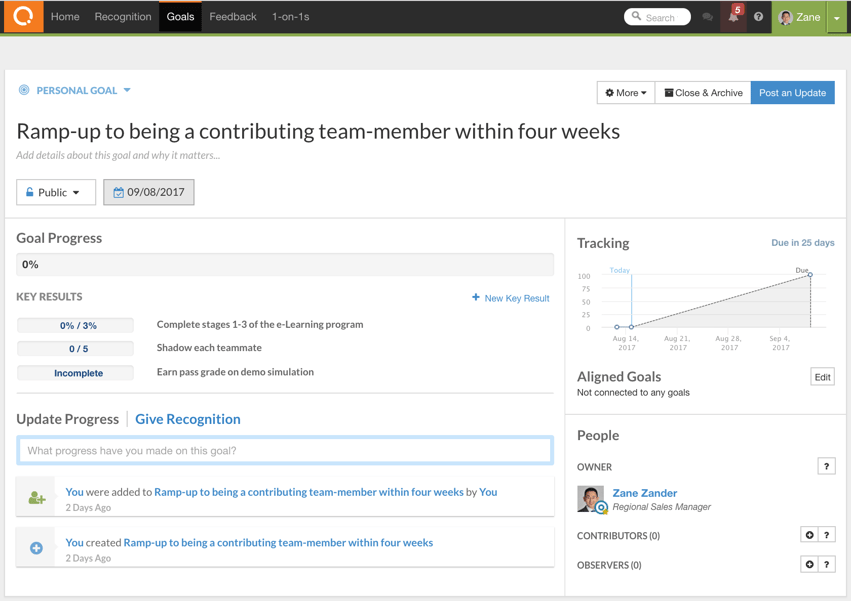 6. Census

Survey
Finally, we arrive at the classic census (annual employee engagement) survey. Typically conducted on an annual basis, the census survey serves to measure engagement and collect feedback on how employees experience their workplace. In the case of new hires, incorporate tenure into your demographics, so you can analyze the data by hire date and look for trends. If you have specific questions to ask new hires, customize your survey, so they see a specific set of questions.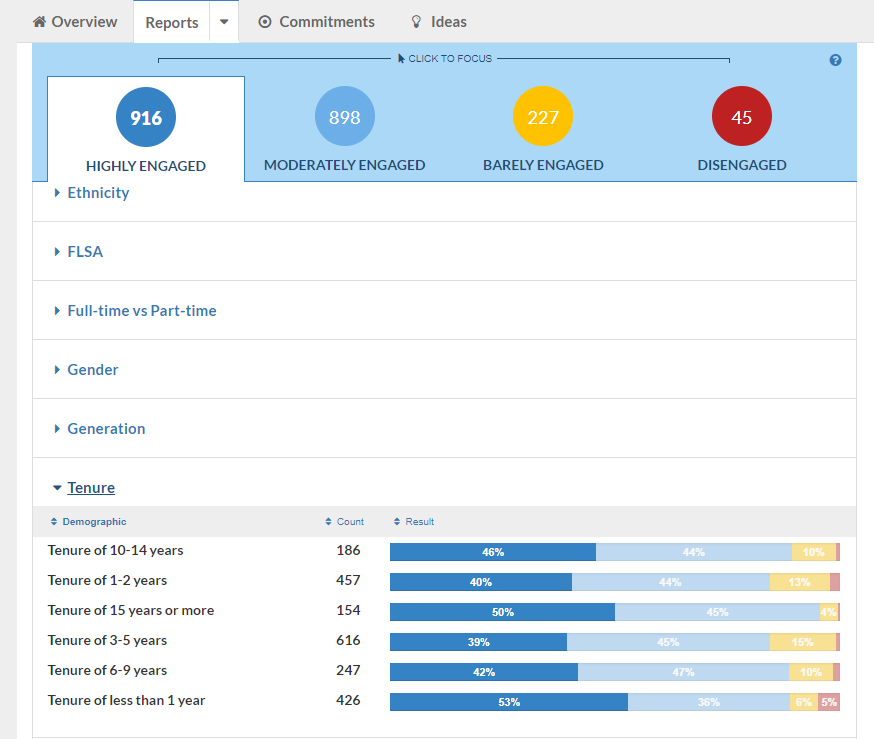 Ready to see how Quantum Workplace's features can revolutionize your onboarding process and create an employee experience that will have the market's top talent constantly monitoring your job board? Hop on a quick demo with one of our engagement experts to see just how easy and effective the process can be.