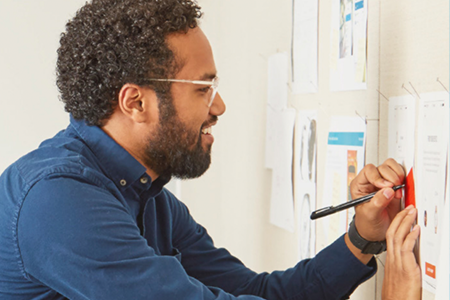 To lead a successful employee performance management strategy, you need a strong focus on goal alignment.
In fact, 91% of companies with effective performance management systems say that employee goals link to business priorities, leaving leaders wondering how to promote goal alignment throughout their organization.
Managers should continuously coach employees to set and meet aligned goals. By doing so, performance will be less difficult to measure and address.
But many organizations—and managers—fail to clearly define and share their performance expectations. As a result, employees end up interpreting expectations on their own and set individual goals that don't match up with their team or organizational goals. This leads to lack of alignment and poor performance outcomes.
It's no surprise that organizations who don't align their goals have employees who are confused and doubtful about how they fit into the bigger picture.
Here are four ways to drive focus, create clarity, and share performance expectations for improved goal alignment.
1. Clearly communicate company goals.
Communication is an important part of any business. Effective communication helps managers engage their employees and manage individual performance expectations.
To improve goal alignment, company goals should be clear to everyone in your organization. This includes executives and senior leadership all the way down to front-line employees. There should be no question about what the organization is trying to achieve and when.
Goals and their progress should be accessible to anyone at any time. Consider utilizing a goals software to make your development more visible. Keep these objectives top of mind and gently nudge employees to continue driving focus.
2. Link individual goals to strategic company objectives.
Communicating your strategic vision is only the first step. Employees are motivated by purpose. When employees understand how their work impacts organizational goals, they are more engaged and tend to stick around.
Company goals should inspire team goals, and team goals should inspire individual goals. Showcasing the connection between each level gives employees a clear sense of how they are supporting those goals and boosts their perception of their value as an employee.
3. Collaborate on team and individual goals.
When employees have input on their individual and team goals, buy-in is likely to increase. Managers should collaborate with employees during the goal-setting process. This helps inspire commitment and creates a sense of ownership. But collaboration shouldn't stop there.
Employees can also benefit from a continuous feedback loop. In fact, 92% of employees agreed with this statement:
"Negative feedback, if delivered appropriately, is effective at improving performance."
Feedback is necessary for growth and achieving goals, and most employees understand that. Creating a feedback culture is sometimes easier said than done, but that doesn't mean you should avoid it altogether. Empowering managers to provide effective feedback is a great way to help employees achieve their goals and helps drive goal alignment throughout your organization.
4. Don't set and forget goals.
Goals take time to develop. Because of this, individual and team goals shouldn't only be discussed once a year. Managers and employees should make a point to discuss, examine, and adjust goals year-round. The best organizations discuss goals and their progress anywhere from a monthly to a quarterly basis.
Creating, communicating, and aligning goals across the organization is the best way to build a successful performance management process. When employees, managers, and teams feel connected to the company's vision for success, they will be successful too.
---
To meet business objectives, Fossil Group needed to improve goal alignment. Find out how they achieved 100% of their strategic performance priorities two years in a row with our ebook, Making Time and Space for Performance Management.