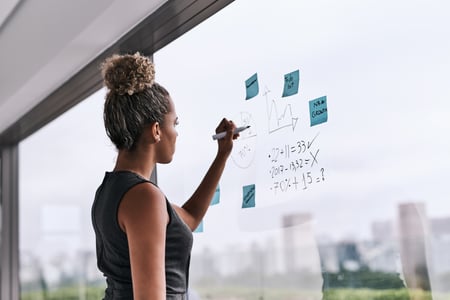 Goal setting, goal tracking, goal accomplishing…in many offices, "goal" is a four-letter word that is wreaks havoc at the same time each month, quarter, and year.
Many companies have found relief from the Sisyphean task of employee goal setting with the OKR system. OKRs can help organizations keep their various teams focused, aligned, and informed about progress. But despite its devotees, OKRs are far from perfect.
Here are 5 common mistakes when setting OKRs.
1. You don't define objectives and key results.
Objectives are…
Ambitious and inspiring
Qualitative or subjective
Time-bound
Actionable
Key Results are…
Concrete
Specific
Measurable or quantifiable
Binary
Difficult but not impossible
2. You make your key results too easy.
It's unnatural for people, especially high performers, to set goals that they can't reach — yet, that's the strategy behind OKRs. Don't be tempted to "sandbag" a couple easy key results to ensure that your average completion hits the 70% mark.
3. You set employee goals for a month or shorter.
Both objectives and key results should be time-bound, with objectives being qualitative and key results being quantitative. However, any OKRs set for shorter than a month demonstrate either:
Lack of focus
The goal is really just a task
4. You don't track OKRs for all employees to see.
Says Lazlo Block, former SVP of People Operations at Google, who has used OKRs from the very beginning:
"We have a market-based approach, where over time our goals converge, because the top OKRs are known and everyone else's OKRs are visible. Teams that are grossly out of alignment stand out[…]"
An employee goal-setting software is the best way to accomplish this accomplish this radical visibility.
5. You make OKRs part of your employees' performance review.
The OKR system dictates that a team should only reach about 70% of employee goals. Having something with that level of unattainability included in a performance review is unfair and encourages people to set easier goals. Christina R. Wodtke, author of Radical Focus, advises, "If you want people to aim high, you can't punish them for not hitting outrageous goals."
---
Successful OKRs are possible — but they're not always easy! Make sure you're using a tool the creates and maintains healthy employee goal practices.