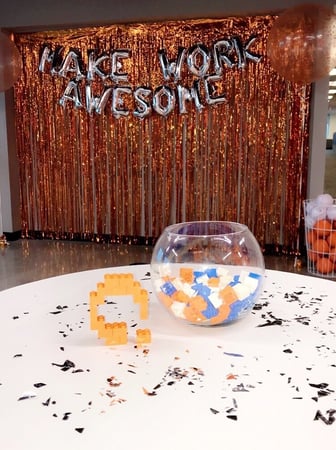 Ah, the holiday office party. These social gatherings have become important dates in the modern workplace that allow employees to bond in a relaxed environment, get to know each other personally, and try to avoid becoming the embarrassing story that seems to stem from every holiday party.
We love office parties because they're great for engagement. There are workplace occasions where titles are tossed out the window and everyone can relax and connect.
Before you invest in a theme, shell out for branded gifts, or spike the eggnog, consider our list of do's and don't's to throw the type of shindig that truly brings the office together.
1. Gauge employee interest.
Do employees look forward to holiday parties, or do they view it as another obligation? If your parties are a success, it will be obvious. There's energy and excitement prior to and during the party, and employees will relive fun moments for weeks.
If you're worried employees don't appreciate your parties, don't be defensive. Do some investigating, and ask for feedback on how to make your holiday party a smashing success. Sending out a pulse survey post-party is a great way to quickly gather feedback and gauge what can be improved.
How it looks in action: Well, we love our holiday parties, and it's quite obvious. Throughout the year, we retell stories of holiday parties past, many of which become inside jokes that live on as part of QW.
2. Don't be unorganized.
Communicate the date and theme early, and send reminders frequently leading up to the event. When you are unorganized and the party feels sloppily thrown together, it is disrespectful to your employees and their time. It sends the message that they're not a priority, which is the last thing you want. You're trying to boost engagement, not sabotage it.
How it looks in action: The save-the-date invite for our holiday party is sent out six months in advance through our Outlook calendars. It included date, time, and location, giving employees plenty of time to prepare accordingly. For Thanksgiving, there is a sign-up sheet so everyone knows what to bring and we don't end up with 47 plates of stuffing and no turkey.
3. Personalize the party based on your culture.
Your celebrations should be an extension of your culture. Is your organization's personality formal or informal? Competitive or team-oriented? Family-oriented? Plan your gathering and activities to reflect and incorporate your personal company culture.
How it looks in action: Quantum Workplace's parties are casual, fun, and have just the right amount of rowdy. It's a time to kick back and celebrate. The annual ping-pong tournament is a big hit, as is the ever-popular karaoke machine.
4. Don't be too controlling.
Let employees take the lead and shape the party. If employees come forward with ideas on what they'd like to incorporate, be open to them. Listen to suggestions or changes they'd make to parties past. Take this as an opportunity to make the party even better.
Also, don't make anything mandatory. When you're forcing employees to participate in your gift exchange or karaoke contest, it becomes a chore, not fun.
How it looks in action: We invite employees to dress up for Halloween and hold a costume contest with prizes. Employees certainly don't have to participate, but those that do tend to have a fun time and create lasting memories.
5. Show employee appreciation.
Many companies use holiday parties as an opportunity to give employees gifts, whether in the form of a bonus, gift item, or both. If your company gives gifts, take the time to put some thought and effort into it. Give employees something they want and appreciate, and if it ties to your organization or culture, all the better.
If gifts aren't in your budget this year, think about other ways you can show employee appreciation during your party. Set aside some time for shout-outs to employees, announce special (or fun!) recognition, or run a slideshow highlighting outstanding employees and their valuable contributions.
How it looks in action: Our holiday party includes a mix of gifts and special recognition. For example, we give out the Dash Award each year to an employee who's grown the most personally and professionally.
6. Don't forget employee groups.
Don't exclude part-time employees, interns, or remote workers. Larger organizations might have team or location-specific celebrations. We're cool with that - just make sure everyone within those smaller groups is included.
Another common way people might be left out is when it comes to inviting spouses. If you invite employees to bring their spouses, consider giving those without a spouse equal opportunity to bring a guest, such as a partner, friend, or family member.
How it looks in action: All employees are invited to our holiday party, and our remote employees are flown in. Employees are encouraged to bring a spouse or guest.
7. Reflect on successes.
Celebrate employee engagement successes! A holiday party is a great opportunity to communicate again about your employee engagement efforts. Highlight successful initiatives that have come about due to employee feedback, and thank your employees for their willingness to provide feedback and help make your organization stronger.
How it looks in action: Consider including a year-in-review slideshow or a faux awards ceremony to highlight the good work done in the office this year. What goes better with pumpkin pie or hot chocolate than a heaping scoop of recognition?
8. Don't celebrate in silos.
Holiday parties should be a place to build relationships. Break down any barriers between teams or hierarchy and allow everyone to get to know each other. Make sure your leaders in particular are circulating and not falling back on their typical workplace social circle.
You can be purposeful in organizing the social aspect of your event. For example, if you have a formal sit-down dinner, assign seats and distribute leaders and teams. Plan team and group activities that help build relationships between coworkers that otherwise don't interact together much.
How it looks in action: Our holiday party has the feel of a very casual cocktail party. An open flow keeps people moving in and out of conversations. Activities such as games, a ping-pong tournament, and karaoke keep us moving, talking, and building relationships with our coworkers.
---
Our style makes our parties a major success that brings people together and increases overall engagement. The look and feel of a party varies by organization, however, and it's up to you to determine what works best for your workplace.
Holiday parties aren't the only away to express appreciation for your employees. Show employees how much they mean to you throughout the year with our ebook, 40 Ways to Show Love To Your Employees.