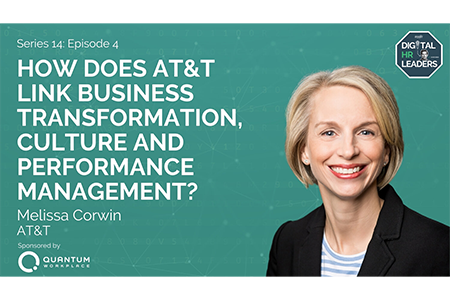 There is great synergy in the experience organizations provide employees and the strategies for attracting talent. But talent acquisition isn't the only place that employees experience culture and engagement.
It's important for CHROs to build a strong connective tissue across the HR organization, especially in company culture. It's as much about how you operate day to day, as it is the people practices you select, communicate, and employ.
In this blog, we share highlights from this episode of the Digital HR Leaders podcast—featuring David Green, Director of Insight222 and Melissa Corwin, Vice President for Employee Experience at AT&T.
The link between culture and business success
The telecommunications industry, particularly broadband fiber and mobility are deeply disrupted and competitive. As a result, AT&T had to differentiate themselves and get really crisp in their go-to-market strategies. This required a larger business transformation.
Corwin and her team knew they needed to grow and strengthen customer relationships to be successful in transforming the business and remain competitive in the market. That meant a larger change needed to occur in how they worked together internally.
Corwin says, for any business transformation to be successful and sustainable, organizations can't continue to operate the exact same way they always have. And they can't deliver a top-down driven approach where only the leaders are behaving differently. Corwin says AT&T's culture transformation is integral to their overall business transformation.
Here are 7 steps Corwin and her team employed to use their culture and change management process as a competitive advantage.
1. Collect and analyze your employee data.
Start by analyzing your employee feedback and survey data. Look at the behaviors that employees are saying make your organization a great place to work. What is productive and what is getting in your way?
2. Develop focus groups.
Then, filter your data down and conduct a series of focus groups across the business. Dive into feedback from your executive leadership team all the way to front-line, customer-facing employees to help you better contextualize how to improve.
3. Understand customer needs.
Service industries, like AT&T, have employees who are very close to customers, interacting with them every day. These employees have a great understanding of the behaviors that lead to your organization's success.
AT&T puts customers first. This means they don't push decisions up, down, or across the organization. They share the accountability and ownership of employee and business success.
"We have maintained that [customer] focus to understand how we break down silos, barriers, hierarchy and bureaucracy so that we can truly enable and empower those that are closest to our customers to serve our customers first." - Melissa Corwin, Vice President for Employee Experience
4. Determine your pillars for growth.
Once you have a good understanding of the behaviors to improve, distill them into key pillars or focus areas—thematically (what you are hearing) and specifically (what they are saying).
AT&T examined 16 identified behaviors—including customer centricity, empathy, empowerment, and candor—that they paired with relevant employee data and distilled down to four pillars.
Serve customers first. Service customers first as a top priority.
Move faster. Step up, to speed up.
Act boldly. Be willing to take smart risks to move the business forward.
Win as one. Address internal competition and push team success—not as separate business units or individuals.
5. Align your HR practices to your behaviors.
After you've narrowed in on your behavior pillars, identify how you are supporting the behaviors underneath. Ask yourself how you are supporting your behaviors in your talent practices and where you can reinforce, embed, and enable them.
One practice AT&T identified was performance development. Like many companies, the Company evaluated what the right performance development model looked like.
To increase simplicity, they began removing elements of their performance development process. But Corwin described that the results, weren't what they had hoped:
"I think our lesson learned is moving from expected behavior to recommended behavior didn't lead to the results we had hoped and that it didn't simplify it for employees."
Employees had to burn a lot of calories trying to understand performance expectations, progress, and goal alignment. Removing elements simplified the process for supervisors, but not for the employee base at large. Moral of the story, make sure you're aligning your practices with the behaviors and expectations of your employees.
6. Reset expectations.
The key to positive change in AT&T's performance culture was around feedback. So, they refreshed expectations around peer and manager feedback to have a more holistic view of how they were developing employees and boosting performance.
"Amplifying others performance is a less tangible work product at the end of the workday, so it is important to reset the role of a manager—otherwise you are only as strong as your individual capability."
As you build on your strategy for employee and business success, consider resetting expectations around:
How managers can engage and coach their employees
How often employees should participate in your HR practices
What priorities should take precedence (like career and leadership development)
7. Communicate purpose to gain leadership support.
For any organization undergoing change, it's important to have support from leadership. If HR only serves as the mouthpiece of why something is important, it will feel disconnected from the other operational objectives.
"I think for anyone else undergoing this change, it is important that the leadership team appreciates and believes that this is critical to elevating performance of the enterprise and that it is an operational imperative, it is not a HR practice."
People initiatives should be shared company wide. Encourage senior leaders to meet with the entire organization and share the purpose or reason for the change.
---
For more ways to leverage your organizational culture to drive employee, team, and business success download this research report, The Culture-Centric Organization: Set Culture As The Strategy That Gets Results.