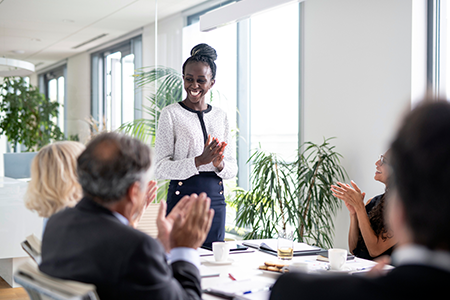 Employee recognition and appreciation are pretty common around the office these days.
But what about the boss? Managers and supervisors often get left out of the conversation when it comes to appreciation. Yet they are a key part of the success of any team.
That's why every year on October 16 we celebrate National Boss's Day. It's a chance for employees and organizations to show their appreciation for what is often a thankless role.
While the intention behind it is to demonstrate appreciation for those who coach and mentor us, Boss's Day doesn't have to be a one-way street. In fact, there are plenty of ways your teams can celebrate the mutually successful working relationships you strive for, year-round.
In this article, we will cover some of the challenges of showing appreciation plus 6 ideas to make Boss's Day a meaningful occasion for everyone.
Challenges of showing appreciation
Recognizing managers is a great practice in theory. However, the truth is, celebrating Boss's Day can be tough to navigate on both sides.
Unfortunately, Boss's Day can put employees in an awkward position. For instance, how do you send a thank you card without appearing ingratiating? What gifts are appropriate?
Plus, employees may feel obliged to purchase gifts. And if employees don't do anything to mark the occasion, would that put them at a disadvantage with the boss?
One simple solution is to make the celebration a team effort.
Getting the whole team involved ensures everyone is on an even playing field, the team can collaborate on ideas that are meaningful to the entire group, and managers get the recognition they deserve. Win-win!
6 Boss's Day Ideas
Work with your team to come up with a Boss's Day celebration that everyone will enjoy.
Here are 6 great ways that employees could show their appreciation towards their bosses or supervisors on Boss's Day.
1. Sign a team card.
Showing appreciation doesn't have to be complicated. Keep it simple and old school with a heartfelt card signed by the whole team.
You can buy a card or go handmade. But whichever route you take, cater it to your manager's personality—whether that's serious and sincere or goofy and playful or something in between. You can even include a team inside joke! Have fun and make it personal so it's more meaningful. Then present the card to your manager as a team.
2. Give a gift.
Gifts are a great way to show you care. Organize a gift fund as a team to pool your money and go in on a gift together. Gifts can be as simple as a gift card to the boss's favorite coffee shop or more specific like a nifty tech gadget.
Try to make it personal to them. Think about your boss's personality and hobbies to get some ideas.
3. Hold an award ceremony.
Employees aren't the only ones who like recognition. Put your boss center stage with a fun award ceremony.
Gather with coworkers from other teams to vote on an award for each supervisor. For example, you might nominate awards for "Best Dressed Boss," "Happiest Supervisor" or "Most Likely to Join You for a Coffee Run."
You can host the ceremony at the office, as an after-work event, or even remotely over video conference. Get creative and remember to have fun with it.
4. Have a party.
Make the day special with a party. Plan it around a normal team break, during lunch, or after work.
You can host the party at the office or offsite. However, getting out of the office is a great way to relax and socialize off the clock with your coworkers. You can keep it boss-centered by picking their favorite restaurant, sharing a card, or celebrating with cake.
Does your team work from home? No problem. You can schedule a video conference party or happy hour instead. Invite everyone to make a signature drink or enjoy an appetizer and treats from their couch.
5. Plan an outing.
Get out of the office and have some fun with a team-building activity that your boss enjoys. Brainstorm as a team or ask your boss what activity they'd most like to do with everyone.
Consider activities that involve the whole team such as:
Escape rooms
Rope courses
Service projects
Movie nights
Laser tag
Bowling
Office trivia
Team outings are a simple but effective way to not only show your boss your care but bring the team even closer together.
6. Make a video.
Upgrade the traditional thank you card with an engaging team thank you video. Luckily, your video doesn't have to be high-production to be high-value for your boss. Plus, it's the perfect option for remote and distributed teams who can't gather in person.
Have each employee record a short thank you message or a favorite story or memory with your boss. Compile all the clips into one video and share it with your boss together.
Pro Tip: Consider sharing it during a Boss's Day party as a highlight.
Appreciation matters to everyone, whether they are employees or managers. Make Boss's Day a special team effort this year. Show your boss you care through meaningful, appropriate, and personalized gestures from the whole team. Your boss will thank you for it.
---
For more ways to recognize or show your appreciation for employees of all levels, download our ebook, 40 Ways to Show Employees Love.