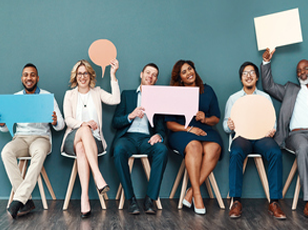 The term "safe space" may sound wishy-washy. Some might think a safe space means to be coddled, to not be challenged, or to not have to face certain realities.
But "safe" looks different from person to person. For some, it's not being discriminated against. For others, it's having the opportunity to voice their opinion, or having time to hang out with friends after a long day's work.
What unifies all safe spaces — regardless of how they look — is how they make us feel. To feel safe is to feel okay being vulnerable. Psychological safety is the belief you won't be punished for making mistakes, and emotional safety is feeling like you can let your guard down and be yourself.
The healthiest and most engaged workplaces know the importance of emotions in the workplace. They don't just tolerate emotions — they welcome them! Leaders and managers understand that employees are human and strive to offer the most supportive work environment possible. Employees at all levels feel equipped to cope with their emotions and confidently express their concerns.
Does this sound like your workplace? If not, it's likely that employee engagement is suffering. To get to the bottom of emotions in the workplace and how they impact engagement, we conducted a research study.
Do employees feel comfortable showing their emotions at work?
The answer is... yes and no. Our research says employees feel more comfortable showing their emotions at work around some groups more than others.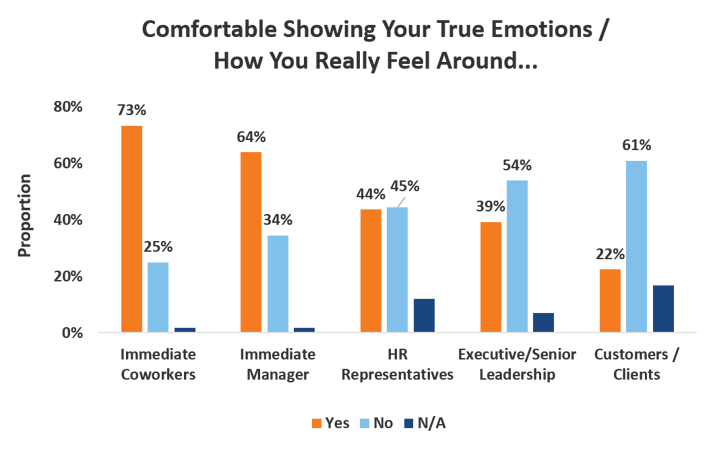 About 73% of respondents feel comfortable being emotionally transparent around their immediate coworkers, compared to 39% around executive/senior leadership. Employees are more likely to feel comfortable being emotionally transparent around workers closest to them.


Employees are more engaged when they feel comfortable showing their true emotions at work.
The chart below shows that those who feel comfortable showing their emotions at work have higher engagement levels than those who don't.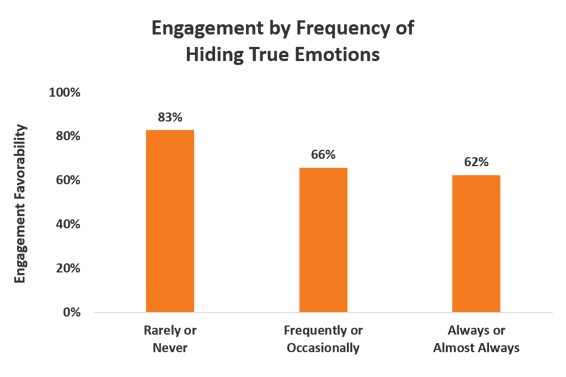 This further adds to the story that feeling emotionally safe at work may enhance engagement. It could also be the case that higher levels of engagement may allow employees to feel increasingly comfortable being emotionally transparent — likely because they feel connected and valued at work.
Employees are more engaged when they feel comfortable showing their emotions at all levels of the organization.
Employees who are comfortable showing their emotions at various levels of the organization (from coworkers to leaders to customers) are more engaged.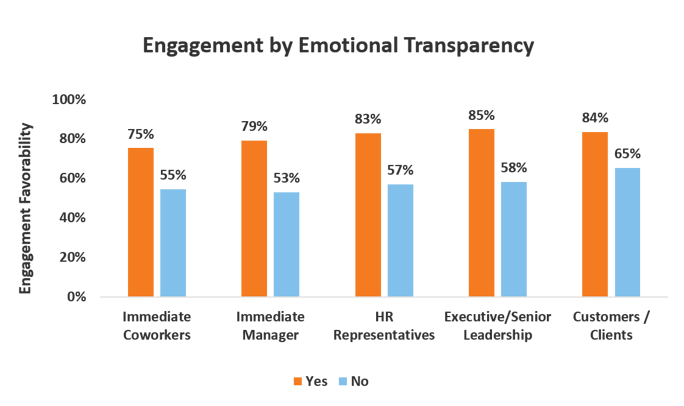 It's natural that employees would feel more comfortable expressing emotions around the people they are closest with (their coworkers and managers) — but if organizations can figure out how to nurture the same dynamic between employees and leadership, they might unlock a new pathway to engagement.
6 Organizational Strategies for Creating an Emotional Safe Space
What can organizations do to enhance emotional safety and support in the workplace? Here are a few strategies to consider:
1. Offer free training on topics related to emotions.
Consider providing training for employees at all levels around emotional intelligence, emotional regulation, anger management, stress reduction, conflict resolution, mindfulness, and other related topics.


2. Encourage managers to utilize frequent employee check-ins.
This gives managers a chance to build positive and supportive relationships with employees, and allows employees to voice important concerns, ask questions, and provide feedback.
3. Beef up your employee well-being perks.
Offering perks and benefits related to employee well-being encourages employees to take better care of themselves and shows you care about them. Think gym memberships, mental health days, employee assistance programs, financial counseling, etc.
4. Promote benefits and resources already available to employees.
You probably already offer several benefits and resources related to employee well-being. Promote these offerings regularly and make a case for why they are important.
5. Offer on-site activities that help relieve stress.
Give employees a break from the daily grind every now and then by offering on-site activities like yoga, massage, or meditation programs. They'll go back to their desks feeling refreshed, calm, and ready to tackle the rest of the week.
6. Keep an eye on your employee engagement data.
Prevention is key when it comes to emotional well-being at work. Keep an eye out for issues that are creeping up within the company, commit to taking action, and follow up with pulse surveys throughout the year to stay informed of any issues that arise.
---

Interested in more insights related to employee emotions? Get your free copy of our ebook, Emotions in the Workplace, today!