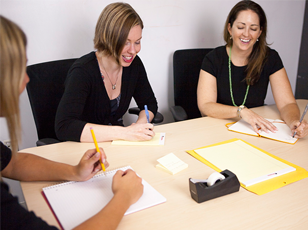 HR leaders know that they need to build better employees. They also know that to achieve success, those same employees need to hear constructive feedback from the people they lead, their peers, and their managers.
But, too often, we see poorly-designed 360 feedback programs that can't help but fail. Even when created with the best of intent, there are simple, impactful things that 360 feedback programs get wrong.
The best organizations use these 7 practices to fail-proof their 360 feedback programs.
1. Include everyone.
Traditionally, we reserve 360 feedback for our most senior leaders. But everyone in your organization, even your individual contributors, need the holistic feedback. By including all employees, you give all employees ownership in the workplace and take a significant step towards building a culture of feedback.
2. Communicate in advance.
Prepare your organization for the coming 360 feedback program by proactively communicating with key stakeholders. All employees should know the purpose, timing and expectations that accompany a 360. Remind employees you value their input and will use it to develop strong employees for your organization.
3. Detach from performance.
The best 360 feedback programs are used for growth and development, not performance management. Employees are more open to feedback, and more likely to improve their behavior, when they know the feedback won't affect their next promotion or pay raise.
Make sure you communicate this pre-feedback cycle. Detach feedback from performance management by hosting your feedback cycle at a different than performance evaluations and salary reviews.
4. Connect to what matters.
The right questions are the foundation to collecting 360 feedback the right way. Ensure the questions you ask are rooted in what matters most for your employees.
Too often, organizations ask 90+ competency-based questions on any topic they can think of, but that data is overwhelming to the point of meaninglessness. Ensure the questions asked will help your employees develop the skills they need.
5. Train how to give and receive feedback.
Giving and receiving feedback is not a natural for humans; it takes practice. Support both your employees and managers with tips and best practices.