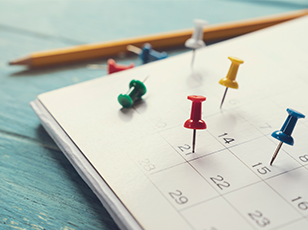 Organizations that fail to build and prepare for strategic HR initiatives are likely to see employee engagement fall by the wayside.
"By failing to prepare, you're preparing to fail." - Benjamin Franklin
If you don't put effort and preparation into your upcoming year, it's probably not going to work out as you planned. This certainly rings true with employee engagement.
Chart the course for your organization and set a solid plan from the beginning with our free HR calendar template and strategic planner. These planning templates will help you prepare for year-long employee and business success.
Here are some sample reflection questions and critical HR practices we included in this year's calendar.


Becoming a Strategic HR Business Partner
70% of CEOs expect their CHRO to be a key player in enterprise strategy, but only 55% say their CHRO meets this expectation. Your talent is your greatest lever for success—but you might be lacking the strategic HR leadership needed to make the most of it. Earn the trust of your C-suite by focusing not only on the success of HR, but on the success of your organization. Aim to create an engaging, high-performance culture that empowers employees, teams, and your business to achieve its most important goals.
Reflection Questions
What steps can you take to learn more about your business?
What metrics matter most to your business?
What types of data are available to you? (See our guide for examples)
How can you connect the dots between your talent initiatives and these business metrics?
What are your top three HR priorities this year?
Connecting Employee, Team, and Business Success
81% of business executives strongly agree that highly engaged employees perform better, yet only 37% strongly agree that employee engagement is a significant area of focus for their own organization today. Despite their importance to business success, few organizations have figured how to leverage engagement and performance in a meaningful way. Understanding engagement and performance is critical in helping your organization make meaningful changes that strengthen culture and drive success.
Reflection Questions
What are some key business outcomes you'd like to impact this year?
After selecting one outcome, how might you better engage employees to achieve it?
How might you involve everyone in these efforts? (e.g. leaders, managers, and employees)
What other support do you need to make these ideas a reality? (e.g. annually, quarterly, monthly)
Building a Culture-Centric Organization
HR reports many challenges to defining, building, and improving organizational culture, including lack of senior buy-in, inconsistent practices, inefficient manager and employee training, rapid pace of change, and antiquated processes. Under the right conditions, your organizational culture can promote innovation, improve employee performance, enhance agility, and accelerate change management. A thriving organizational culture is key for retaining talent and maintaining high levels of employee engagement, while growing revenue.
Reflection Questions
What traits best characterize your organization's culture?
What are some challenges you face in building a strong organizational culture?
What are some steps you can take to overcome these challenges?
What are some ways you can leverage these strengths?
What elements do you already have that are contributing to a culture-centric organization?
Prioritizing Continuous Employee Listening
Employee engagement used to be exclusively measured through an annual employee engagement survey. But as employee perceptions ebb and flow throughout the employee lifecycle, an annual survey does not give you a complete view of your culture. A continuous employee listening strategy enables you to collect relevant real-time data, understand how your culture impacts employee perceptions at key moments, and take targeted action for improving the entire employee experience.
Reflection Questions
What areas of growth can you build on this year through continuous employee listening?
What areas could enhance your employee listening strategy?
What channels will you use to collect feedback from your employees this year?
Acting on the Employee Voice
Improving engagement requires more than listening to employee voices. Without organizational commitment to action and improvement, employee engagement will not follow. Employees who saw action after a survey were 12x more likely to be engaged the following year. When employees see that their feedback is being put to good use, the connection to their work, team, and ultimately your organization will grow stronger.
Reflection Questions
What are 3-5 key findings from your employee engagement data?
From your key findings, what are 2-3 focus areas you could prioritize this year?
What solutions will help you tackle these obstacles this year?
How will you communicate your plan and progress with your organization? (Include the what, when, where, and why)
Understanding Employee Retention
Employee turnover is expensive, costing 16% to 213% of the lost employee's annual salary. It can also negatively affect productivity, morale, customer satisfaction, and more. Ouch! Retaining your top performers is an essential component to your organization's future success.
Reflection Questions
How can you enhance your current recruitment process to attract best-fit candidates?
How might you leverage employee engagement efforts to impact retention?
Which areas of growth do you need to prioritize?
Are there certain business units or demographics that need more attention than others?
Do you have systems in place to understand why employees are leaving?
What have you learned from that data?
What steps can you take to impact these areas?
Setting Goals for Organizational Alignment
Employees who agreed with the statement "the goals and accountabilities are clear to everyone on my team" were 2.8x more likely to be highly engaged. But, goals alone aren't enough to motivate employee performance and engagement. Without aligned goals, teams might focus on the wrong activities or be out of sync with your company's core business objectives. Aligning goals gets everyone moving in the same direction and ensures a more efficient use of everyone's time and energy.
Reflection Questions
What are your organization's core business objectives for the next year?
What are your organization's core business objectives for the next 3-5 years?
What are three ways HR can help the organization achieve its objectives?
How often will your managers check-in on employee and team goals and progress?
Creating a Culture of Feedback and Development
The most engaged employees prefer feedback to other learning and development opportunities. Yet, most managers (42%) lack the training to have effective development conversations with their employees. Highly engaged organizations (86%) use regular one-on-one meetings so managers can build better relationships, discuss the employee experience, and allow more opportunities for critical employee feedback.
Reflection Questions
Are your managers and employees skilled at feedback?
How could you help them grow in this area?
What areas could you boost employee feedback and development this year?
What feedback touch points make sense for your organization?
How often will you collect feedback from your employees this year?
Celebrating Employee Success
When employees believe that they will be recognized if they contribute to the organization's success, they are 2.7x more likely to be highly engaged. However, nearly 1/5 of employees rarely or never receive recognition from immediate coworkers or managers. Employee recognition has many benefits—from increased productivity and engagement to decreased turnover. When employees receive authentic, real-time recognition for behaviors your organization values they are more likely to keep up the good work. Celebrating employee success regularly helps employees feel valued and managers build stronger relationships.
Reflection Questions
What is your organization's mission and/or vision?
What are your organization's/team's core values?
How might you recognize employees for living out these values?
What are a few natural touch points that you can celebrate employee success?
Are your managers equipped and empowered to recognize employees in meaningful ways?
How could you enhance their efforts?
Evaluating Talent Tech for Success
We've been hearing "the future of the workplace is digital" for years, but the events of 2020 rapidly brought this transformation to life. In fact, 61% of CEOs say their business will be more digital in the future and 50% of HR professionals expect to invest more money in technology this year. The digital workplace is no longer a dream—it's a reality. To remain successful, you'll need to evaluate and equip your team with the right technology.
Reflection Questions
What key business problem(s) are you trying to solve for?
What are your employees experiencing related to this problem?
What tech or processes do they currently use?
Who do you need to involve in this process?
How will you speak to their individual needs?
What resources and limitations do you have when it comes to implementation and training?
How will you communicate value back to key stakeholders?
What are your short- and long-term objectives?
Identifying and Developing Top Talent
Organizations need proven processes to help them identify and develop top talent. But they're missing the mark:

Your top performers are hungry to learn, grow, and contribute to business success. But as your organization grows, it can be difficult to know who these individuals are and give them the right development and growth opportunities.

Reflection Questions
How does talent fit into the needs and goals of your business today and in the future?
Do you have a process in place for understanding talent gaps and opportunities?
If so, how can you enhance it? If not, how can you get started?
In what ways are you/could you be proactively developing your top performers for the future?
Reflecting on the Past, Planning for the Future
By the end of the year, it's time to celebrate your successes and allocate time to relax and enjoy the holidays. Unfortunately, year-end is filled with finalizing budgets, holiday distractions, and preparation for the year ahead. While all those things can make the last month of the year a little chaotic, it's just as important to look back and reflect on the past as it is to look forward. To get the highest return from your investments in your talent initiatives, it's important to take a look at how your organization has triumphed (and failed) to make smarter people decisions and plan for the future.
Reflection Questions
What went well this year? What didn't?
What steps did you take to be a more strategic HR partner?
How would you rate your efforts when it comes to [strategic HR and talent initiatives, organizational culture, employee retention, employee listening/engagement, performance management, employee development]?
What do you need to prioritize for 2022?
How will you approach things differently?
---
There's no time like the present to start building your strategy for employee, team, and business success. Download your free copy of the HR Pro's Calendar Template and Strategic Planner to set your program up for success in 2021 and beyond.