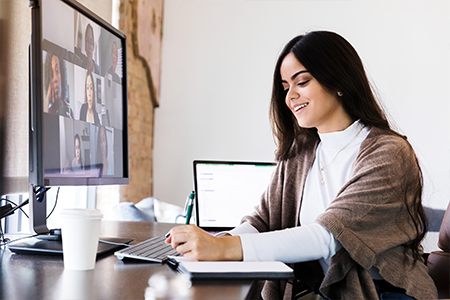 HR professionals tend to use employee engagement software for one of two reasons:
Driving employee engagement is key to business success, but how do you actually move the needle?
An employee engagement philosophy is the first step to understand what your leaders and organization need (and want) to drive engagement.
We know it can be tempting to move straight into tools and tactics, but in order to find the right solution you need a good understanding of your organization's wants and needs.
First,

decide how your organization plans to approach employee engagement.
Then, go find an

employee engagement platform

that can help you accomplish your goals.
What is an employee engagement philosophy?
Every organization has a slightly different philosophy for engaging employees. However, the organizations that really succeed in improving employee engagement all have one thing in common:
They create thriving workplaces cultures that give employees clarity, support, and influence—and measure the connection to an employee's work, team, and organization.
This philosophy recognizes that employee engagement stems from habits and behaviors at the individual level. Those habits and behaviors may differ because of the unique drivers that impact employee engagement. The software partner you choose should help you act on this philosophy and create features and tools to support employee, team, and business success.
Once you've nailed down the overarching theme of your philosophy, the specifics don't make a huge difference. Your organization might launch exactly 8 pulse surveys every year or prefer SMART goals to OKRs. However, whatever tactics your organization champions, you'll need to be on the lookout for a solution that matches.
5 questions to define your employee engagement philosophy
Organizations vary greatly when it comes to culture. What everyday activities impact engagement in your organization? Consider these questions about your company to better define your engagement philosophy.
1. What is the tone of our organization?
Are you more casual and informal? Or traditional and formal? The tone of your organization's culture is the foundation for your broader employee engagement philosophy. Understanding and aligning your organization's unique personality with your engagement initiatives will help you steer everyone in the right direction.
2. How do we tackle new challenges?
Is your organization curious and agile? Or strategic and focused? In some organizations, employees want access to employee engagement survey results to understand the landscape of engagement across teams and departments. In other organizations, employees focus more on improving their own, individual engagement. Consider if your employees would be interested in engagement resources or ongoing education.
3. What is our communication style?
When and how do peers interact? Do you communicate through Slack and chat, a project management tool, or email? Are these conversations consistent across the organization? Make sure your philosophy reflects authentic coworker communication to improve participation and accountability for your engagement initiatives.
4. How does our organization view team effectiveness?
Does your organization set and measure yearly goals? Or do you prefer to measure employee performance in non-metric ways? Either way, your philosophy should support individual, team, and business goals. The most successful organizations build high-performing teams by prioritizing flexible and continuous goal setting that align with business outcomes.
5. How does our organization view employee growth and development?
Raises, promotions, career planning, company-sponsored education are all considered growth and development activities. What strategies does your organization use? And who's responsible for growth and development? Answering these questions can help you better support your employees and impact their engagement.
---
Developing an employee engagement philosophy is just the first step in finding the right employee engagement software for your organization. Follow the 9 steps in our Employee Engagement Software Buyer's Guide.