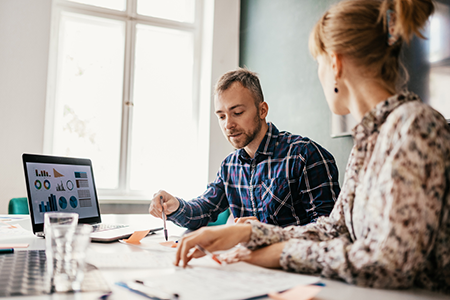 HR leaders know that engaged and happy employees are better for their organization. Yet, employee engagement is not always considered a top indicator of organizational performance. Nor is it thought of as a key performance indicator (KPI) for the entire organization.
The value of organizational employee engagement programs isn't always clear. Employers typically want to have happy employees, but some might be skeptical about whether those employees are more productive or provide return on your engagement investment.
Download the HR Pro's Guide to Business Success Metrics:
Proving The Business Impact of Employee Engagement >>>
But leaders need to recognize the relationship between employee engagement and organizational performance. In order to prove the value of employee engagement, HR leaders should connect engagement initiatives to outcomes and metrics that are valued by the organization.
In this blog, we'll uncover the importance of connecting engagement and performance data including:
The relationship between employee engagement and organizational performance
How employee perceptions impact business metrics
What are key performance indicators
How to determine the metrics that matter to your organization
How to access and use key performance data
The Relationship Between Employee Engagement and Organizational Performance
If you are able to surface key metrics that your leadership team cares about, you can build engagement champions at every level of the organization. And proving the connection between key metrics and employee engagement will move your employee listening strategy from an HR initiative to an integrated approach.
Yet, new research by Harvard Business Review Analytic Services reports a lack of consistency in the use of tools to assess employee performance. Only 45% of respondents said their organizations use consistent tools across their business. And less than a third incorporate metrics to identify high performance in individual employees based on their role.
The more closely you tie employee engagement to performance outcomes, the easier it will be to demonstrate its impact on organizational KPIs. When performance is measured and discussed continuously, it builds engagement. And when engagement is monitored continuously, it motivates performance. The relationship between engagement and organizational performance is strong, and this reality should be elevated to all leaders.
"We build our performance programs by listening to the feedback and themes gathered through our annual engagement survey and other feedback tools, and creating action plans to support improvement. We've identified a direct link between employee performance and engagement." - Julie Cummings, Managing Director and CHRO at BKD CPAs & Advisors
What Are Key Performance Indicators
To begin connecting engagement and performance, you need to identify KPIs that matter to your organization. You can track key performance metrics at the individual employee level or at an aggregated level by team, department, or location.
It's often helpful to think about performance data at different levels of analysis. Some performance data is best kept at an individual level, while others might be best tracked at the team, department or location level.
Individual Level: Performance ratings from a manager
Team Level: Projects completed on-time or on-budget
Department Level: Profitability
What are some examples of KPIs?
KPIs vary by industry and job role. Here are some KPIs to use as a starting point for your organization—broken out by function:
Human Resources

:
Performance ratings
New hire quality and retention
Absenteeism
New hire ramp-up time
Safety
Overtime hours
Training costs or hours
Employee productivity
Cost per hire
Sales:
Overall sales
New business
Average sale size
Average contract value
Number of renewals
Number of referrals
Quotas or percent to sales goal
Percentage of cross-sold accounts
Sales activities (calls, meetings, quotes)
Customer Service:
Customer satisfaction or engagement
Net promoter score
Problem resolution rate
Average customer spend
Calls or tickets handled per day
Patient satisfaction
Average response time
Customer retention rate
How Employee Perceptions Impact Business Metrics
The goal in connecting your employee engagement and performance data is not only to prove the value of your employee listening strategy. It also helps HR leaders learn from what high performers need and what interventions can help move the bar on performance to replicate those high performers.
Assessing the relationship between organizational performance and your employee engagement survey results can help you answer the following questions:
Who are our high performers and how can we best retain them?
How are we improving the retention of new employees year over year?
What is the difference in engagement between my highest and lowest performers?
Which interventions and investments are most effective at improving engagement?
How can we improve our onboarding program and decrease the ramp up time for new hires?
What are the development needs of high performers versus low performers?
By exploring these questions, HR leaders can start to evaluate the effectiveness of their policies, programs, and interventions. They can refine their approach and help other leaders across the organization create evidence-based interventions to boost the performance of their teams.
How to Determine What Metrics Matter to Your Organization
One difficulty your team might face in assessing organizational performance is honing in on the metrics and stories that provide the most value to the company. Some of these metrics might be more universal and obvious such as profitability or stock price. Other key metrics may only apply to certain industries, roles, or departments.
To identify which metrics matter most, HR leaders should first review the current organizational strategic plan and initiatives. These plans and goals often represent the metrics and outcomes that are most critical to organizational success.
HR leaders can also identify KPIs by speaking to other organization leaders and asking:
What are the most important metrics you track?
What data would indicate high performance for your teams?
What are their biggest challenges?
How to Access and Leverage Key Performance Data
After you've identified the meaningful metrics and KPIs you plan to track, you'll need to gain access to the right data. This can be challenging to gather and confirm whether the data even exists. It's important to identify KPIs that are:
Critical to the organization
Consistently tracked with quality data
How do we gain access to key performance data?
Tracking down performance data often requires collaborating with different departments or business units. These could include:
Data scientists
HRIS analysts
Database administrators
IT professionals
These team members are often the best sources of information about tracking metrics and gaining access to this data.
Many leaders naturally see the value of having engaged and productive employees. Others may be skeptical and wonder if it's worth the effort, or if they can even improve their team's engagement. If you're someone who needs convincing, consider how data can not only help you show organizational performance can be improved through employee engagement, but also how each leader can get their teams there.
---
To prove the value of employee engagement, HR should connect it with organizational performance. Download our guide to business success metrics to prove the business impact of employee engagement.