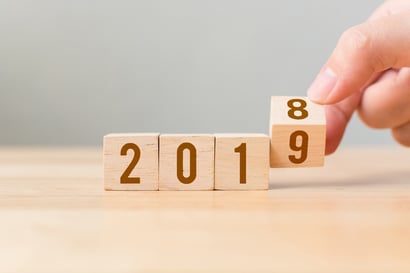 With the new year quickly approaching, it's time to sit back, grab some hot chocolate, and write your New Year's resolutions! Resolutions offer a time to reflect about the past year and set goals for the new year ahead. And while it is tempting to include the typical "be a better person," "go to the gym EVERY day," or other run-of-the-mill, lofty goals, it's important to prioritize what is realistic and achievable. After all, no one wants to be set up for failure.
To ensure a successful start to your new year, we have 4 New Year's resolutions that you can share with your team or department to increase employee engagement:
1. Set aside time to reflect
Block 15 to 30 minutes each month or quarter for your team to reflect on their current and future state, and how to bridge the gap. By determining where the team is in terms of monthly or annual goals before setting new ones, future goals will stay attainable. Have someone document these answers so that you can compare progress monthly. Share them after the meeting so that individuals can align personal goals with team goals.


2. Allow time for creativity
It's easy to get caught in the swing of things: replying to an endless stream of emails, crunching numbers, taking inventory, etc. And don't get me wrong, these tasks are important and necessary, but they require little to no creativity. Grant some "light bulb time" for your team to explore their creative sides. This could be a scheduled time each week or simply a common understanding that employees can take time (maybe 30 minutes a week) to get their creative juices flowing. Examples include:
Taking an online course. Whether it's learning how to code, using Photoshop, or bettering your Excel skills, you can find courses on nearly any subject.
Converting an old blog post into a colorful and exciting new PowerPoint or pamphlet.
Reading work-related articles. It's critical to stay up-to-date on industry updates.
3. Balance giving and receiving feedback
Feedback goes a long way, especially when it is given and received appropriately. Discuss what giving and receiving feedback looks like for your team. For example, when receiving feedback, translate it into an actionable step toward improvement. And when giving feedback, compose it constructively by pointing out a problem AND a solution.
A common stereotype associated with feedback is that it can only be given downwards, from a manager to an employee, for example. In reality, feedback should be given 360 degrees: up, down, and across. Just as a manager would evaluate an employee, an employee should evaluate his or her manager, too. Peers should also be encouraged to provide feedback to one another.

4. Be personable
As a manager, it is important to invest in your relationships with employees. To be clear, I do not mean you should add "become best friends with all employees" to my earlier list of unrealistic resolutions, but there are ways to make this an achievable feat.
Schedule monthly one-on-ones with employees to discuss their personal and professional goals, as well as anything else to better get to know each other. This allows managers to act as a coach instead of an evaluator. These one-on-ones can be in the form a GOOD meeting, where Goals, Obstacles, Opportunities, and Decisions are discussed, or it can have a more candid flow. Either way, make sure you follow these 6 Essential One-on-One Meeting Tips.
With these resolutions in mind, you're bound to have a successful year. To learn more about setting goals that will help you crush 2019, check out our free ebook, 5 Sure-Fire Ways to Set Goals That Get Results.