Moving the needle on employee engagement begins with understanding employee feedback. The best tool for understanding employee feedback is an employee engagement survey.
An employee engagement survey can help you understand key business obstacles and opportunities. Done thoughtfully and consistently, it offers critical insights that can make or break your success as a company.
This article will help organizational leaders and human resources professionals understand the what, why, and how of using employee engagement surveys to better your business.
---
What is employee engagement?
Employee engagement is defined as the strength of the mental and emotional connection employees feel toward their work, team, and organization. Employee engagement measures how employees feel about their organization.
Employee engagement is important to employee, team, and business success. It impacts key business metrics like employee retention, recruitment, productivity, and profitability.
What is an employee engagement survey?
Employee engagement surveys help organizations measure employee engagement—to make it more tangible. They help organizational leaders:
Uncover employee perceptions
Make them actionable
Implement changes that move the needle
A traditional employee engagement survey happens once a year. It includes all employees. This type of employee survey is helpful in understanding employee engagement trends. It helps create organizational and team benchmarks to track nuances over time.
Types of employee surveys
A traditional employee engagement survey shouldn't be the only way you collect employee feedback. The most common types of employee surveys include:
Annual employee engagement survey
Pulse surveys
Employee lifecycle surveys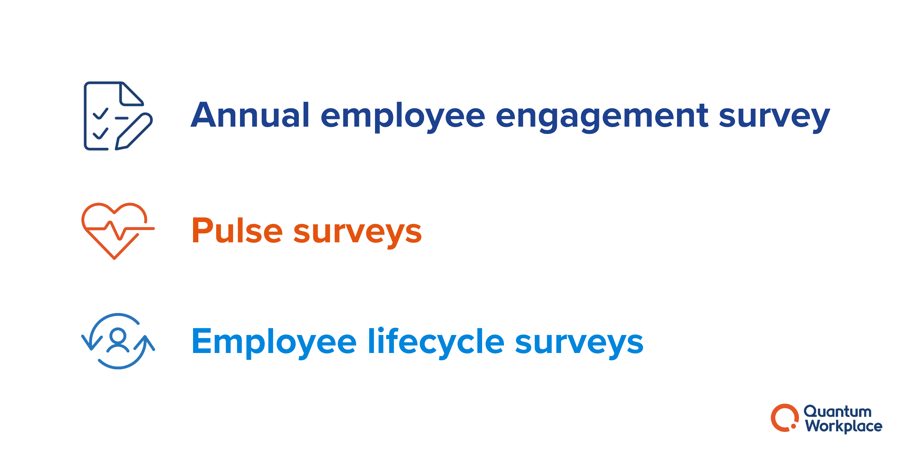 ---
Why do an employee engagement survey?
An employee engagement survey is a critical part of your employee listening strategy.
It's impossible for leaders to have an intimate conversation with every employee—especially in today's remote/hybrid workplace.
Your engagement survey is a simple medium for employees and leaders to converse. Employees can easily voice their thoughts and feelings about their workplace experience.
Employee engagement surveys (and the insights and strategies that come from them) can have a huge impact on business success. With trending data, market benchmarks, and robust reporting, an engagement survey helps you:
Understand where your company excels
Shed light on where you need to improve
Give every employee a voice
Help connect the dots between employee engagement and your bottom line
Build employee trust
Compare and contrast among different employee groups
Drive meaningful action and smarter people decisions
Capture feedback that helps you navigate change
Help you cultivate a competitive and engaging company culture
---
How to develop an employee engagement survey
Developing an actionable employee engagement survey involves thoughtful survey design. Here are some tips from our employee engagement experts:
1. Keep your survey focused on engagement.
The purpose of an employee engagement survey is to measure the connection employees have toward their work, team, and organization—and examine the factors that influence it.
It might be tempting to combine multiple employee surveys or questions or to dive deeply into a particular topic. But this can confuse employees about the purpose of the survey. It also makes it more difficult to act on employee feedback.
2. Determine demographics to track.
Employee demographics help you sort your data and identify trends among different employee groups. Set up demographics like:
Professional Demographics
Location
Tenure
Position level
Department
Employment status
Pay type
Personal Demographics
Gender
Age
Education
Race
More demographics aren't always better. Avoid including demographics that you don't plan to analyze. Too many demographics can lead to more work for those analyzing and acting on the survey results, which can decrease likeliness of successful follow-up.
3. Choose the best employee engagement survey questions.
Your employee engagement survey questions should include a mix of engagement outcomes and potential impact questions.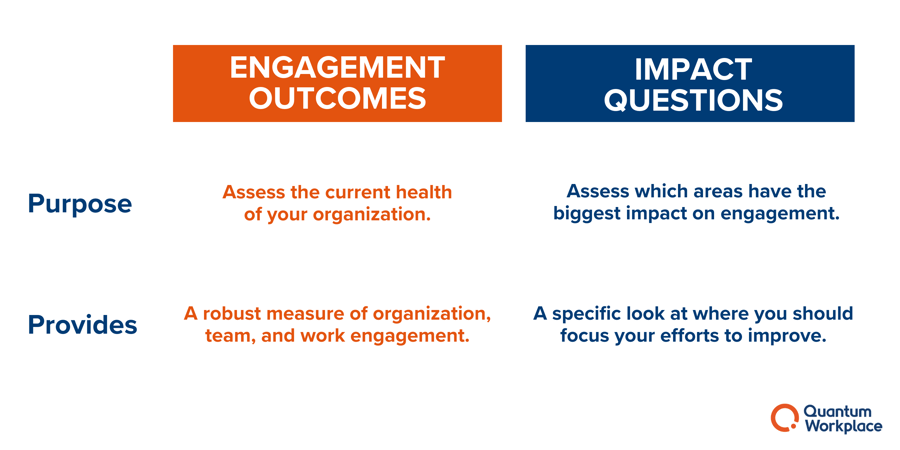 Engagement outcomes provide you with a robust measure of engagement. Examples of engagement outcomes include:

1. It would take a lot to get me to leave this organization.
2. I recommend this organization as a great place to work.
3. My immediate coworkers are committed to this organization's overall goals.
4. I feel accepted by my immediate coworkers.
5. I find my work engaging.
6. I'm happy with my job.
Impact questions cover important topics that help you assess which areas have the biggest impact on engagement at your organization. Topics should include:

Career growth and development
7. I find my job interesting and challenging.
8. I see professional growth and career development opportunities for myself here.
9. This job is in alignment with my career goals.

Change management
10. When the organization makes changes, I understand why.
11. Changes are made in a way that is consistent with our mission and long-term vision.



Future outlook
12. I believe this organization will be successful in the future.
13. I understand the company's plans for future success.
14. I know how I fit into the organization's future plans.

Individual needs
15. I am paid fairly.
16. My job gives me flexibility to meet the needs of both my work and personal life.
17. If I contribute to the organization's success, I know I will be recognized.

Communication and resources
18. There is open communication throughout all levels of the organization.
19. I have the information I need to do my job well.
20. I have the materials and equipment I need to do my job.

Manager effectiveness
21. My immediate manager cares about me as a person.
22. My immediate manager regularly gives me constructive feedback on my performance.
23. My immediate manager cares about my development.

Team dynamics
24. Goals and accountabilities are clear to everyone on my team.
25. My coworkers are committed to producing top quality work.
26. Teams collaborate well with other teams.

Empowerment
27. I feel empowered to make decisions that impact my work.
28. I have the freedom to improve products, processes, and services.



Trust in leadership
29. The senior leaders of this organization demonstrate integrity.
30. I trust our senior leaders to lead the organization to future success.
Check out these blog posts for more employee survey question inspiration:
4. Be mindful of your survey length.
The length of your survey usually determines the time it will take your employees to complete it. It also sets the tone for how much feedback you'll need to act on.
The most effective employee engagement surveys include 30-40 questions. This length allows you to cover all necessary topics without taking up too much of your employees' time.
---
How to conduct an employee engagement survey
When it comes time to launch your employee engagement survey, there's a few key considerations to keep in mind.
How often should we survey employees?
Our research shows that annual employee engagement surveys alone are insufficient. Employees who are surveyed more regularly have higher engagement. However, employees who are surveyed monthly are most likely to say that their organization sends too many surveys.
There's a delicate balance between effective, continuous listening and survey fatigue.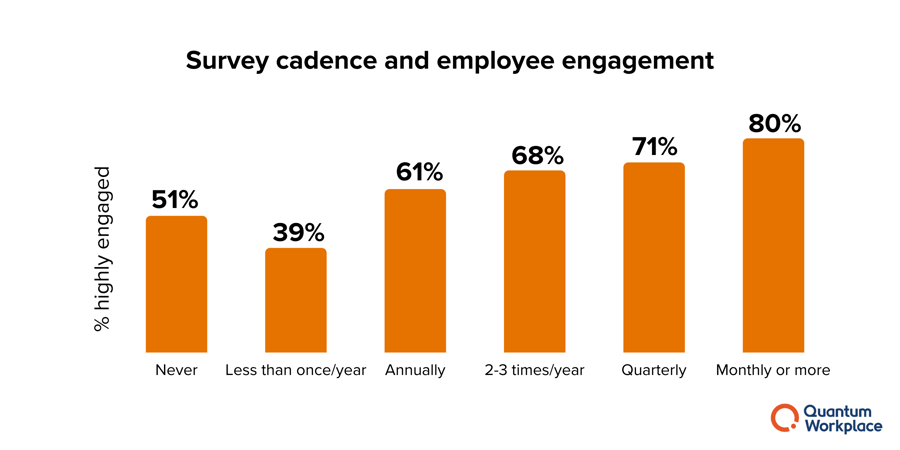 How often you survey your employees is up to you, but these recommendations will increase the likelihood of your success.
Launch an employee engagement survey to all employees annually. This survey is an opportunity to hear from all employees on key topics.
Supplement with pulse and lifecycle surveys. These surveys capture feedback on important and timely topics and at critical employee milestones. Combined with your annual engagement survey, you'll have a full picture of the employee experience.
Aim for employees to participate in at least four surveys in a year. But do not send so many surveys that the organization cannot take effective action.
Only measure what you can act on.
If you can't take action on something, don't ask about it. When you ask your employees for feedback on any given topic, be prepared to act.
How should I approach employee engagement survey communication?
Communication is one of the most overlooked and under-executed elements of the survey process. Done well, your employee engagement survey communication can:
Increase survey participation
Build employee trust
Encourage open and honest feedback
Lead to positive organizational change
Poor communication can result in damaging and costly consequences, such as low response rates, distrust, confusion, decreased morale, and disengagement.
We recommend a 3x3x3 model for survey communication, including:
3x prior to survey launch. Make a formal announcement, ideally from the CEO. Remind employees what you did with last year's results, and tell them how you plan to use them this year. Let them know when the survey will be launched and how.
3x during the survey period. Once the survey opens, remind employees how to access the survey. You don't want employees to feel like the survey is mandatory—but you do want to keep the enthusiasm.
3x after the survey closes. Once the results are in, thank your employees for their participation and let them know what to expect next. Send out a high-level overview as soon as possible with a summary of key findings.
How do I increase my survey response rate?
Engagement surveys, like any other organizational initiative, take time, energy, and resources. They're an investment—one that you can't afford to take lightly.
Naturally, you'll want your survey response rate to be high. But also be realistic. A good response rate is usually somewhere between:
70-80% for larger organizations (more than 500 employees)
80-90% for smaller organizations (less than 500 employees)
If your response rate is low, you might be wondering how to increase employee engagement survey participation. Here's a few tips to help your employee engagement survey response rate:
Make a formal announcement and communicate regularly through the survey period.
Frame your communication with an employee-first lens.
Carve out designated survey-taking time for employees.
Hold managers accountable for encouraging employees.
Communicate the importance and value of employee participation.
Prioritize changes based on feedback. Show employees you're doing something.
---
How do I measure employee engagement?
Your employee engagement survey results are in. It's time for your employee engagement survey analysis. Use these tips to measure employee engagement and improve it.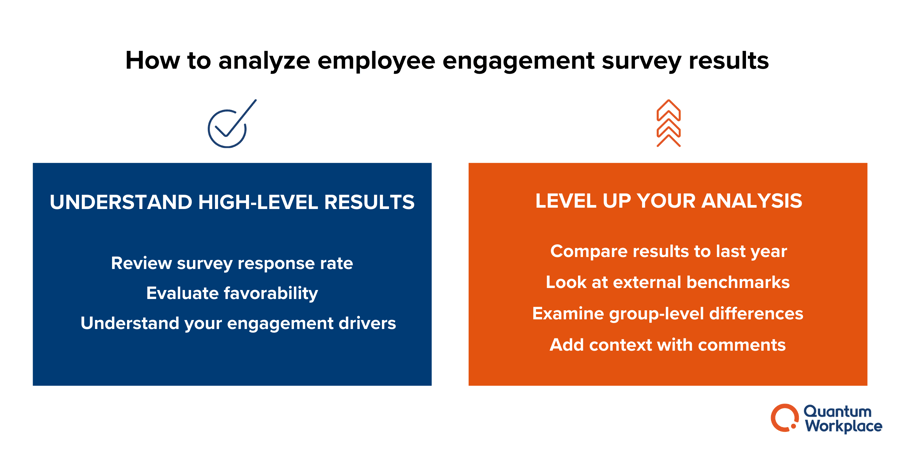 Understand your high-level results.
Review the survey response rate.
If your organization's survey response rate is at or above average, that's great. If it's below average or has declined since your last engagement survey, make sure employees understand how their feedback is being used to make your organization better.
Evaluate favorability.
Understanding favorability gives you a high-level view of your organization's engagement. Favorability is the combination of responses that are either "Strongly Agree" or "Agree" across all survey questions. An overall favorability of 70% or higher is healthy.
Understand your organization's drivers of engagement.
Send a quick reminder email to get employees excited for the survey, and to reinforce your intentionsYour drivers of engagement are your organization's custom recipe for improving engagement. These are the survey questions that have the biggest impact on your organization's engagement levels. Understand which drivers are most and least favorable.
Level up your analysis.
Compare this year's results to your last survey.
By adding a comparison, you can easily see which survey question results stayed the same or changed since your last survey. Do the questions that have improved align with recent efforts? Are the questions that declined related to any recent changes or challenges?
Understand how your feedback compares to other organizations.
Find a survey provider that allows you to compare to external benchmarks. This will help you understand where you might have a competitive advantage or where you're falling short.
Examine group-level differences inside your organization.
Slice and dice your data to compare different demographics within your organization. This can help you understand where perceptions overlap or differ.
Review open-ended comments to gather context.
Open-ended survey questions give employees an opportunity to share examples and context. These comments can help you better understand the numeric data trends.
---
How to develop an employee engagement action plan
Our research shows that 61% of employees expect action based on employee survey results. But less than half of employees (48%) say this is actually happening.
Bottom line—if results aren't acted on, there's little reason to survey. You'll risk disengaging your employees and losing their enthusiasm and openness for future surveys.
What to do with employee engagement survey results
When thinking about how to improve engagement in your organization, look at the organizational, team, and individual levels. Choose one or two areas that you want to improve and take action.
Here's a roadmap you can follow to determine your employee engagement action plan.
Share results with the organization.
Empower managers to take action.
Encourage teams to discuss results.
Make goals and implement decisions.
Check in and evaluate progress.
Update goal progress and adjust as needed.
---
Choosing the right employee engagement survey software
To really reap the benefits of an employee engagement survey you need to have a tool that works for you, rather than creating more work. Employee engagement survey software can help you make sense of complex and changing employee needs.
Finding the right employee engagement survey software involves extensive research, leadership buy-in, and a true understanding of your organization's wants and needs. For such a big decision it's important to not just shop for software, but a solution.
Take the time to examine your organization's strategic objectives. Choose a partner that brings you closer to achieving those goals—now and in the future. Consider these elements when choosing your employee engagement survey vendor: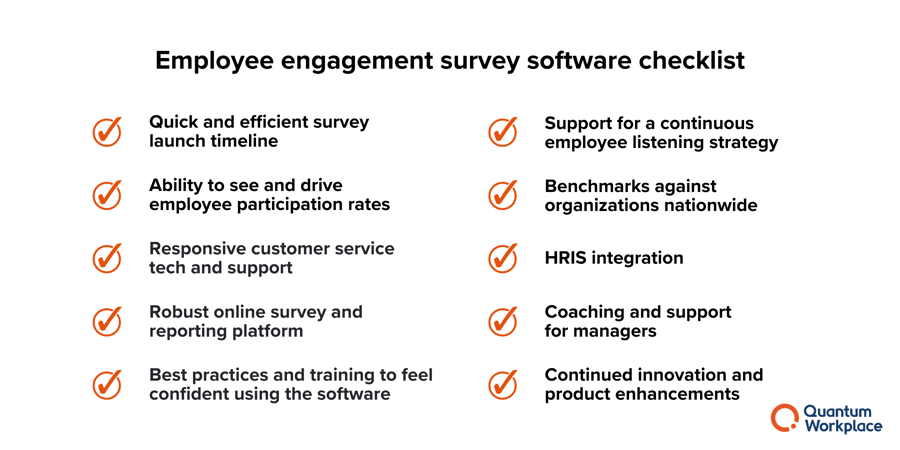 1. Quick and efficient survey launch timeline.
An employee engagement survey is just one of many items on your checklist. Your survey partner should be respectful of your time and help you efficiently launch a survey.
2. Ability to see and drive employee participation rates.
Your survey partner should provide you with tips and templates for effectively communicating about your survey, monitoring progress in real-time, and following up on survey results.
3. Responsive customer service and tech support.
Your employee engagement survey vendor should be clear and responsive about progress on your launch, timeline, and questions or concerns along the way.
Here are a few questions to use to evaluate your partner:
What kind of tech support do we receive?
Can we upgrade to additional support if we need it?
When I have a question, when should I expect a response?
Can my employees contact your support line if needed?
4. Robust online survey and reporting platform.
Archaic and inefficient reporting will hold your organization back from timely action. Your survey partner should provide an online system that makes it easy for your leaders to:
Quickly access, sort, and share employee data
Build, customize, and launch surveys and reports
Compare results to companies in your industry
Sort survey questions to surface key themes
Filter by demographic to uncover employee sentiments
Review comments and sentiment at scale with text analytics


5. Best practices and training to feel confident using the software.
Your survey vendor should offer training and resources to identify where to focus your efforts and create action plans. The better equipped your team is when it comes to using the tools, interpreting data, and taking action, the faster you can create an engaged workplace.
6. Support for a continuous employee listening strategy.
Your survey partner should provide a variety of listening opportunities to support your organization's unique engagement strategy, including:
Pulse surveys
New hire/onboarding surveys
Engagement surveys
Exit surveys
7. Benchmarks against organizations nationwide.
You'll want to understand how you measure up when it comes to employee engagement. Find a survey vendor that includes external benchmarks like industry and company size.
8. HRIS integration.
An HRIS integration helps maintain accurate data in real-time for the rest of your internal applications, organizational structure shifts, and more.
9. Coaching and support for managers.
Your survey partner should provide best practice templates, advice, and alerts to coach managers to follow-up on survey results. Look for a partner that provides training, resources, and a simple manager dashboard that includes features like:
Engagement drivers analysis
Survey item breakdowns
Heat maps and comment analysis
Simplified and customized reports


10. Continued innovation and product enhancements.
Your survey partner should have a critical vision for what's next in employee engagement. They should continuously share those ideas and resources with you. You want a vendor who's just as invested in helping your employees, teams, and organization be successful as you are.
---
Employee engagement surveys with Quantum Workplace
Quantum Workplace's employee engagement survey platform makes aggregating, analyzing, and acting on company-wide feedback a breeze for everyone involved, including:

Survey design you can trust
Flexible and robust reporting and analytics
Benchmark against America's Best Places to Work
Easy access to empower your managers
Action planning to help teams move the needle
Text message invitations & notifications for dispersed workforces

Learn more about our employee engagement survey software, or schedule a demo today.
---
To hit the ground running with your continuous employee listening strategy, download our ebook, The Complete Guide to Conducting an Employee Engagement Survey.