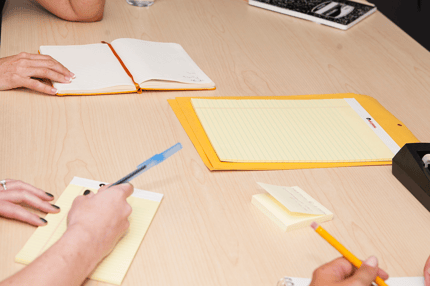 A "nice-to-have" program rarely gets approved by your CEO. In order to get the green light, the proposed addition must show that it adds value.
Unfortunately, there are still too many companies out there that describe an employee engagement survey as an added perk. That's the wrong attitude. Organizations must continually monitor the pulse of their employees to determine how to best address engagement moving forward.
Here are nine reasons why employee engagement surveys are a "must-have."

1. Change is in the air.
Raise your hand if you describe your business as stable. Your company today won't be the same as it is in six months, much less years down the road. If it is, your senior leaders aren't doing their job. An engagement survey helps you and your leaders manage the constant change.
2. Business happens in real-time. Your engagement efforts should too.
How often does your CEO look at sales numbers? How often does he or she meet with the management team or board to discuss financials or other key business metrics? Engagement should be just as important. A survey conducted at least once a year provides the blueprint for how to best engage your employees every day.
3. People are your most expensive asset.
In most organizations, the workforce and the salaries committed to employees make up the biggest line item in your budget. If you don't conduct an employee engagement survey, you are letting (hundreds of) millions and millions of dollars of resources balance on a tightrope with no idea if your workforce is about to break down, or if they are running like a lean, efficient machine.
4. Progress needs to be measured.
Employee engagement can't be improved if you don't have results to compare. Employee engagement surveys provide benchmarks that show organizations what they're doing well and what needs to improve when it comes to engagement.
5. Culture never sleeps.
What makes your company awesome doesn't protect you from the unknown shifts taking place right now. Cultures are not static. They're constantly moving and evolving. Employee engagement surveys allow you to keep your finger on the pulse of your culture and engage your employees in the most effective manner.
6. Comparisons provide clarity.
Use other organizations to create benchmarks for employee engagement in your workplace. Each company culture is unique, but understanding your strengths and gaps compared to the rest of the market helps you identify areas of strength and opportunities to improve.
7. Managerial minds want to know.
Managers want to know how engaged their teams are right now. They are sick of losing employees and spending hours in interviews. They also want to know their strengths and weaknesses as a manager. A survey gives them answers to these questions and more.
8. Employees want a voice.
Every employee has opinions, but you have to be willing to listen. The more heard your employees felt, the more engaged they'll become.
9. Keep up with your competitors.
The top talent isn't going to simply fall into your lap. Your organization needs to stand out as one that values employees, listens to them, and acts on the feedback it receives. Many top companies use people analytics as a competitive advantage to attract new employees. If you're not using an annual survey to measure engagement, you're falling behind.

To be clear, engagement is about much more than an annual survey. The most engaged organizations employ other tactics such as recognition, goals, and 1-on-1 meetings. These all help boost engagement, but the employee engagement survey provides your baseline. It helps set the path for where you need to get to.


Check out our ebook, Conducting an Employee Engagement Survey, for tips on how to create the most effective surveys and what to do with the data to maximize the results.