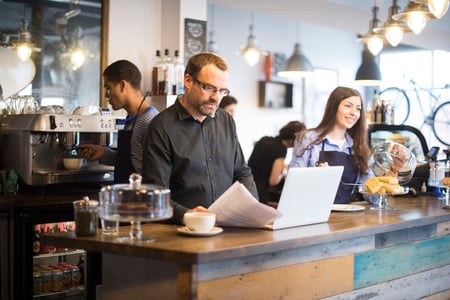 It's the gig economy, and more and more professionals are operating as freelance, contract or independent workers.
While companies have always struggled to manage employee engagement with remote workers, this significant shift in the make-up of the workforce means that growing and emerging companies need new strategies to support company culture—both within and beyond the office walls, to develop personal and professional relationships among colleagues, and to foster greater employee engagement.
These key strategies are proven starting points for companies that are just beginning to dip their toes in the gig economy.
1. Onboard your contracted employees.
Your gig employees need onboarding, and they need it at a more rapid rate than your average employee. They need to understand what your company does, how your company functions, and what role they play in the strategic plans of the company – this will kick-start their engagement.
2. Measure gig employee engagement.
You can't fix what you don't understand. While it can be tempting to leave your contract employees out of your annual engagement survey, every single person who works for you should be included. This way, you can understand the unique problems and drivers of your population.
3. Don't think of independent employees as resources.
When employees are thousands of miles away, working on an as needed basis, it is easy to think of gig workers as merely a means to an end. Have the discipline to not treat them as resources to be allocated.
4. Include gig employees in company communications.
While there may be some messages that apply only internally, certainly things like hiring announcements, goal updates, and company news should be sent to your freelancers. This will give them the context to feel like a part of a larger organization.
5. Recognize success.
Gig employees need recognition just like your other employees, but the medium may look slightly different. Yes, recognize gig and joint efforts internally, but remember – these people likely work for someone else, too. Offer to refer the employee to another prospective employer, or post a recommendation on his or her LinkedIn profile.
6. Include gig employees in company milestones.
Gig employees have built your company just like any other employee. Multiple studies have predicted that freelancers will make up at least 40% of the workforce in the next several years, and that population shouldn't get left out of company milestones. Invite them to your annual holiday party, your regional meetings, and your team lunches. They might not take you up on every invite, but a welcoming environment shows how much you value their contribution.
---
Foster engagement among all employees with a targeted approach. Download our Employee Engagement Trends Report below to uncover how engagement drivers differ across different employee demographics, including position level, gender, department, and more!