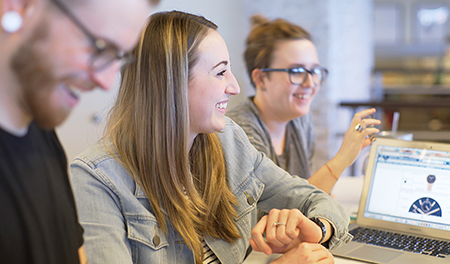 Effective implementation of your performance management plan is only as successful as its ability to communicate understanding and engage your entire organization.
How can you ensure a shared understanding? Think like a marketer!
Building a foolproof communication plan will help you successfully launch your performance management plan and the steps within it. Consider creating visuals and common language that align with your brand.
By creating an overarching strategy with defined goals and tactics, it will be much easier for managers and employees to understand, buy-in, and remember the details.
If you want to create a culture of high performance — one that wins in the marketplace — you must first make time to develop the purpose, design, and rollout of your performance management process.
Here are 5 tips to help you better communicate your performance management plan:
1. Define the purpose of your performance management process.
If your managers are overwhelmed with your performance management process, there's a good chance it's too complicated. And if your process is too complicated, managers will get frustrated and skip important steps.
As with most company-wide initiatives, without a clear purpose your employees won't know how to – let alone to decide to – get on board.
Managers should be able to clearly articulate each step of your performance management process: including the who, what, when, where, how, and why for each stage. Ask yourself:
Who is involved at each step?
What are you trying to accomplish or communicate?
When will key performance management events happen throughout the year?
How are you going to use your resources?
Why are you taking this approach?
Fostering purpose ensures that every employee feels that they can contribute to your organization's goals and overall success.
2. Include your managers and employees in the design process.
Consider involving employees and managers in decision-making as early as possible. Involving these parties early on will help increase buy-in and enthusiasm around the process.
Leverage focus groups and culture committees to gather feedback, brainstorm solutions, select partners, and test and pilot solutions. A unique mix of input will help you address a variety of needs, or concerns, and will ultimately help you build a process that maximizes the potential of your program.
Break the system down into bite-sized steps and make sure your people managers understand the process and their role in each step. This will arm you with advocates to help drive the change.
Expert Tip from Fossil Group
Fossil Group focused on building a process that was simple, intuitive, and employee centric. They used focus groups and culture committees to accomplish these goals by incorporating feedback from employees early on.
3. Create a name for your programs or systems that aligns with your company's external brand.
While this might seem like an insignificant step, putting a name to such an important initiative will create top of mind awareness and help you tell your story.
First, consider the previous steps by setting a clear intention for your program and establishing the design of your performance management plan. Keeping your organization's external and employer brands in mind, you might also draw inspiration from a Fortune 500 company's performance management name.
Imitation is the highest form of flattery, right? Take a page out of the book of these successful performance management plans:
4. Market your performance management brand consistently and across multiple channels.
People like to feel in-the-know, especially when it comes to sensitive issues like performance. The more people know about an upcoming change, the more comfortable they will be when it happens.
Similar to launching a communications plan, think about the variety of platforms you can use to get the message out — to the right people at the right time. Spread the word with an interoffice email series or in communication tools like Slack or Google Chat. Hold a company-wide meeting to kick off your plan and hold training sessions to educate your employees.
Along the way, make sure you are transparent and make it easy for people to ask questions or provide feedback. This will help set clear expectations and help every employee understand their role in the process.
5. Recognize, reward, and incentivize employees for adopting the new strategy.
Adapting to a new performance management system (or learning the ropes as a new manager) can be a BIG change to overcome. After a big program launch, it's time to celebrate – and recognition can go a long way.
Make sure you're taking time to reward your employees for their willingness to help move your organization forward. Integrate your performance management brand in a post-launch party or team-based event. Create and distribute custom swag and treats for your team. Or publicly recognize employees for their hard work.
It's not always easy to get your employees on board with new initiatives. A detailed communication plan that involves all stakeholders and represents your brand will get you one step closer to implementing a successful performance management program.
---
Download the ebook, Making Time for Performance Management, to get Fossil Group's tips for creating a successful performance management program.