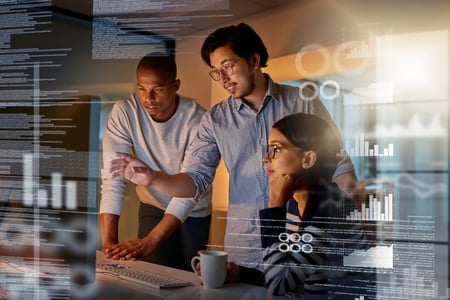 At Quantum Workplace, we have the opportunity to partner with hundreds of progressive organizations across the world. We work with a variety of industries and size categories (from Fortune 500 retail manufacturers to financial investment and insurance firms to massive restaurant chains) on their engagement and performance initiatives. Regardless of size, prestige, or organization type, every HR leader asks a similar question: "What are some forward-thinking best practices for driving engagement and performance?"
The most progressive organizations adopt a more holistic approach to their continuous listening and feedback strategy – shifting their mindset from a statistic on an HR scorecard to actually using and acting on feedback and data. This can't be accomplished overnight, but the effort is worth it. Here are five tips to consider as you search for innovative employee engagement ideas.
1. Clearly Define Strategic Roles
Gone are the days where your HR team is solely accountable for engagement and culture. To truly create an engagement culture, everyone needs to contribute, from the top of the organization to the employees. Here's how to get everyone involved:
Leaders: Progressive organizations are led by people who fully buy into a continuous feedback strategy that solicits frequent and candid employee feedback is used to serve their most important resource – the employees themselves. Leaders set the organizational expectation for collecting feedback, sharing results, and taking action.
HR: Human resources representatives are the conductors that keep your engagement initiative on the right track. They constantly innovate and tweak the organization's strategy to make sure it keeps up with your evolving workplace. They're on the front lines providing leaders with usage stats and ROI, arming managers with resources on how to share feedback, dig deeper into trends, and create solutions for improvement, and empowering employees to give candid, frequent, and actionable feedback.
Managers: If managers are left to their own devices, engagement is often pushed off behind pressing business objectives. Instead, progressive organizations often make engagement and performance a KPI for managers, holding them accountable for hiring, growing and recognizing great talent. Managers are expected to collect real-time upward or 360 feedback on their own effectiveness, as well as feedback on other topics that are impacting their teams.
Employees: Remind employees to be open-minded when their teams are working towards improvement. Share a confidential engagement report to each employee highlighting their drivers, biggest year-over-year changes, etc. This way, employees can review the feedback they give and digest how they are feeling towards their organization.

2. Collect Feedback You Can Act On
Too many organizations fall into the trap of capturing data that isn't actionable (think daily sentiment and mood readings). Employees are tired of the frequent feedback requests that their organizations neglect to act on. Combine annoying requests for feedback, no organizational action or follow-up, and the same working conditions they had when they took the last survey – and you've got a recipe for employee disengagement.
Instead, administer pulse surveys with a purpose. Innovative organizations conduct pulses two to four times throughout the year to dig deeper into issues that surfaced on their most recent annual initiative. A typical pulse will include more targeted survey items and open-ended comments for employees to give advice on how to improve in that area. An effective pulse survey invite will clearly communicate purpose and next steps.


3. Impact Change at the Local Levels
Your organization may have global initiatives, but don't forget about making positive changes at the local level. Working with some of America's Best Places to Work, we've found that change at the team level is most critical to impacting manager effectiveness and overall team engagement. Team or department-level engagement efforts are not separate initiatives, but rather a more targeted approach, informing managers on how they can help move the needle on organizational engagement.
For example, low-scoring survey items around trust in senior leadership could reflect how a manager is communicating organizational changes and strategies to their team. This type of feedback empowers managers at the local level to better understand team strengths and weaknesses, even if it differs from the organization's aggregate trends.


4. Create Transparency of Open-Ended Feedback
Natural Language Processing (NLP) seems to be all the buzz lately. While NLP is really good at identifying aggregate organizational trends for pain points and opportunities across all employees, it doesn't make much of a difference on the individual level. Digesting comments from the organizational analysis is certainly valuable, but a more detailed analysis is needed to hold managers accountable for action. That's why progressive organizations go beyond NLP to examine employees' open-ended feedback within teams.

5. Connect Employee Lifecycle Analytics to Key Business Metrics
Our more progressive clients regularly measure how trends in employee feedback affect business outcomes. For example, showing a positive correlation between high guest satisfactions with that of a highly engaged restaurant is a powerful and convincing message that an effective engagement strategy is pertinent to the success of the business. Here are some example questions we are answering to help organizations better invest HR dollars and shape strategic HR plans:
Does our process for onboarding and new hires result in higher engagement and productivity for that individual?
When employees are recognized via our recognition tool, are they more likely to feel valued?
Did our move from the annual review to continuous performance conversations positively impact employees' perception of career growth and development, and ultimately their retention?
Did exiting employees give us a sign that they were thinking of leaving? What does our organization's/location's/team's retention risk profile look like?

6. Have Some Fun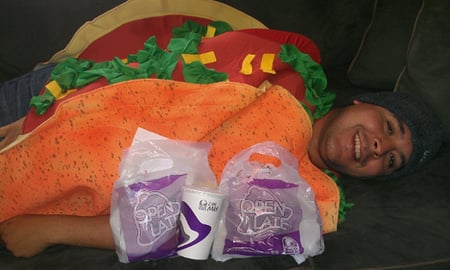 Something as simple as a party of Friday happy hour can go a long way toward increasing employee engagement. You want to create a culture where employees enjoy coming to work. Keep these ideas in mind as you look for ways to spice things up in the office.
Start a company team (volleyball, bowling, trivia)
Commemorate start-date anniversaries
Celebrate obscure holidays
Hold a department talent show
Volunteer together
Innovative employee engagement ideas aren't quick easy fixes that turn a somewhat engaged organization into a highly motivated workforce overnight. These ideas take planning, buy-in, and hard work. But your time will be well spent. Our top-performing, progressive clients prove day-in and day-out that these innovative employee engagement ideas keep them on the path to success.

Want to learn more about employee engagement and what top organizations are doing to address it? Download our free ebook, 7 Employee Engagement Strategies Backed by Research, to dive deeper and spark more ideas.