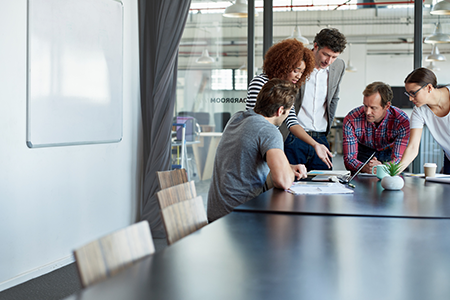 Like the events of 2020, the future of work can be unpredictable. But it doesn't have to be that way. Your organization has a lot of information inside it that can help you propel your workforce and your business forward in 2021.
Employee engagement will continue to be an important part of an effective and integrated talent strategy. But engagement isn't the only component of achieving business success.
In this article, we'll dive into 7 reliable talent strategies to move your business forward in 2021 including:
Defining success
Building business value
Connecting engagement and performance
Understanding the role of managers
Preparing for the future of work
Using the right tools and processes
Achieving ongoing growth and success
1. Define what success (and engagement) means for your organization.
Employee engagement plays a critical role in determining and driving the success of an organization.The better you can define (and measure) employee engagement in your organization, the better you will be at mobilizing success.
Key question: How do we define success in the workplace?
Use (and share) a clear definition of employee engagement in your organization. Don't confuse engagement with employee satisfaction or employee experience. It can make measuring and improving engagement less effective.
Our definition of employee engagement is the strength of the mental and emotional connection employees feel toward their work, team, and place of work. Here's a breakdown of those components:
Strength: Engagement is a spectrum—like having a dimmer that can make a room dark, bright, and everything between. Strength shapes our perceptions as well as the questions we ask to gauge engagement.
Connection: Employee engagement relates to connection through motivation, trust, confidence, pride, and inspiration. A stronger connection means better communication and performance.
Multifaceted: Employees may feel differing levels of connection to their job, team, or organization as a whole. Combinations of these highs and lows can change throughout the employee lifecycle.
2. Build business value with the employee experience.
People are complex—many factors impact their level of engagement. And those factors can change over time. Your employee engagement program needs to evolve to understand and adjust to their needs.
A successful employee engagement strategy is centers on the use of feedback from all employee levels to:
Uncover meaningful insight
Make positive change
Create a better employee experience
Focus your efforts on the unique aspects that drive engagement within your organization. Tying your efforts to business metrics that matter (and ensuring your workforce understands how engagement affects their work) will help you be more successful.
Key question: How does engagement impact our business?
Profit and loss aren't the only indications of organizational success. Engagement metrics should be connected with business outcomes and shared throughout the year. This keeps engagement top of mind for employees and ensures all leaders understand and can make the connection.
To understand the impact of engagement on your business, you need a clear picture of what you hope to get out of your engagement initiatives. Here are some examples:
Attract and retain top performers
Navigate a merger or acquisition
Ensure employees are agile in a high-growth company
Once you've figured out how engagement fits into the bigger picture of organizational success, communicate that impact regularly. Speak in the language of your leaders and constantly connect those dots.
3. Connect employee engagement with employee performance.
When employees are engaged, they perform better. And when employees clearly understand their performance expectations they are more engaged. If you want to understand how engagement impacts business success, you need to find the link between engagement and performance. But drawing a connection requires more than just improving one initiative and then shifting to the other.
To successfully connect engagement and performance, you need to:
Regularly collect and analyze employee data to discover unique details about your talent
Take meaningful action to show your commitment to improving engagement
Tell stories that connect the dots to encourage buy-in from all employees
Key question: How does increased engagement impact employee performance?
Your employee engagement data is complex, but the influence it can have on employee and business performance should be clear.
Our research has shown that when goals and accountabilities are clear, employees are 2.8x more likely to be highly engaged. And when employees believe they will be recognized, they are 2.7x more likely to be highly engaged. Finding opportunities like this to tell stories about your data is a great way to prove the connection to senior leaders.
4. Understand the role of managers in employee engagement.
Managers play an important part in defining and driving the employee experience. But they might not be equipped to make an impact without support from leadership, ongoing training, or access to data and information.
When they have the tools and resources they need to be successful, managers can:
Drive team culture
Conduct development conversations and activities
Advocate to higher leadership
Ensure employees secure appropriate pay and benefits
Key question: How can we help our managers drive engagement?
You can play an important role in supporting and enabling your managers. Include them in the strategic vision for your talent initiatives and help them visualize the big picture. This may require in-depth training on the purpose of the organization's goals and how their team is expected to make an impact.
Some examples include:
1-on-1 coaching with upline manager to help navigate difficult conversations
Online courses or webinars with performance review tips and best practices
In-person workshops to ask mentors and experts for advice
5. Use the right tools to drive employee success.
Beyond identifying the right tools or resources to empower your managers, your tools need to be consistent and up-to-date. Your tools should integrate with the systems you use and the talent strategies you put in place.
Your employees, managers, and leaders need integrated systems for engagement and performance management to work together.
This includes:
A variety of ways to collect employee feedback in real time
Continuous conversations around performance and development
Shared goal setting among employees and managers
Aligned team and organizational goals, made at the individual level
Performance feedback and identification
Systematic analytics and tracking to make sense of your data
Key question: How could software help us reach our goals?
To encourage employees to own their performance and career growth you need to invest in the right tools. Pairing the right software with your strategy for employee success will help you achieve your goals together.
6. Prepare for the future of work and performance management.
For too long organizations have been overwhelmed with the process of performance management. Inconsistent and siloed practices are being replaced with more efficient and continuous models.
Employee performance can make a huge impact on your organization's bottom line. To do so, your performance management program should:
Connect business outcomes to team and individual goals
Create visibility through employee feedback, progress, and opportunities for growth
Be agile by using the right tools and data to adapt to changing workplace conditions
Key question: How does our current performance management program drive business success?
Your performance management strategy should be balanced with good performance conversations, flexible coaching tools, and metrics that help you achieve your goals. A modern approach to performance management:
Incorporates employees as a critical part of the process
Uses meaningful and evidence-based practices to ensure employees perform their best
Iterates and evolves as individuals, teams, and businesses adapt and grow
7. Achieve ongoing growth and success.
The most successful organizations help their employees reach their highest potential throughout the employee lifecycle. Achieving employee, team, and business success cannot happen solely by improving engagement. Your talent strategy should:
Engage and retain top talent
Help you understand the employee experience
Motivate and recognize high performance
Key question: What strategies will we put in place in 2021?
In the world of work, anything is possible. But one thing is certain—your business will only be as successful as your employees. No matter how you determine success, your strategy should be purposeful, proactive, and data-driven.
As you plan for 2021, center your talent strategies around the business goals that matter most. Find every possible opportunity to connect your people practices to those larger goals. This approach will help you gain credibility with leaders in your organization and make your engagement and performance efforts a clear driver of business success.
---
Developing a strategy for business success is an ongoing, integrated process. These strategies are the foundation for success next year and beyond. To learn more about how the best places to work are preparing for the future of work, download our 2020 Employee Engagement Trends Report.