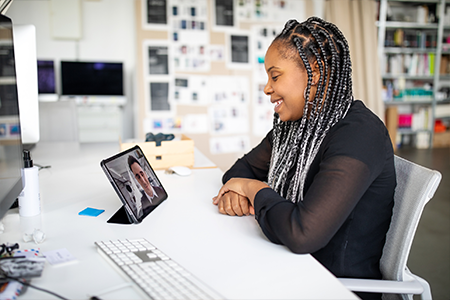 Remote work continues to grow as more and more companies transition to fully remote or hybrid work models.
According to Upwork's "Future of Workforce Pulse Report," 1 in 4 Americans will be working remotely in 2021. And by 2025, 36.2 million Americans will be working remotely—an 87% increase from pre-pandemic levels, the study revealed.
Remote work has plenty of benefits for both employees and businesses. Employees enjoy greater flexibility and work-life balance. And companies benefit from happier employees who are more engaged while also seeing lower overhead costs.
But transitioning office workers to a work-from-home setup can be a challenge. Even more so when you add new hires to the mix.
So how can you get new hires settled in and up to speed in a remote work environment?
This blog provides helpful tips and best practices for HR teams and managers as they consider onboarding remote employees.
Set employees up early
Adapt onboarding materials for virtual learning
Make virtual introductions
Communicate often
Create feedback loops
The importance of onboarding remote employees
Establishing a robust onboarding process is key to building a cohesive, productive, and engaged workforce. Yet according to Gallup, only 12% of employees strongly agree that their organization does a great job onboarding new employees.
This is bad news for employers and employees alike.
According to SHRM, employee turnover can be as much as 50% in the first 18 months of employment. Onboarding can play a significant role in retaining and engaging employees for the long-run by setting employees up for success from day one by:
Communicating expectations and responsibilities
Clarifying policies and benefits
Introducing employees to team members and leaders
Connecting employees to mentors and contacts
Integrating employees into a team and company culture
For remote employees, the onboarding process is perhaps even more crucial. Because they are working remotely, they don't have the luxury of building relationships organically in person or observing the office culture. That means your onboarding process needs to support them not only in getting set up to do their work, but also to feel connected to their team and the broader company culture from afar.
By helping employees orient to their new role or new remote work environment, you can ensure they have the tools and information they need to be successful in their job and an integrated member of the team.
5 tips for onboarding remote employees
Check off the following to-dos to streamline the onboarding process and get your new remote employees up to speed from day one.
1. Prepare their set-up early.
Before your new employee even begins working, you need to lay the groundwork for their successful integration in your company and their new role.
Working remotely means employees may not have the usual access to company resources like a dedicated workspace, desk, or computer. How will you get those tools set up for them? Will you provide the equipment or reimburse the employee for their investment? What other resources or equipment do they need?
83% of new employees said they have the materials and equipment they need to perform effectively at home compared to 87% of tenured employees.
To bridge this gap, communicate with your new hires to uncover what they need and what resources they might be missing. Make sure they know about the resources, benefits, or training that are already available.
As you consider their workspace needs, be sure to think about:
Wi-Fi capacity
User logins and company access
Security guidelines
VPN needs
Licensed company software
Noise-canceling headphones
Webcam and access to video conferencing tools
Plan ahead how you will get your new hire set up with the right hardware, software, and access necessary to do their job.
2. Adapt onboarding materials for virtual learning.
If you've never done onboarding for remote employees before, you will need to adapt your current materials and process for virtual training and access.
Convert any hard copy training manuals, contracts, employee handbooks, and policy and procedure packets into digital files (or provide virtual access to an online employee portal).
Create training videos and learning modules that employees can complete independently and track their progress. This will save managers time and help them identify which parts of the training the employee may need additional clarification or coaching on.
When possible, keep all onboarding materials like these in one accessible location so your employees (new and old) can easily find the information they need.
3. Make virtual introductions.
In an office setting, you would normally take a new hire around the office and introduce them to the teams and leaders they'll be working with. You might have a mentor invite them to lunch with the group, or set up a team-building activity during a break.
These interactions are still important for integrating remote employees. During the first week, set up introductory calls with leaders and teams. Plan a virtual happy hour or coffee break to help the new employee get to know their coworkers in a casual setting. Helping new hires build relationships early will establish a foundation for long-term success in your company.
Pro Tip: Provide an org chart with company teams, roles, and contact info. This will help new hires put faces and names into context.
4. Communicate often through one-on-ones.
Frequent, intentional communication throughout the new employee's onboarding phase is crucial for building a connection to their team and the overall company, and ensuring they have the tools and information they need to be successful.
There are many ways to connect formally and informally with your new hires. Have managers block off time each week for their employees to check in—creating a virtual "open door." Ask employees to turn on their video when conferencing to make meetings more personal and foster team connection. Hold weekly one-on-ones with new hires to check in and offer support.
Managers and HR leaders should check in regularly with new hires. Keep in mind that because remote work limits the organic interactions people have when working together in an office, more frequent check-ins may be needed than in your normal onboarding process.
5. Create feedback loops.
Feedback is a simple but effective way to uncover your employees' needs and how they think about their work environment and is an important part of employee training and development. Creating a strong feedback culture is especially important during uncertain times when you can't always predict how employees will react or what they may need from week to week.
Make feedback a part of your culture from day one by incorporating it into your onboarding process.
There are lots of ways to collect feedback during onboarding, including new hire surveys, one-on-one meetings, and goal and performance tracking software. Additionally, build feedback into your culture by training new hires on how to give and receive feedback, and train managers on setting goals and coaching employees (especially new hires) on how to achieve those objectives.
Get your new hires into your feedback system right away so you can customize the onboarding experience to their individual needs, learn how to improve the onboarding process for future hires, and help new employees adapt to and develop in their roles successfully.
Onboarding for remote employees brings its own unique challenges. Stay ahead of the curve by preparing ahead of time and focusing on communication, feedback, and training.
---
Set your new hires up for success by preparing ahead of time and focusing on communication, feedback, and training. Give your new hires the tools and support they need with our New Employee Onboarding Checklists.