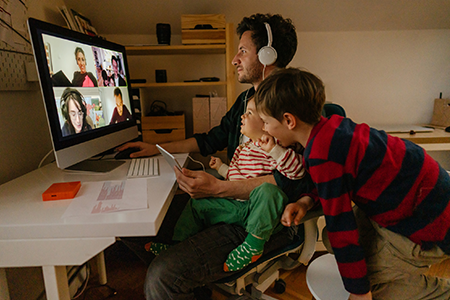 For many managers, the idea of working remotely or telecommuting is a teeter totter counterbalanced with pros and cons. Managers strive to find the line between allowing freedom for their employees while encouraging attendance and inter-office relationships.
Executives love how flexible cultures can draw top talent and create a strong work-life balance, but there is a fear that employees might not communicate or work as hard if not around their coworkers and manager.
In the past, employers have been reluctant to abandon their punch-in-punch-out policies but giving employees the ability to work remotely does have its rewards.
Discover the benefits of remote work and what the data says about the present and the future of remote work.
Benefits of remote work
Remote work statistics
Benefits of remote work
A Stanford study found that remote workers were more productive because they were not distracted by office disruptions or long commutes and actually took fewer sick days and shorter breaks. Additionally, remote workers had higher job satisfaction, which led to a 50% reduction in attrition rates. The cherry on top was a savings of nearly $2,000 per employee in overhead costs by reducing the amount of office space needed at HQ.
But productivity and savings aren't the only advantages. Other benefits of a remote work environment, include:
Increased employee engagement
Greater productivity
Reduced turnover
Positive employer brand
Lower overhead costs
Top talent is increasingly looking for flexible work options including at least partially remote schedules. Companies that offer remote work strengthen their employer brand and can attract and retain employees in a competitive market.
In fact, 54% of office workers say they'd leave their job for one that offers flexible work time.
Gallup found that workers are increasingly likely to favor jobs that offer flexible work time. And as remote work becomes more common, businesses that don't offer flexible work options will become unusual—and less attractive to employees.
Though working remotely is clearly an attractive benefit, it may not be the right solution for every employee, and sometimes in-office communication is necessary.
Consider these remote work statistics when striking the balance of remote work.
3 remote work statistics and actionable steps
There are many ways to keep remote employees engaged. Here are 3 remote work statistics and actionable steps you can take to drive engagement and manage a successful remote workforce.
1. Only 76% of new hires agree they have what they need to do their job from home.
Employers must equip remoter workers with the right tools to right tools to get the job done. Pay particular attention to your new hires, who need additional support. Only 76% of new hires agreed they have what they need to do their job from home, compared to 85% of tenured employees.
Communicate regularly and get feedback on your onboarding and workflow processes to ensure all team members are supported. Use one-on-ones and employee surveys to get actionable insights on how you can better support and equip your people.
2. 62% of employees believe working remotely positively impacts engagement but only 5% are likely to stay at their company long-term.
There's clearly a gap between how engaged remote employees think they are and how engaged they actually are. To bridge this gap and engage your people long-term, keep a pulse on remote employee engagement.
Measure employee engagement through quick pulse surveys. Filter through the demographics, including location, to ensure remote employees are remaining locked in and productive.
3. 77% of remote employees confirmed improved productivity.
Remote employees are proven to be more productive. Not only do 30% of employees report accomplishing more in less time, but 23% said they're willing to work longer to get the job done.
This is good news for the bottom line. However, pay attention for signs of burnout. Employees are more willing to work longer hours and 52% said they are less likely to take time off—which can lead to higher stress and exhaustion. Make sure you're taking care of your people so they can continue to perform and take care of your business.
Our research shows that employees would prefer to work remotely more than they get to. The good news? That creates opportunities for your company and its employee engagement strategies. By giving your employees the right amount of freedom and the tools to effectively work remotely, you can increase employee engagement and strengthen your workplace.
---
Download our infographic on The State of Remote Work and find out how your workplace can stay ahead of employee expectations for remote work. And to learn more about how Quantum Workplace can help you manage your remote teams, click below.