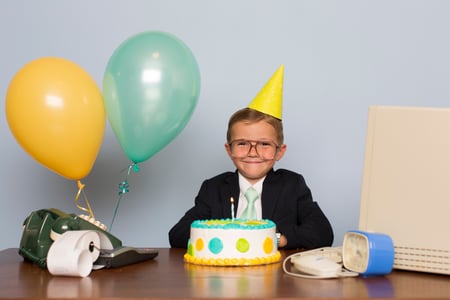 In times of tight budgets, busy schedules, or expanding waistlines, it can seem easier to skip office birthday celebrations than endure another afternoon in the company break room eating frosting-covered, chocolate-flavored cardboard.
I might have been in the same boat, too, until I came across this article. Referencing an excellent TED Talk by Dan Pink, the author uses scientific research to support office birthday recognition.
Not only that, but she makes an extremely compelling case to do something fun and unique for employees' birthdays.
"Expected rewards narrow our perspective, our recognition of possibilities, and even makes the results worse than when no reward is promised [...] The traditional cake-and-singing birthday cake for each person makes it so similar that it's an event ripe for comparison, which usually ends up with people feeling bad."
So, in the spirit of Quantum Workplace's own 15th birthday this year, here's a primer on unique, fun, and motivating birthday celebrations. Don't have a birthday coming up? Check out how to have fun at work.
The Dos:
Celebrating all the birthdays for a given month may make more sense if you have a large organization.
Tailor the festivities – make each event unique!
Be cognizant of how festivities affect workplace responsibilities, particularly for hourly workers.
Make sure the whole team, office, or branch is invited; you don't want to exclude another employee.
The Don'ts:
Brainstorming Activities:
Use these questions to come up with celebration ideas catered to your employees:
What does this person/group like more than anything else?
What is something that the people in this office never get to do?
What activity would make this whole week better, not just today?
What type of celebration would employees tell their friends about?
What childhood indulgence does this person/group miss?
What has been the topic of conversation with this person/group for the last month? What gift or activity would solve that problem?
---
Looking for other ways to celebrate your employees at work? Download our ebook, Recognition in the Workplace: Breakthrough Secrets and Statistics.