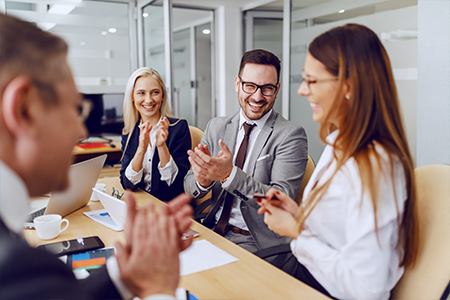 Employee recognition affects everything in a company—from the bottom line to the discretionary effort your employees are willing to put in. In fact, "feeling valued" is one of the three critical areas having the strongest association with overall engagement.
However, our research has found that less than 1 percent of organizations actually perform best in that area. In other words, organizations know they have to recognize their employees if they want an engaged workforce. But most organizations aren't doing it well.
One of the solutions companies are turning to is employee recognition software. There are numerous employee recognition platforms out there claiming to be the best, but you'll find that most don't properly recognize employees, increase engagement, or fit your culture.
Here are eight tips to finding, and making the most of, the right employee recognition platform:
1. Tie recognition to key goals and core values.
Recognition efforts play a key role in creating and sustaining a positive culture that drives performance. That's because rewarding employee behaviors that align with your core values motivates them to focus their efforts around those values and overarching organizational goals.
Your core values are what make you unique and separate you from your competition. Look for a recognition program that is customizable, so you can give and receive recognition tied to your core values. For example, Quantum Workplace lets you set up custom recognition badges that you can award when employees demonstrate a core value.
This will help bring your core values to life and cement them into your organization's culture.
2. Support a culture of employee recognition.
Recognition works best when it is part of your culture. Support a culture of recognition with a solution that is engaging and enables peer-to-peer recognition. Look for a program that easily integrates into your employees' work so they can make recognition a regular and natural part of their day-to-day experience.
A robust employee recognition platform should also make it easy for managers to communicate about performance and provide consistent feedback and recognition. Quantum Workplace ties performance and goals to recognition with built-in reminders and notifications so leaders never miss an opportunity to celebrate their people.
3. Keep it simple and easy to use.
There are already way too many programs employees are required to log in each day. No one wants another program they "have" to log into. Make it easy to participate in your recognition program, or employees won't use the platform (no matter how fun it is).
Look for a platform like Quantum Workplace that drives participation through easy of use with features like:
Single sign-on that works with your existing goal-setting and tracking program
A mobile app so employees can stay connected with and celebrate each other from anywhere
Robust integrations to sync recognition with the communication tools and workflows your employees already use
4. Create an engaging space for celebration.
Let's face it. If it's not fun to use, your employees aren't going to buy in. Make sure the employee recognition platform you choose is fun for both the giver and the receiver of recognition.
For example, a social newsfeed is a simple but powerful way for employees to follow their peers' successes, celebrate individual and team wins, and share comments, GIFs, and photos that personalize the feedback.
5. Capture and elevate accomplishments with robust analytics.
Make sure the recognition program you choose provides your leaders with the insight and narrative they need to keep recognition a key component for both your engagement strategy and performance management program.
Your recognition program should offer analytics on type of recognition, both given and received, plus reports to monitor and encourage user activity.
For example, with Quantum Workplace, managers can see what badges are getting used most by teams and employees and celebrate their employees' successes with automated Slack and email alerts that let them know when team members are getting recognized.
6. Make sure it will integrate with your organization's HRIS.
This one's a no-brainer. If your organization is already using a system that stores all of your employees' data, there's no sense recreating the wheel. Make sure the employee recognition software you choose can easily integrate with the systems you already use to make your life (and your employees' lives) easier.
Not only will this streamline your operations, but it will drive greater platform engagement as the program seamlessly integrates with employees' workflows.
For example, look for an employee recognition platform like Quantum Workplace that connects to your HRIS, automatically syncs your employees as users, and triggers recurring and automated actions so you can reduce admin on the backend and take action on clear, accurate employee data.
7. Separate recognition and rewards.
Don't mix your rewards and recognition programs. At first, it might seem like recognition and rewards are the same thing—however, tying recognition to incentives can dilute the intent of the recognition.
Recognition is about acknowledging and celebrating employee behaviors and continuous progress. Detailed recognition (especially in written form) is valuable because it helps employees understand why their efforts are appreciated and ties their behavior to something beyond strict goals or benchmarks—like your core values.
Rewards and incentives are important but separate from recognition. They encourage employees to act based on "market norms" rather than from intrinsic motivation. Incentives reward the completion of tasks or goals—in other words, they value the end state over improvement and progress.
As you build out your employee recognition program, make sure your rewards program is kept separate so your recognition has the intended effect.
8. Find a connected engagement and performance solution.
Employee recognition and engagement are intrinsically tied together. So it makes sense that your recognition and engagement solutions work together. By connecting your engagement and performance tools, you can better align and maximize your efforts for better results across the board.
Quantum Workplace seamlessly combines engagement and performance solutions into one powerful platform that drives a culture of recognition and enables your people to do their best work all year round.
If you're in the 1 percent of organizations performing best in employee recognition—great job! If you're not, there are plenty of programs out there to help you easily and effectively make employee recognition an ingrained part of your engagement strategy. Just make sure you find a recognition software that fits your culture, so you can truly make employees feel valued and increase engagement.
---
Ready to see our recognition tools in action? Book a demo to see how our platform boosts employee success.