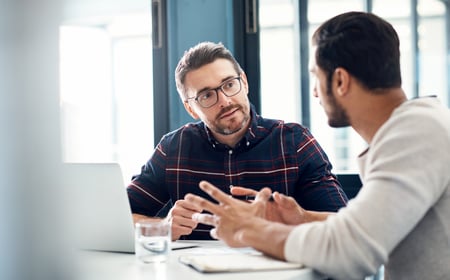 In order to effectively coach employees, you need to have an ongoing dialogue that provides updates on progress, facilitates development, and keeps both parties on the same page.
We encourage managers to conduct a one on one meeting with each employee at least monthly, if not weekly, to develop a greater understanding of who the employee is as an individual.
The best way to do this is to create a series of one-on-one meetings, intentionally setting aside time with each employee to ensure everyone remains engaged and on track.
But simply conducting one-on-one meetings isn't enough. How will you track follow-up actions or gauge the employee's development if you can't access the outcomes and decisions from previous conversations?
Performance conversation software allows you to easily document and recall one-on-one discussions. Here are our top five reasons why tracking frequent one-on-one conversations is critical to maximizing the impact of these meetings.
1. All parties are held accountable for deliverables.
Every one-on-one meeting should conclude with action items for both the employee and manager to follow up on. Rather than jotting these down in a notebook, which can be easily misplaced or forgotten, allow the software to automatically archive these goals for you.
Reference them to ensure employees are actually acting on the deliverables you agreed upon. If they aren't, ask what obstacles are preventing action and try to help them resolve the issue. Tracking also keeps you accountable and reminds you what you promised the employee.
2. Discussion trends are tracked.
Are there topics that consistently pop up in one-on-one meetings? Is the employee struggling in a certain area, or are they seeking further development opportunities?
If you're only meeting a few times a year, it's difficult to keep up with these trends. But if you frequently meet and track the conversation, you will start to discover recurring themes. Recognizing these themes allows you to provide resources and coaching that maximize each employee's performance. Perhaps you need to adjust your coaching style to help an employee become the best version of themselves.
3. Short-term planning leads to long-term goals.
Most employees have a vision for the future, and one-on-one meetings help you uncover these career aspirations. Reaching a long-term initiative comes from completing a number of smaller steps in the short term.
For example, say an entry-level salesperson wants to become an account manager. There are a number of skills they need to develop to assume a role with increased responsibilities. So create smaller goals that eventually add up to conquering the long-term goal, such as watching sales call demos, reading client success stories, and developing a stronger phone presence.
One-on-one meetings are the perfect way to help employees identify these smaller goals that will set them up to achieve their vision for the future. Keep up to date on their progress by continually tracking these steps and encouraging their progress.
4. Managers fully understand employees.
As you meet regularly with employees, you'll get to know them at the individual level. You learn their strengths, weaknesses, skillsets, and what best motivates them.
Make notes from these interactions to help yourself develop a better understanding of each employee. Doing so allows you to select the right individual for a certain assignment or identify candidates ready for a promotion, and you can better design your next project and each employee's role to maximize individual strengths.
5. Employees feel valued.
One-on-one meetings create emotional connections with direct reports. It shows that you have a devoted interest in their well-being and development and want to hear from them. Employees who feel valued and heard are far more likely to be engaged and productive. There's a reason the saying "Employees quit managers, not jobs" has gained such traction. Use your notes from these meetings to uncover who each employee is as a person.
---
Tracking progress will help you get the most out of your one-on-one meetings and use them to make a real difference in employee engagement and development. For ideas on what to ask, download your free copy of our Big Book of 350 One-on-One Meeting Questions.