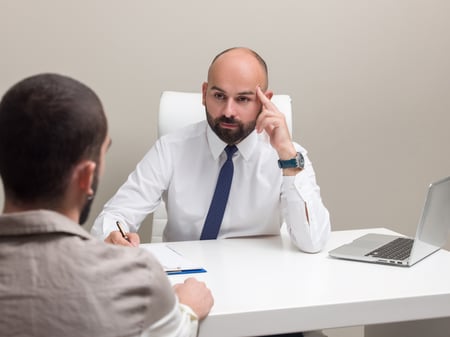 Few aspects of a manager's job are more uncomfortable than creating a performance improvement plan with an employee. It's awkward for everyone! The employee likely feels embarrassed and hurt, while the manager has to deliver some hard truths.
Uncomfortable as these conversations are, they're unavoidable when performance is lacking. If an employee is failing to meet expectations, misrepresenting core values, or displaying inconsistent performance over time, steps must be taken to attempt to correct the situation.
It's essential that the employee understands they have an opportunity to improve. It's best to avoid turnover if at all possible, and the employee must understand that they have a chance to keep their job. They need to know what has to be improved and by when. Make it clear that they are ultimately accountable for whether they keep their position.
Consider these 5 tips as you craft the performance improvement plan and prepare for your meeting:
1. Be specific and objective.
Clearly convey exactly why the employee's productivity and/or behavior isn't up to par. Bring examples of what good performance looks like, ideally from things the employee worked on previously. Be prepared to answer questions and explain why the employee's performance doesn't match the ideal state.
2. Align on a plan.
Create shared expectations that both parties feel comfortable with. Include the employee in the plan's formation, giving them a voice in their future. Provide perfect clarity by crafting a SMART goal that you and the employee feel addresses the current problem.
3. Acknowledge all potential outcomes.
Will the employee be let go if they fail to improve? Might they take on a new position or be transferred to another department? The employee should be aware of all potential consequences. Not only will this realization provide transparency, but the possibilities should motivate improvement.
4. Follow up regularly.
We suggest checking in with the employee bi-weekly to monitor progress and discuss what's working and what's not. This ensures alignment and shows the employee that you're still on their side and care about their future.
5. Document the conversations.
It's easy to forget what was discussed and when, so make sure everything is detailed in a central location that you both can access. This will shut down any potential for a "he said/she said" situation if termination is the final result.
Following those five suggestions will help you create a clear, shared performance improvement plan and hopefully avoid turnover.
Keep in Mind...
The conversation is still probably going to be uncomfortable, but these tips should make the meeting a little easier and lessen the awkwardness.
Be upfront.
When you send a calendar invite for a performance improvement discussion, carefully consider your language. Make it very clear that current performance is not satisfactory and this meeting is the first step in saving their current role.
Share the floor.
Allow the employee to have a voice and share their point of view. Outside factors that you didn't know about may be negatively affecting performance. Allow them to ask clarifying questions. It's very important that this meeting is a discussion, not a lecture where the employee feels attacked or scolded.
Be personal.
The meeting's location is significant – the employee will likely be somewhat embarrassed and will want to keep their status discreet. Schedule the meeting somewhere private but comfortable. Give them time to collect their thoughts, possibly even working from home or taking the rest of the day off. Allow them to process, then check in the following day to ensure both of you are on the same page.
---
Feeling nervous about an uncomfortable performance conversation? Download our printable, no-sweat pocket guide!