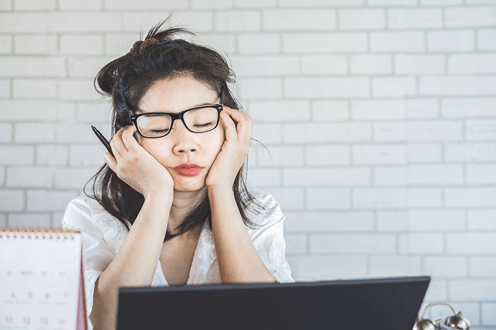 Many organizations are stuck in a rut when it comes to employee engagement. They've been doing employee engagement surveys for years and developing action plans from the results—but nothing really changes.

Sound familiar?

Your annual engagement survey is great for establishing a baseline and measuring company-wide perceptions.

But if that's the only way, place, and time you are collecting employee feedback, you're not sending a very promising message to your employees.


You're basically saying you want their feedback, but…
…only on your terms
…only in response to the specific questions you choose to put on the survey
…only within the short period of time that the survey is open
…only in the format that you feel is best
…only based on what they can remember from the past year of events
An engagement survey is a point-in-time snapshot of data. And although these snapshots are valuable, they don't help you address engagement throughout the year. They don't give you the data and tools you need to maintain ongoing, healthy relationships with employees. You need to be more agile than that.
Gartner expects 59% of organizations will use engagement data from sources other than formal surveys in 2019. This is up from just 30% in 2015.
Why is this? Smart organizations have come to understand that there are many important issues, events, and concerns that arise between annual engagement surveys. Employees experience things in and out of the office, every day, that have a real impact on their engagement and performance.


They change roles.
They discover new passions.
They have babies.
Their bosses quit.


If you want to make a measurable and meaningful impact on engagement, you must enable your organization to act upon these events and changes in a timely fashion.

So, what other tools do you need in your engagement toolkit?


Think About Turnover and Retention
Understanding why employees leave (and why they stay) can help you improve engagement, resulting in higher retention. Take advantage of employee lifecycle data from new hire, stay, and exit surveys, and think about how that data connects with overall engagement.


Think About Performance Conversations
How are your managers handling performance conversations? Is your organization still stuck using the archaic annual performance review? Embracing a more modern and authentic performance management strategy could spark excitement and increase engagement. Consider moving toward ongoing performance conversations and one-on-one meetings.


Think About Your Employee Recognition Program
Employees want to be recognized when they contribute to the organization's success—this is always a key engagement driver in our national employee engagement trends research. Recognition programs should be tied to company values, and it should be easy for any employee to recognize another employee in real-time.


Think About Goal Setting, Tracking, and Alignment
If employees don't understand how their work contributes to the organization's success (which is another key engagement driver!) they will likely get derailed and disengage. A solid goal tracking system can help employees set and track meaningful goals that are aligned with team and organizational goals. It also helps keep goals top of mind, all year long.


Think About Other Sources of Feedback
Your employee engagement survey is not, and should not be, the only tool in your toolbox for collecting employee feedback. We recommend using pulse surveys throughout the year to follow up on engagement survey questions and measure progress.


You should also take advantage of tools that allow you to collect ongoing 360, peer-to-peer, and upward feedback on an as-needed basis. These types of feedback provide a more comprehensive overview of the true state of the employee experience, and they also help employees feel heard.


Think About Your Talent Management Approach
Your organization should have a streamlined and collaborative system for tracking talent. This is key to making strategic, well-timed, and informed talent decisions. Leaders and managers should easily be able to identify rising stars and talent risk using credible and accessible talent metrics.


---
The state of relationships in your organization is critical to engagement. Learn how to measure and improve relationships and engagement with our new ebook, The Relationship-Driven Workplace.