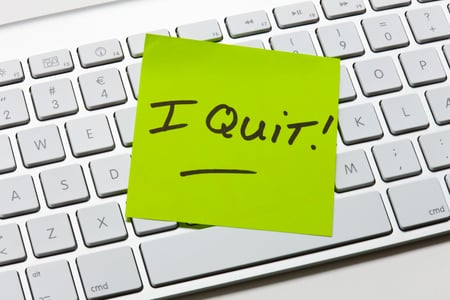 For the most part, turnover should be avoided like the plague. The cost of turnover is astounding, as the total cost of voluntary turnover in the U.S. is more than $536 billion per year. And it can take up to two years for a new employee to reach the same productivity levels as the exiting employee.
Unfortunately, turnover is a reality that can't always be avoided. And in the event that one of your employees decides to head for greener pastures, you need to discover why they're leaving and how you can prevent their coworkers from doing the same with an effective employee retention strategy.


This is where the exit survey comes in.
Why should we conduct an exit survey?
Turnover costs your business time, money, and employee morale. And while you should do all you can to retain employees, some will eventually leave – there's no way around it. You need to be prepared to mitigate the costs of those exits by collecting feedback.
Additionally, employee engagement is higher when leadership shows they are committed to understanding and improving turnover, including methods like exit interviews and surveys. The bottom line? Collecting exit feedback can help your organization avoid costly exits in the future and assures employees of your current commitment to their well-being.

---
How should we collect exit feedback?
Our experts recommend starting with an exit survey, then conducting exit interviews to fill any gaps the survey might have. This allows you to gather standardized data and dive deeper into employee responses, providing a complete picture of the exit.
Standardize organization-wide exit surveys, so HR leaders can identify internal trends and benchmark against other organizations' data, like engagement, performance, etc.


---
When should we conduct an exit survey?
Every organization has a timeline that is right for them, but optimize for these five elements when making your decisions:
Timeliness: How long will it take your systems to get the exit survey set up and sent out?
Completion: Would you like to ensure the exit survey gets done?
Honesty: Would you like to get the most candid comments on your exit survey?
Perspective: Would you like to give the employee time to cool off or gain perspective before they complete your exit survey?
Sensitivity: Are you surveying anyone in addition to the exiting employee?


---
What should I ask in an exit survey?
You need to use an exit survey to capture a complete picture of the employee's time with the organization. To uncover actionable insights, aim to understand these four aspects in every exit survey:
Impact: What impact will this departure have on your organization?
Preventability: Could the employee's departure have been avoided?
Cause: Why is the employee leaving?
Direction: What is the exiting employee doing next?
After you understand those, you may wish to add customized elements – or even gauge your remaining employees' level of engagement.
---
The best exit survey questions
If you move past the stale, boilerplate questions and start making inquiries that really get to the heart of the departure, you can uncover insights that will help you retain employees in the future.

General Exit

Replace this:
Why have you decided to leave this company?

With These:
What caused you to start looking for a new job in the first place?
What does your new company offer that encouraged you to accept its offer and leave this company?
Have you shared your concerns with anyone in the company prior to deciding to leave?
What was the response?
Company Overall

Replace This:
What do you value about this company?
With These:
What will you miss about this company that you might not get with another?
Why would you recommend this company to a friend as a place to work? (or why not?)
What would need to change about this company in order for you to stay?
Role Alignment
Replace This:
What did you dislike about your job?
With These:
Describe some examples of time when your job was frustrating, overcomplicated, or unduly difficult.
If there were three things you could change about your current position, what would they be?
What makes your new job more attractive than your present job?
Manager Effectiveness
Replace This:
How was your relationship with your manager?
With These:
How would you describe your manager's leadership style in three words?
Did you and your manager work together effectively?
How did you and your manager's working styles complement or compete?
What two or three things could your supervisor do to improve his/her management skills?
What was your relationship like with your manager outside of work?
Leadership
Replace This:
Were you satisfied with the leadership of this organization?
With These:
How would you describe this organization's leadership style in three words?
What values do you think are most important to this organization's leadership team?
What do you think they should be?
Your employee exit survey questions should invite honest answers that'll give you the insight your organization needs in order to reduce voluntary turnover. Swap out your age-old (dare I say worthless?) exit survey questions for ones that'll help you uncover the real reason why your employees are leaving.
---
Asking the right questions is just one element of an effective exit survey strategy. What else do you need to know? Download our free guide, How to Conduct an Exit Survey, to get the whole story.