This post was written by Randy Emelo is president and CEO of Triple Creek.
One of the great things about humans is that we never stop learning—at least I hope we don't. Smart companies use this to their advantage and tap into people's desire for continuous growth and learning opportunities as a way to help them stay focused and energized on the job.
A recent study from Quantum Workplace called Employee Development Planning showed that more people want job-specific training (59% of respondents) as compared to technology training (20%) or academic learning (10%). People want to learn how to do their jobs better, which is great news for the companies that employ them.

The question becomes: How can companies address this desire and make sure their employees receive the training, learning and development opportunities that they need and want?
The Quantum Workplace study revealed that internal company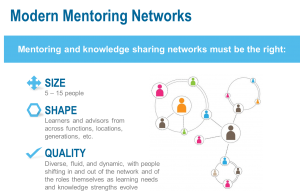 training and mentoring programs are two of the top three ways that people want to learn and develop. The good news is that this can easily be achieved by companies without taking people off the job.

In fact, modern mentoring allows for people to engage in on-the-job training and social learning among peers and colleagues while completing job tasks and projects. Having people learn while doing their jobs helps them put new insights and understandings into the context of their daily work, which can lead them to be even more effective and efficient in their jobs.

The cherry on top for employers: engaged employees rank access to new learning and development opportunities as the second highest form of preferred recognition, preceded only by pay increase. So not only do employees get what they want when they take part in these learning and development opportunities, but companies end up getting even more engaged and better skilled workers as a result.
Supporting and cultivating modern mentoring in your organization can have a profound impact on your employees, but you need to understand that modern mentoring is different from traditional mentoring.

While traditional mentoring is often categorized by one-to-one relationships that last years and typically consist of one older mentor who sponsors and/or develops one younger mentee, modern mentoring is more simply defined as connecting people to learn from one another about development needs, skills, interest areas, and competencies that are relevant to their daily work.

In modern mentoring, virtual relationships and multi-participant learning groups form the basis for the practice. Built on the idea that everyone has something to learn and everyone has something to teach, the modern practice of mentoring incorporates a more inclusive mindset about who should participate, a broader scope for making meaningful learning connections, and an open flow of knowledge among participants.
To help you get started on implementing modern mentoring, here are four key pillars of an employee mentoring program.
1. Open and egalitarian.
For uninhibited and meaningful learning to take place, allow modern mentoring to occur in an open environment where people have equal access to one another. Expand thinking about mentoring beyond programs with limited populations, and start thinking about how to give your workforce access to engage with one another.
2. Diverse.
Diversity can help modern mentoring thrive because different perspectives within mentoring communities and relationships help novel ideas and approaches arise in answer to organizational problems or issues people are facing. Cross-functional, -geographical, and -generational participation in modern mentoring relationships are key to this practice.
3. Flexible.
People should be allowed and encouraged to shift in and out of the mentoring program and of the learner/advisor roles themselves, as learning needs and knowledge strengths evolve. This adaptability and flexibility allows insights to be shared and applied on the job in a just-in-time manner, with people seeing real work results from their mentoring activities.
4. Self-directed and personal.
Adults want to drive their own learning. Give them a technology to use or a mechanism where they can reach out to anyone at any time for any learning need. This empowers individuals to be in control of their learning and removes some of the burden from employers.
---
If you build your organization's practice around these key pillars and properly enable modern mentoring at your organization, the social learning behaviors that it produces will become ubiquitous and abundant. In this way, modern mentoring can help you to create a culture built on self-directed and continual learning and development, which can help you sustain and increase the engagement of your workforce and unlock keys to organizational success as a result.