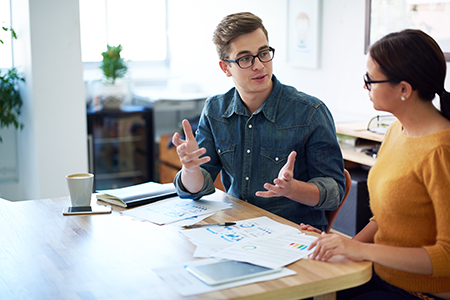 The barriers to a successful employee engagement strategy may seem overwhelming but can be overcome with the right tools, solutions, and a willingness to act on feedback.
Employee engagement solutions are tools used to identify and evaluate employee sentiment. Through various mechanisms, employee engagement solutions should align employees with the organization, foster more vital communication, and leverage employee input to optimize performance.
In this blog, we'll help you overcome barriers to employee engagement with the right solutions.
Common challenges facing employee engagement
Benefits of an employee engagement solution
5 employee engagement solutions and the tools to look for in each one
Common challenges facing employee engagement
When it comes to cultivating an organizational culture that keeps employees motivated, engaged, and productive, it's essential to understand the most prominent challenges employers face regarding employee engagement.
1. Understanding the purpose of employee engagement.
Employee engagement is vital to achieving business success. But to first understand the barriers to employee engagement, we have to understand what employee engagement is. Employee engagement is the strength of employees' mental and emotional connection toward their work, their teams, and their organization.
While employee engagement is often thought of as a soft science, there is a strong correlation between employee engagement and business performance. If employers want to get a true sense of employee satisfaction and company productivity, the first step is to examine your greatest asset—your employees.
2. Knowing how to measure engagement.
Measuring employee engagement can be difficult. There often isn't a baseline or a strong starting point for measurement.
Where does a company start when it comes to organizing a plan to measure employee engagement?

How do you keep the conversation going with employees?

How do you create an action plan?

What tools or software platforms are best?
These questions and concerns are valid and often hinder long-term engagement strategies.
3. Turning employee engagement insights into action.
Often, companies take the time to gather employee sentiment and opinion, only to set questions, comments, and concerns aside. Employees care about how data is used to make decisions. Conducting an employee engagement survey without tangible action can negatively impact performance and splinter emotional connections.
When it comes to turning employee engagement insights into action, a simple question can help guide the process: "What steps can we take towards responding to key themes that our employees identified?"
Benefits of an employee engagement solution
Employee engagement solutions benefit the organization in two ways:
Understanding the organization's engagement in a holistic sense

Facilitating growth and greater emotional connection from individual departments or facets
Genuine feedback and employee sentiment
will influence the business and those who occupy key roles in the business in different ways:
To a manager…
Employee engagement solutions will increase self-awareness by understanding and taking immediate action on employee perceptions. Managers can identify opportunities to improve communication and provide enhanced clarity to their team by making connections on a deeper level.
There is also the opportunity to present feedback to their group about employee engagement. This opens up a dialogue and helps foster a more stable environment for engagement and productivity.
To an HR leader…
Employee engagement solutions help identify issues quickly while promoting discovery opportunities in HR functions related to recruitment, onboarding, turnover, retention, and learning and development.
Robust employee engagement solutions will help track employee engagement initiatives and provide a benchmark for improvement or stagnant performance. It will also allow HR leaders to provide their respective executive teams with data, insight, and opportunities to foster continued growth within the organization.
To the business…
From a holistic perspective, engagement solutions leverage employee perspectives to influence change and improve performance, while comprehensive data and analytics allow executives to 'keep a pulse' on the business.
The right employment engagement solutions will also tie in key business metrics with people analytics to identify opportunities for impact within the organization, leading to more substantial outcomes from all levels.

5 employee engagement solutions and the tools to look for in each one
1. Surveys to measure employee engagement.
Surveys are paramount to understanding employee engagement. Capturing their thoughts in real-time creates a baseline for organizations to understand and improve employee sentiment. Surveys provide several ways to collect employee perceptions—through employee engagement, lifecycle, and pulse surveys. Look for employee engagement software programs that allow for maximum customization of assets like templates and questions.
2. Goals to develop and grow employees.
Utilizing tools that identify and measure goals is integral to tracking the progress made towards those goals. Goal tracking encourages goal alignment within an organization and fosters the ability for employees/teams to partner together and provide progress towards a common goal. Goal-oriented tools should meet the tracking needs of different groups and roles while simultaneously supporting individuals' public and private goals within the organization.
3. Feedback to improve performance.
Feedback tools that invite employees to share feedback with their colleagues and management teams are a significant asset for any organization. Feedback tools should track employee sentiment and analyze how that feedback is used to better performance. Look for feedback tools that support a 360-feedback cycle, which allows employees to ask anyone for help understanding their strengths and weaknesses.
4. Social recognition to influence culture.
Creating a social recognition program allows the entire organization to celebrate individual and team goals. Recognition is a powerful engagement tool that helps employees feel valued and respected for their contributions.
Social recognition tools can help influence culture by highlighting great work and even motivates employees to share practical examples of their success. Look for employee engagement software with robust recognition software to keep your employees motivated and engaged.
5. One-on-ones to improve communication.
One-on-ones, critical for employee, team, and business success, provide an opportunity for both manager and employee to set an agenda and have an honest, ongoing discussion about shared goals and performance. With the rise of remote work, one-on-one meeting tools are more critical than ever.
Look for software that contains collaborative, easy-to-use tools that automatically connect to employee performance software, productivity tools, and HRIS. Excellent employee engagement tools will provide intuitive manager-employee dashboards, insightful analytics for leaders, and nudges and notifications to keep one-on-one meeting cadence consistent.
---

Are you ready to improve your employee engagement? Take a look at our free guide, Employee Engagement Software Models for 3 strategies to improve engagement and maximize performance.