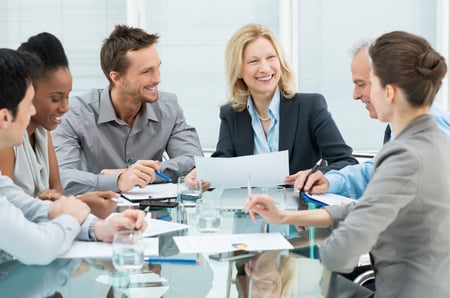 When it comes to employee training and development in the workplace, we often use mentoring and coaching interchangeably. But while both of these tools share basic goals to increase employee performance and help employees reach their full potential, mentoring and coaching are far from interchangeable.
In fact, because it's so accessible and easy to establish organization-wide, one option stands out as HR's best tool for employee training and development: employee coaching.
Keep reading to learn what employee coaching really is and how you can create a culture of coaching at your organization.
What is Employee Coaching?
Our ebook referenced above found that coaching from an immediate manager was one of the top five learning and development opportunities employees offered. Furthermore, employees who said they wanted coaching were 5.6 percentage points more engaged than those who didn't want coaching!
It's clear that if your managers aren't coaching their employees, you're missing out on opportunities to grow and develop your people, boost engagement and individual performance, and impact team and business results. So what should employee coaching look like?
Effective employee coaching sessions should:
Focus on employee performance.
Each coaching session should be centered around an employee's performance. How did their most recent projects go? What what well? What got in the way of their success?
Be administered by an immediate manager.
An immediate manager has the best visibility of their employees' performance — both what they've done well and where they need to improve.
Follow a specific agenda.
An agenda gives your coaching sessions structure and consistency. Use this template in each session to discuss goals, obstacles, opportunities, and decisions.
Happen frequently.
Effective coaching sessions need to be ongoing and frequent. Recent research found that monthly is the optimal frequency for manager-employee conversations.
Welcome two-way conversation.
The manager-talk employee-listen style coaching sessions are a way of the past. Ask employees how they view their performance, what growth opportunities interest them, and where they should focus on improvement.
Be recorded.
The best resource you can take into an employee coaching sessions is notes from your last coaching session. Find a way to document conversations so each coaching session builds off the last. Here's a slick one-on-one meeting software that can help.
Be an organization-wide effort.
Coaching isn't a tool for just the poor-performing employee in your customer service department. Each and every employee (yes, even the rockstar in sales) can benefit from frequent manager-employee meetings. To be an effective employee learning and development tool, coaching needs to be implemented organization-wide, which brings me to my next point…
How Can I Create a Culture of Coaching?
In order for coaching to be an understood, desired, and effective form of employee learning and development, it needs to be ingrained into your organizational culture. Think of coaching as an ongoing organization-wide program, a cultural element that drives your internal people operations and the success of your business.
Here are four keys to creating a culture of coaching:
Provide training to managers and employees.
Both giving and receiving feedback are skills. What's more, their skills that are rarely developed. Without any guidance, feedback is likely to be given poorly by the coach and misconstrued by the employee. Support effective coaching in your organization by providing training and resources organization-wide.
Set the tone from the top.
Like any element that you want to make part of your organizational culture, it starts at the top. Effective coaching must be modeled. Your leaders must hone these skills and set the example. They must ask for feedback (up and down the hierarchy and sideways) and visibly show that they receive feedback well. And they must do it, and do it again and again.
Communicate expectations around coaching
If giving and receiving feedback well is a quality leadership seeks, it must be made clear. Communicate, and communicate often. Set organizational expectations around what manager coaching looks like in your organization:
Who gives it?

Who receives it?

How often does it occur?

How do we do it?

What is the goal of a coaching session?
Make coaching part of your processes and traditions, from onboarding and appraisals to everyday conversations.
Leverage tools to streamline coaching in your organization.
Leverage the tools and technology available to you to fully ingrain coaching into your culture. Whether you utilize career path software to support powerful leader conversations and employee career-growth ownership, one-on-one meeting software to easily facilitate coaching sessions from anywhere, or even word documents and filing systems to save and reference detailed notes, coaching tools and technology will make each session less complicated for employees and managing the entire initiative easier for you.
---
Want even more information of the benefits of employee coaching and how you can use it as a part of your employee learning and development program? We've got you covered. Click below to download our research-based ebook, Coaching Employees for High Performance.