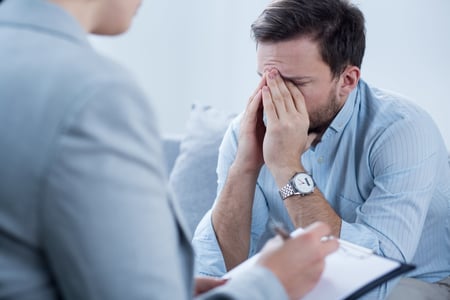 Imagine your employee walks into your office and utters the four words you never want to hear: "Hey boss, I quit!"
Yikes. What's your reaction?
Go cry in the corner? … Maybe.
Throw a tantrum? … Possibly.
Curse at the wall? … Go for it.
Now, once you've had your moment (and we all need our moments) the question becomes: What's your next step? Where do you go from here?
First things first, you need to take care of some logistics:
Find out the employee's last day.
Inform HR and your team of the impending departure.
Lay out a plan to shift the work-load to existing employees and find a replacement.
Lastly, you need to consider how and when you will conduct the employee's exit interview (or exit survey! Read more about the exit survey vs exit interview debate).
You might be dreading the exit interview as much as the resignation itself — and with good reason. Traditionally, the exit interview process is awkward and fruitless. Managers feel hurt, employees feel timid, and no one quite knows what to do.
These awkward interactions cause employees to clam up: often, the exiting employee is attempting to leave with grace, so he or she may conceal crucial feedback that could help the organization. In fact, researchers have found that two-thirds of exit programs do not result in meaningful action.
With these challenges in mind, what are some steps we can take to make the exit process less awkward and more impactful? Here are three exit interview tips every manager should keep in mind:
1. Give everyone a breather.
Remember that scene at the beginning of the post? You employee walks in and drops a bombshell. Both sides are a little emotional, and you may want all the answers RIGHT NOW! But RIGHT NOW is not the best time to ask why the employee is leaving or what you could do to make him or her stay (hint: you already missed that opportunity).
We suggest you conduct the exit interview one week prior to the departure (assuming a traditional two weeks' notice). This gives both sides a chance to collect their thoughts and prepare for a positive interview experience.
2. Avoid bargaining.
Don't ask "Is there any way we can get you to stay?" or "What would it take to reconsider?" or "Can you stay until the end of the quarter?" This approach can prove valuable, but should be used sparingly. In all likelihood, you've already missed the chance to retain that employee.
Instead, ask questions that will provide valuable information, such as "What could we do to make this a better place to work?" or "What can we do to retain our top talent?" The answers to these questions can help you improve the workplace for current and future employees.
3. Lend a helping hand.
We get it — you need to move on too. You have a lot of work to do (posting a job opening, interviewing potential replacements, covering the work until said replacement is hired, etc.), but you can still be a valuable resource for the exiting employee. During the employee's last two weeks, ask him or her: "Is there anything we can do to make your transition easier?"
Perhaps the employee needs help crafting an email to a long-term customer about the transition. Your employee may need help navigating their benefits and retirement account transitions. Maybe he or she needs a letter of recommendation. Try not to hold a grudge against an exiting employee; that will only create more awkwardness.
A manager's goal is to guarantee the exit process, from the moment an employee gives notice to the last day on the job, is positive for both sides. Yes — there will be some awkwardness. Yes — there is going to be pain. Yes — it's a disheartening experience.
However, it's your job to ensure employees leave with a positive view of the company, as former employees are your best advocates (or worst detractors!). Just follow the steps above, and you can make the transition a little easier and less awkward for all parties involved. And don't forget to ask the single most important question of any exit interview.
---
Prevent exit interviews before they happen! Download the report to uncover top 5 reasons employees leave, and discover what your organization can do better.